Thu, 19 Dec 2002, 07:35 PM



John Lingenfelter Update Dec. 19



Courtesy of The LPE Team


Photo copyright 2002 BME Photography





DECATUR, Ind. --
This is an update to the fans and friends on the condition of NHRA driver, engineer and legendary tuner John Lingenfelter who was critically injured during a NHRA Summit Sports Compact drag racing event at Pomona, California on October 27, 2002.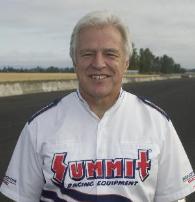 John Lingenfelter
During that event John's car lost traction and hit a retaining wall at about 190 MPH. John was on a world record setting pace. In typical Lingenfelter fashion, he had been going for the record. John was rushed to the Pomona Valley hospital in critical condition.
John had internal injuries and broken bones. His most serious injury was a fracture of several vertebrae and a head injury. At the hospital John regained consciousness and responded to the voice of his wife Cindy. From that point on, he never stopped fighting. The medical staff involved was always amazed at John's resiliency and will to live.
California doctors stabilized John's condition and an operation to repair his damaged vertebrae was completed. John could move his arms and legs. Ten days later the doctors withdrew the sleep inducing drugs and John woke up. John recognized wife Cindy and others. He was removed from life support, improved and John asked Cindy to take him home. Soon, his doctors deemed him strong enough to be moved back home to Indiana. John was transported to Methodist Hospital in Indianapolis, an experienced trauma facility servicing both the Indianapolis Motor Speedway and Indianapolis Raceway Park.
By the end of November John was looking forward to going home to Decatur and was scheduled to begin rehabilitation in several days. John was cracking jokes with the nurses and telling his wife Cindy about a new motor he was building in his head while he was confined to a bed. But Methodist doctors discovered that the neck operation performed at Pomona needed to be repeated. John's rehab would have to wait a few more days.
Everybody who has ever known or met John is not surprised that he would survive and come through all the adversity when most would have given up. His will to live and recover is incredible.
On Friday, November 29, 2002, just over a month after his accident at Pomona, John was prepped in Indy for a second operation to repair his still damaged vertebrae. John was administered a drug prior to anesthesia. John had a reaction and went into cardiac arrest. The medical staff worked to reestablish his heart function, which they did. However, John entered into and remains in a "semi comatose state".
His physicians rate the prognosis to recover from his neck and spinal injuries as "excellent". They say that the chances of recovery from his semi comatose state are "extremely poor" in "the foreseeable future".
John's company, LPE (Lingenfelter Performance Engineering) located in Decatur, Indiana will continue it's normal operation in John's absence. John chose and trained some of the best, most highly trained, dedicated and gifted individuals in the industry to run (as John calls it) "the shop". Tom Cress and John's daughter Kelly are running "the shop". There will be no change in staff, the superior product or the way LPE does business.
The 35 employees of LPE are used to "John", being out of town. John's frequent absence for NHRA racing events and the far flung testing of his modified street cars by the national and international automobile media always required John's faith in his people to carry on when he was not there. They never let him down.
"We will keep doing it John's way, that means the highest possible quality product that is both bullet proof and wickedly fast. We are the best because John trained us that there is no other way. In John's absence the LPE employees and family intend to keep up that tradition". - Tom Cress.
Last week the LPE team produced and tested a (Street Legal) 2002 Lingenfelter Corvette 427 Twin Turbo that went 8.95 seconds and 153 MPH in the quarter mile. The Lingenfelter tradition goes on. John would have it no other way.
John's wife, Cindy Lingenfelter, while realizing the seriousness of his condition, remains hopeful for an eventual recovery. In the meantime, she is committed that it will be "business as usual" at LPE. Cindy asks that John's friends direct their prayers to God for his recovery and their well wishes to "the shop" where she will maintain an office.


NHRA: 10 Most Recent Entries
[ top ]
May 21
-
Second JEGS SPORTSnationals Added, to be held in mid-August in New England
May 20
-
DENSO Sponsors NHRA Champs' Shelter-in-Place Dachshund Race
May 14
-
To Our Racing Community-From Racers for Christ
May 13
-
The Name Game Part I
May 12
-
Morgan Lucas, Son of Forrest and Charlotte Lucas, Appointed President of Lucas Oil Products, Inc.
May 05
-
Cancellation of the 14th Annual Summit Racing Equipment NHRA Nationals
May 04
-
NHRA Announces Revised Plan to Restart 2020 Mello Yello Drag Racing Series
Apr 29
-
DSR Drivers Join Global Superstars in Fight for COVID-19 Relief
Apr 02
-
NHRA National Dragster will Temporarily Shift to a Free-to-All Digital Magazine
Apr 02
-
NHRA Announces Revised E3 Spark Plugs Pro Mod Drag Racing Series Schedule