Fri, 20 Dec 2002, 09:47 AM



Bazemore is Fired Up for 2003 Season



Courtesy of David Ferroni


Photo copyright 2002 Auto Imagery, Inc.





INDIANAPOLIS --
It's been a little over a month since the NHRA off-season officially began, but for Whit Bazemore it's been long enough.
The Matco Tools Funny Car driver got most of his personal matters in order, including moving into a new home in Indianapolis, celebrating a one-year wedding anniversary with his wife Michelle (Dec. 8) and catching up with old friends and family members who seem to get a bit neglected during the season.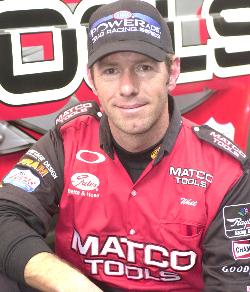 Header goes here
With all of that behind him, Bazemore is now anxiously and positively waiting to get the new season started with his Matco Tools/Don Schumacher Racing Team.
The following is a question and answer session with Bazemore, who took time to talk about the mood of the team, the competition, the expectations, his personality and what he believes is in store for the 2003 NHRA season.
Q: How are you handling the off-season?
Bazemore: Actually it has gone by quickly up to now because Michelle and I moved into a new home. All of the excitement and work that went with the moving process didn't give me the time to recharge the racing batteries. But right now the batteries are recharging at a rapid rate because of the progress we're making as a team to be more competitive next year.
Q: What is the off-season mood of the Matco Tools Funny Car team?
Bazemore: I can emphatically and honestly say the mood of our Matco Tools team is really positive. I truly mean that. We know that 2002 wasn't a bad season, but it wasn't the best either. We have addressed the problems that plagued us in 2002 and have taken steps to correct them - both mechanically and aerodynamically. We're making changes to the car that should help our 60-foot times and reaction times. We also have made tremendous aerodynamic gains, which will help us as well. We're hungry and feel we have something to prove as a team.
Q: You truly sense that something good is going to happen in 2003?
Bazemore: Yes, I do. There's no magic formula, it's very simple. You have human performance and you have mechanical performance. We had trouble with both last year. But as I have said we have addressed the problems and I feel very confident with what the Matco Tools team is doing and what I am doing. We do have the potential to accomplish our goals. There is no question in my mind with Lee Beard (Matco Tools crew chief), Mike Neff (Oakley crew chief for Gary Scelzi's car) and the addition of Dan Olson (co-crew chief on both cars) in the computer room and the resources Don Schumacher gives us there is no reason why we can't accomplish everything. It's just a matter of addressing the weaknesses. And that's what we're doing. We will be a stronger team next year with a good tune-up and a strong running car. And from that point it's just a matter of making the right decisions between rounds. I believe our ability to do that is better than it has ever been. The addition of Dan is ver y positive for our team. Th! ere is plenty of mutual respect between Dan, Lee and Mike. They are all blue chip tuners. Having three sharp minds running two cars is always better than having two sharp minds running two cars.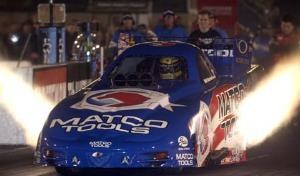 Bazemore lights up the sky.
Q: In regards to the Funny Car category, do you feel performance will pick up in 2003?
Bazemore:
I believe so. It will improve simply because last year was a learning year for everybody in regards to the new Goodyear tire. Now that we know what to expect from that tire and how it's going to react, I think you will see teams getting stronger in 2003. The five quickest runs in Funny Car history were in 2001 and I see that changing next season. I am proud to say that four of those quickest runs were by our Matco Tools team.
Q: Has being married or a year older changed the feisty personality of Whit Bazemore?
Bazemore: Marriage not only has been wonderful but it has made me more relaxed and at peace with myself. But I don't believe my personality has changed. I don't try to be somebody special. I'm just myself. I've always tried to say and to do the right thing throughout my entire life and career. Sometimes it's not interpreted that way. But you're either happy when you win or unhappy when you lose. In racing you tend to lose more than win so the frustration comes through more. That's just the way it is. This is a hard job and you have to be aggressive. There are some people who want you to be a butt-kissing robot with no personality. That makes it boring. You have to have personality; otherwise the paying spectator is going to go away. The fans don't pay money just to watch cars. They want to watch racers react with emotion in both victory and defeat. We always have to keep in mind that this is entertainment. You know what I would love to do -- conduct media training seminar s for my fellow drivers. I ! would do it for a nominal fee or for a donation to one of my charities.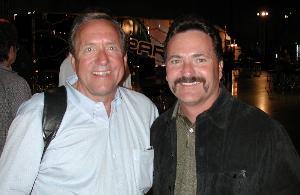 Schumacher and Scelzi
Q: How do you feel about having Gary Scelzi as a teammate again?
Bazemore:
It will be different because the last time we were teammates it was due to having the same sponsor (Winston). Back then I owned my team and Gary raced for Alan Johnson. Now, both Gary and I are hired drivers with the same boss (Don Schumacher). I expect Gary and his Oakley team to be competitive all year. I feel Gary thinks he has something to prove so they're going to be dangerous. And Scotty (Cannon) will also be dangerous in his Oakley car. We have three cars that are going to be real strong and competitive. We're going to have to beat each other in order to win races.
Q: Is it difficult to handle the high expectations that are put on your team?
Bazemore: First of all no one has more expectations for our team than we do. Having said that it is a feather in our cap when not only fans but the media look toward us as the team that can best compete against Force. It makes us feel good when we have those expectations from other people. We're always going to try and do our best and not let those people down.
Q: What are your thoughts about Force winning the POWERade Funny Car title in 2002?
Bazemore: Tony (Pedregon) had the best car, but Force really rose to the occasion as a driver. Force truly impressed me for the first time. He always had the best car in the past and when you have the best car you don't have to push yourself all of the time. You can make a couple of mistakes and still win. He did that and we've all done that. But he proved he was the best last year. For an old man he is an awfully good driver! He beat up on all of the young punks last year, including myself. You have to be 100 percent on your game when you race him or he'll leave you in the dust. You never can go by what he did in the previous round because when the chips are down he has proved that he is the best. He makes us all work harder to become better drivers.
Q: Do you ever consider owning your own team again?
Bazemore: When I go to the shop and look at this operation and realize the huge inves tment that all of our sponsors have made and what Don Schumacher has personally made I get a great feeling of accomplishment because I am part of this huge effort and commitment. Ultimately I would like to have my own team, but right now I truly feel that I am with the only organization that has the potential to unseat the Force dynasty. Because of that I don't have any interest in owning my team in the near future. Only after we won the championship with this team would I even begin to consider owning my team again.


NHRA: 10 Most Recent Entries
[ top ]
Nov 16
-
Torrence Wins Camping World Title
Nov 11
-
NHRA Announces Complete 2021 Class Schedule
Nov 10
-
Don Prudhomme Shares Life Story On and Off the Track
Nov 10
-
Justin Ashley Wins 2020 NHRA Rookie of the Year
Nov 10
-
Matt Hagan Crowned 2020 NHRA Funny Car World Champion
Nov 09
-
LAS VEGAS - Enders Claims Her Fourth Pro Stock World Championship
Nov 05
-
LAS VEGAS SN - Super Stock Final, Round 7 Eliminations
Nov 05
-
LAS VEGAS SN - Stock Eliminator Final, Round 7 Eliminations
Nov 05
-
LAS VEGAS SN - Super Street Final, Round 7 Eliminations
Nov 05
-
LAS VEGAS SN - Super Comp Final, Round 7 Eliminations