| | | |
| --- | --- | --- |
| Thu, 26 Dec 2002, 07:05 AM | | |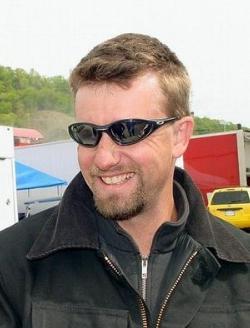 Troy Critchley
Troy Critchley, the popular Australian driver who now calls Texas his home, has been named the new driver for the brilliant red 1957 Chevrolet flying the AMS banner for the 2003 season. In addition to piloting the Pro Mod flagship of the AMS sponsor of the entire NHRA Pro Mod Series, Critchley's newly relocated and renamed engine-shop, Thunderworx, will be the supplier of the power plant.
Moving his engine building operation to Texas and changing the name to ThunderWorx has occupied much of Critchley's time during the off-season. Speaking with Critchley, he confirmed that he would drive the AMS car while also providing the engine and the tuning responsibilities. Testing of the new combination of driver, car and engine has now become a primary concern of the new team. The new team is hoping to have everything ready to attend the Super Bowl pre-season testing in Houston. Joining Critchley will be long time crew-member and transport driver, Danny Ayers. Possibly joining the team will be Dave Jordan who helped on last year's team.
Talking with members of the AMS team, they are thrilled to be associated with a personality such as Critchley who also happens to be able to drive the wheels off of a Pro Mod door-slammer.


NHRA: 10 Most Recent Entries
[ top ]
Nov 16
-
Torrence Wins Camping World Title
Nov 11
-
NHRA Announces Complete 2021 Class Schedule
Nov 10
-
Don Prudhomme Shares Life Story On and Off the Track
Nov 10
-
Justin Ashley Wins 2020 NHRA Rookie of the Year
Nov 10
-
Matt Hagan Crowned 2020 NHRA Funny Car World Champion
Nov 09
-
LAS VEGAS - Enders Claims Her Fourth Pro Stock World Championship
Nov 05
-
LAS VEGAS SN - Super Stock Final, Round 7 Eliminations
Nov 05
-
LAS VEGAS SN - Stock Eliminator Final, Round 7 Eliminations
Nov 05
-
LAS VEGAS SN - Super Street Final, Round 7 Eliminations
Nov 05
-
LAS VEGAS SN - Super Comp Final, Round 7 Eliminations