Thu, 26 Dec 2002, 07:17 AM



Will The Real Jim Hughes Please Stand Up!



By Bob Frey


Photo copyright 2002 Auto Imagery, Inc.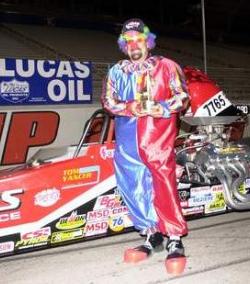 Jim celebrates Halloween win.
Those of us who were reared on television game shows remember the original version of "To Tell The Truth." Thatís the show were three different people would all claim to be the same person and the panel had to determine which one of them was actually telling the truth. I realize that the show still exists, but for the purists out there, thereís something about a show that featured Orson Bean, Kitty Carlisle, Peggy Cass and Tom Poston that just canít be duplicated. And of course, any show that was a "Mark Goodson and Bill Todman" production just had to be good. After a series of questions, the panelists made the guess about who was the real person, and the imposters split 250 bucks for each incorrect guess. Big time money, right? Well, at the beginning of April 2002, if you took all of the Super Comp racers in the country and asked them who would be the Lucas Oil World Champion at the end of the season, Jim Hughes wouldnít have stood up. To tell the truth, he wouldnít even have been one of the contestants.
Like most of the racers out west, Jim Hughes started his season with a lot of racing in California and Arizona, and most of it took place before the end of March. The Winternationals, a divisional race at Southwestern International Raceway and the Phoenix national event got the D-7 racers off to a fast start. But it wasnít a fast start for Jim Hughes. In fact, he struggled at those early races, only going a couple of rounds while using up some of his allotted races. But, as we all know, winning a sportsman championship is a marathon, itís not a sprint, and Jim decided to hang in there and see what happened. It was kind of like having Tom Poston ask you a question that had nothing to do with your real job. "Is it bigger than a breadbox?" Oh, sorry, wrong game show.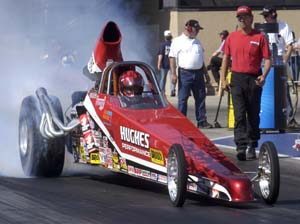 Hughes in winning dragster.
Jim might have though he was in the wrong game after those first few races, but things began to turn around in Las Vegas. Gee, how many people have ever made that statement? Jim won the Las Vegas race, but not in his specialty of Super Comp. Instead, he won it in Super Gas, while the other Jim Hughes was winning in Stock Eliminator. Iíll bet that would have kept Kitty Carlisle off guard, huh? Still, his four-round showing was the best of the season and he began to start thinking about the points and the championship. "When youíve raced as long as I have you know that you need to take every race one round at a time," he said. And thatís exactly what he did. He went to Houston after the Las Vegas outing and finally put a win on the board in Super Comp, the second of his career (Seattle, 2000 was the first). In that final round in Texas, he beat Larry Scarth, the driver of the most feared full-bodied car in Super Comp lately. I can hear Orson Bean now saying, "I didnít pick number three because he said that he drives a full-bodied car and everyone knows that you canít win in Super Comp in a door car." OK, so maybe it was Peggy Cass, but you get the idea.
After the Houston win, Jim put together a couple of good races in his home division, winning at Sonoma after going three rounds in Sacramento. A snafu in the paperwork kept him from returning to Infineon Raceway for the national event. "I missed the deadline and didnít get to race at Sonoma, and I was worried that that would hurt me later in the year." To tell the truth, Jim, so did I. Undaunted, he went to beautiful Earlville Raceway, near the field of drams in Iowa, and he won there, much to the chagrin of the Division 5 races. "I didnít pick number two," said Sam Levensen, who was sitting in for the vacationing Orson Bean, "because he said that he won in Division 5, and everyone knows that a guy from D-7 canít go six rounds at a Division 5 event." Well, Sam, thatíll cost you another 250 bucks.
Jim Hughes
While still staying within reach of the title, Jim knew that the year would finish the same way that it ended, with a lot of racing in his home division. A pointís race at Pomona, a divisional in Las Vegas and the "Finals" at Pomona would make or break his year, and the year of the other contenders for the title. It didnít help anyone when the Pomona divisional race had to be carried over until the Las Vegas event, and it didnít help that those races would be run a week before the "Finals." But Jim did well, winning the postponed Pomona race by beating Mike Ferderer, thereby depositing all of the points that he could into the S/C bank. Now all he had to do was sit and wait, or sit and race, and see what Kent Hanley would do at the last race of the season.
Coming into the Automobile Club of Southern California Finals, Kent was the only guy with a mathematical chance of beating Jim for the title. While he had to get to the semi-finals to do it, it certainly wasnít impossible for a racer for the east coast to do that in Pomona, and if you donít believe that, all you have to do is ask Tom Stalba, but thatís another story for another day. With his fate pretty much out of his hands, all Jim could do was hope that someone, anyone, would take Hanley out before the semi-finals, and they did. Kent lost in round two, and Jim Hughes, was the 2002 Lucas Oil Super Comp World Champion. I can see it all now, the votes are in, and Bud Collyer asks, "Will the real Super Comp World Champion, please stand up." After a big sigh of relief, the veteran racer from Arizona and the owner of Hughes Performance would stand up and the challengers would collect all the money, because no one, not Kitty, Orson, Peggy or Tom would ever have thought that a guy who only won two rounds at the first three races of the year, could hang in there to win the world title. Thatís why that show, "To Tell The Truth" was so much fun, and thatís why winning a world title isnít a sprint, itís something you have to take one round at a time. Donít believe me, then just ask the real Jim Hughes.


NHRA: 10 Most Recent Entries
[ top ]
Nov 16
-
Torrence Wins Camping World Title
Nov 11
-
NHRA Announces Complete 2021 Class Schedule
Nov 10
-
Don Prudhomme Shares Life Story On and Off the Track
Nov 10
-
Justin Ashley Wins 2020 NHRA Rookie of the Year
Nov 10
-
Matt Hagan Crowned 2020 NHRA Funny Car World Champion
Nov 09
-
LAS VEGAS - Enders Claims Her Fourth Pro Stock World Championship
Nov 05
-
LAS VEGAS SN - Super Stock Final, Round 7 Eliminations
Nov 05
-
LAS VEGAS SN - Stock Eliminator Final, Round 7 Eliminations
Nov 05
-
LAS VEGAS SN - Super Street Final, Round 7 Eliminations
Nov 05
-
LAS VEGAS SN - Super Comp Final, Round 7 Eliminations