Sun, 29 Dec 2002, 09:53 AM



Alan Johnson Has Sold…..



By Bob Frey


Photo copyright 2002 NHRA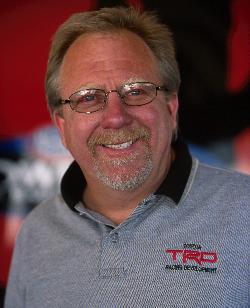 Alan Johnson
….nothing!! OK, so maybe nothing isn't exactly right, but in response to all of the rumors going around that he has sold his racing operation and is getting out of the car owner business I can tell you that that is simply not true. "We did sell one of our old dragsters to
Ron Smith,
" he told me, "and maybe that's how all the rumors started. Other than that I can tell you that we're moving full speed ahead for 2003." Now having said that, I can tell you that Alan always has one goal in mind when he goes to the track and that is to win the race, and after winning the race his goal is to win the championship. "You need 'X' to be able to run for the championship and right now we're trying to get to 'X,'" is how he put it. The way I look at it that probably means that he doesn't quite have all the funding that he needs but is headed in that direction. Alan did say that the
Toyota
folks are excited about drag racing and that they could play a big part in the future of his team and, as of this time he plans to be in Phoenix for the first test session of the new year. As for the other rumor that he and
Jerry Toliver
are talking about fielding another team all Alan would say to that is that the two of them "have talked."….Another team that has been the focus of a lot of talk lately is
Darrell Gwynn
, and Darrell told me that he's pretty much in the same situation as Alan, that is, "we have a lot of really good associate sponsors already on board but we're looking for that one major company to put us over the top." I will tell you this, the sport of NHRA Powerade drag racing is a much better place when Darrell Gwynn and the Johnson family are involved with it, so let's hope they both get all the help they need. After what those families have done for the sport, and after what they've given to it, we need them both to be out there competing on the highest level.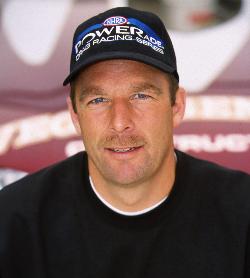 Greg Anderson
There has been some news in the Pro Stock world, too, over the past couple of days. The two teams that I heard about this week are
Ken Koretsky
and
Greg Anderson
. While nothing is guaranteed, I heard that the Koretsky tractor and trailer was headed for Texas this past week and that he'll be working with
David Nickens
next year. That means that you can look for "Captain Chaos" to be in Pomona with a Dodge Neon and look for him to be joined by
Bo Nickens
who will also race a Dodge this year. As part of his arrangement with Nickens, Koretsky will be involved in engine development and research with the Texas engine builder. Koretsky, who has been racing since the mid 1980's, always seems to come up with the funding to run his cars and he's as serious as anyone about fielding a competitive car. The Nickens-Koretsky partnership, if you can call it that, should work out well for both teams. By the way, I also understand that David Nickens will be inducted into the
Division 4 Hall of Fame
this year, so congratulations to David, one of the truly gifted engine builders and drivers in the sport.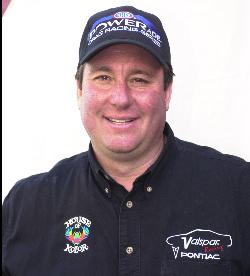 Kenny Koretsky
As far as Greg Anderson is concerned, I mentioned a few weeks ago that I believe he will be switching to a Pontiac in 2003, now word comes that he may also be adding a second team car and driver to his operation. From what I hear a certain sportsman driver from the Minnesota area may be in "line" to step up to Pro Stock next year. While all of this is still tentative, I do get most of it from some pretty good sources, and I guess time will tell exactly how good those sources really are. For now, though, let's just say that Greg Anderson is preparing to be even more competitive in '03 than he was last year, and that's saying a lot….The Pro Stock bike class will have a new engine-builder to choose from next year.
Mark Peiser
, crew chief for
Antron Brown
, will be making engines for Antron and several other riders beginning in 2003. At this time Mark is currently building engines for both
Steve Johnson
and
Lloyd Straus
and you can expect more names to be added to that list in the very near future. With his track record, Mark should be able to get all the business he can handle. The team, which still has associate sponsorship money from MAC Tools, is looking to complete their financial arrangements in time to make a serious run for the championship next season. And, while he 'll be making his own engines, look for Mark to still get his heads and some other parts from the Vance and Hines folks. "Byron couldn't have been more supportive when I told him what our plans were," Mark said. That, in itself, speaks volumes about the character of the people at V & H. Their theory is and always has been that whatever is good for the class in general, is good for everyone, even if that means having another engine builder to contend with….January 3
rd
is the day that
Angelle Savoie
will be honored at the
Mohegan Sun Casino
in Connecticut. If you're in the area, or if you're looking to spend a few days in the lap of luxury, why not plan to be at the Mohegan Sun next Friday.
Tony Schumacher should be on his way to Afghanistan right about now. I wish him all the best as he carries the best wishes of everyone in the racing community to our troops overseas. There are very few of us that have an opportunity like that and I applaud Tony for taking time out of his holiday schedule to go overseas. Everything and everyone in the Schumacher Racing organization is first class and they should all be proud of Tony, especially in this endeavor. By the way, did you know that Tony Schumacher's birthday was December 25th? So was Rickie Smith's and so was Steve Cohen's, for that matter…. I got several e-mails and phone calls last week after asking the question about who gets what spot in the Budweiser Shootout at Pomona if Cory McClenathan isn't racing (which I think he will be). David Baca would probably have a tough sell to the NHRA folks in an effort to get Cory's spot, if indeed Mr. Mac isn 't racing. All I know is that if I were either Rhonda Hartman-Smith or David Grubnic (the #9 & 10 drivers in the Shootout points), I wouldn't plan too much activity for Saturday at the Winternationals because they just might be racing for 100 grand. We'll see…Look for former Funny Car tuner and driver Tom Anderson to return to the track this year as part of the TA/FC operation of Jim Sickles. Together with Todd Veney (in Jay Blake's car), things should be very competitive in the Division 1 alky funny car ranks next season. Think about it, every car that Tom Anderson has ever been involved with has been top notch and extremely competitive. This one will be, too.


NHRA: 10 Most Recent Entries
[ top ]
Jan 15
-
2021 NHRA Schedule Change Announced
Jan 14
-
Brian Preszler Wins First World Championship
Jan 14
-
Tickets on Sale for Amalie Motor Oil NHRA Gatornationals
Jan 14
-
Tickets on Sale for NHRA Southern Nationals
Jan 12
-
Christopher Dodd Wins First World Championship
Jan 10
-
Jody Lang Wins First World Championship
Jan 08
-
Bryan Worner Wins Super Stock World Title
Jan 07
-
Craig Bourgeois Wins his Second World Championship
Jan 05
-
Aaron Stanfield Wins Factory Stock Showdown Championship
Jan 04
-
Randal Andras Wins Top Fuel Harley Title