Sat, 14 Dec 2002, 09:51 PM



Kevin Helms Makes A Little Bit of History



By Bob Frey


Photo copyright 2002 Auto Imagery, Inc.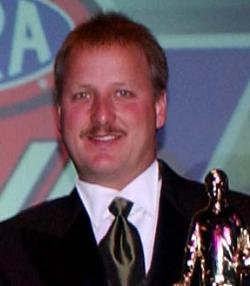 Kevin Helms
Kevin Helms will save a lot of money next year because he wonít have to buy any new numbers to put on his car. As the Stock Eliminator World Champions, Kevin can keep that big old number one of the side of his Camaro for another twelve months, and thatís something that not a lot of people in the history of the sport have been able to do. In fact, the only other guy to put back-to-back championships on the board in Stock Eliminator was Jerry McClanahan who turned the trick back in 1973 and í74. Now that you think about it, itís apparently easier to win the Top Fuel title in consecutive years than it is to win in Stock. But then, there are a lot more stockers out there than there are top fuel cars.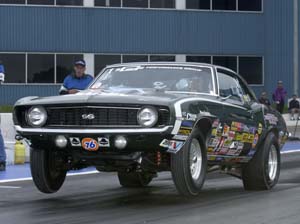 Jerry McClanahan and Kevin Helms couldnít be further apart on the performance scale if they tried. Jerry, who lived just a stoneís throw from the Pomona race track, won his first title in a blazing 1966 Chevrolet 4-door entry that ran in the P/SA class, and that was his fast car! In í74 he stepped down, to coin a phrase, to a 1966, 9-passenger Chevrolet station wagon that fit neatly into the R/SA class. Jerryís winning time in his final round at the í74 World Finals was a blazing 14.75 at 75.88 mph, and that was running all out, after all, in those days you didnít get penalized for "breaking out" in the final round. And, in those days, if you won the World Finals you were the world champion. Take nothing away from Jerry, though, since he earned his two titles and the divisional crowns as well in those two seasons, still, he didnít have to do what Kevin did to win the championship. Kevin, driving his big block, 396 cubic inch, stick shift Chevrolet, had to beat some of the toughest racers in the country on a weekly basis in order to secure his second title, and he had to handle the pressure of being the champ.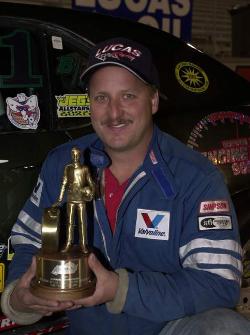 Kevin won Vegas Points meet.
Most drivers will tell you that winning the first championship is the toughest, after that the pressure seems to be on the other guys to beat you. Kevin felt the same way this year. "After winning last year, I decided to go out and have fun this year. I already had a championship and nothing and no one could ever take that away from me," he said. Well, as a matter of fact, no one did take it way from him, although it certainly wasnít from a lack of trying. Going into the Las Vegas points races, the last divisional event of the season, Kevin has still battling it out with Toby Lang and Jeff Hefler, a couple of excellent racers, and he needed to go rounds in order to keep them at bay. He not only went rounds, he won the event, beating Tom Roberts in the final. Since both Lang and Hefler had gone out early, Kevin Helms had a pretty good weekend in Las Vegas. And, just to make it even nicer, he took his Super Stock car to the finals, too, where he finished runner-up. Like a lot of the racers today, Kevin does run two cars at most of the events. "Without a sponsor, taking two cars increase your chances of making some money," he said. "And it keeps you sharp." Sharp enough to win three divisional events this year and to visit the winnerís circle in the Super Stock class, and sharp enough to go rounds at the national races that he claimed. "Last year I did well on the national level, and this year it was the divisional stuff that helped me out," he said. Hey, they all count, Kevin.
Not only has Kevin won two Stock Eliminator national championships, but he has also won the U.S. Nationals twice (1998 & í99), and thatís another accomplishment that he is justifiably proud of. "This year I had all kinds of mechanical trouble at Indy and I lost to Al Corda in the third round." But by then he had piled up enough points on the divisional level to begin to think that he could possibly repeat as champion. "After winning in Douglas (at the Division 5 race), I really decided to go after the championship, again." And the rest, as they say, is history.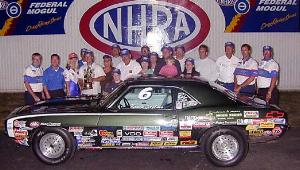 Helms celebrates '99 Indy win.
At the awardís ceremony this year I asked Kevin what he was going to do during the off-season. "Well, first Iíve got to fix all the stuff I broke at the end of the season, and then Iíll be working on some engines for a few other racers." Yes, the former diesel mechanic will be building engines for his fellow racers, and youíve got to think that a guy who can make a 375 horsepower Chevrolet engine run as well and consistently as Kevin does should get lots of calls. And, I imagine, heíll look forward to spending some time with his wife, Gail. While the two travel together to all of the races, the schedule has to be a bit of a grind, so a few weeks at home may be just what the doctor ordered. That is, of course, unless that phone keeps ringing from the other racers who want an engine built by the two-time NHRA Stock Eliminator World Champion.
While Jerry McClanahan and Kevin Helms took decidedly different paths to their world titles, they do have a couple of things in common. If memory serves me correctly, Kevin actually began his racing career doing some bracket racing, just like Jerry did, and he also competed in those early years in P/SA Chevrolet, just like Jerry did. The only real difference is that Kevin decided to step up, and when he did, he did it in a big way. Congratulations to Kevin and Gail on their tremendous accomplishments and donít be surprised if next year that green Camaro isnít wearing the number one, again, at the end of the season. In reality, keeping the same number or your doesnít save you a lot of money, we all know that, but it sure makes all the other racers jealous. Well, everyone except Jerry McClanahan.


NHRA: 10 Most Recent Entries
[ top ]
Nov 16
-
Torrence Wins Camping World Title
Nov 11
-
NHRA Announces Complete 2021 Class Schedule
Nov 10
-
Don Prudhomme Shares Life Story On and Off the Track
Nov 10
-
Justin Ashley Wins 2020 NHRA Rookie of the Year
Nov 10
-
Matt Hagan Crowned 2020 NHRA Funny Car World Champion
Nov 09
-
LAS VEGAS - Enders Claims Her Fourth Pro Stock World Championship
Nov 05
-
LAS VEGAS SN - Super Stock Final, Round 7 Eliminations
Nov 05
-
LAS VEGAS SN - Stock Eliminator Final, Round 7 Eliminations
Nov 05
-
LAS VEGAS SN - Super Street Final, Round 7 Eliminations
Nov 05
-
LAS VEGAS SN - Super Comp Final, Round 7 Eliminations