Tue, 24 Feb 2015, 14:58 PM



Lamb Wins Comp, Polvadore and Ritchie Score First Wins



Courtesy of NHRA Field Marketing



At CARQUEST Auto Parts NHRA Nationals In Phoenix



CHANDLER Ariz. -
Justin Lamb scored his 13th NHRA national event win while Bernie Polvadore and Trevor Ritchie each grabbed their first this past weekend at the CARQUEST Auto Parts NHRA Nationals at Wild Horse Pass Motorsports Park and the NHRA Lucas Oil Drag Racing Series.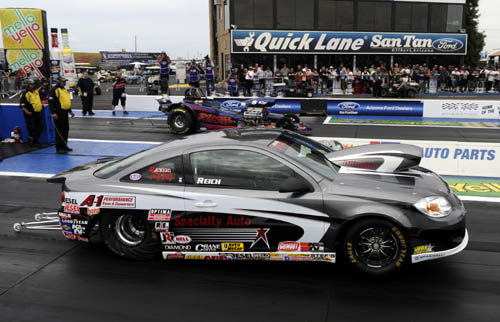 Justin Lamb defeated Alan Ellis
Lamb, Henderson, Nev., had a .013 second reaction time in his '10 Cobalt to take the early lead and stayed out front posting a 7.972 second run at 172.43 mph. The win was Lambs second in Comp Eliminator as he knocked out Doug Lambeck, Mike DePalma and Dan Fletcher on his way to the final with Alan Ellis who was coming off a season opening win at Auto Club Raceway at Pomona. Ellis went 6.529, 207.08 mph in his '23 Ford for his runner up finish.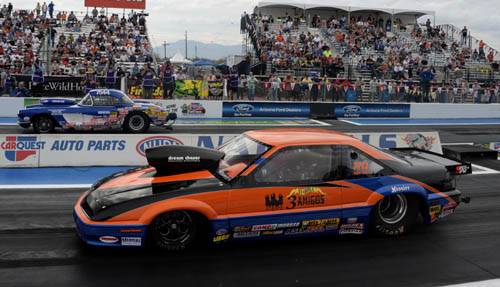 Bernie Polvadore defeated Brad Pierce
Sun City, Ariz., racer Polvadore turned his starting line advantage in to a win as did Ritchie of Sherwood Park, Alb. Polvadore was .004 on the tree and held off the hard charging Brad Pierce, Riverside, Calif., for the win in Super Gas. Ritchie clocked in at 6.815, 191.81 mph in defeating John Taylor II, all the way from Oley, Pa., in Top Dragster.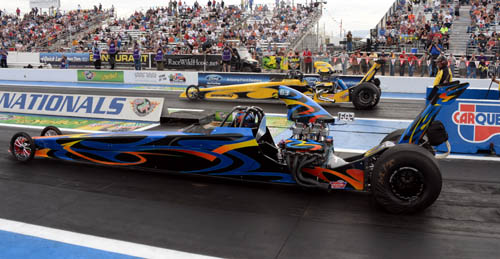 Trevor Ritchie, Dragster defeated John Taylor II
Ed Olpin defended his event championship from a year ago in Top Sportsman but had to earn it over Jimmy Lewis who was the runner up in Super Comp two weeks ago in Pomona, Calif. Olpin, Pleasant Grove, Utah, and Lewis, Forney, Texas, were .001 and .002 seconds off the start with Olpin taking the win and his fourth at the national level in 7.272 seconds at 189.63 mph.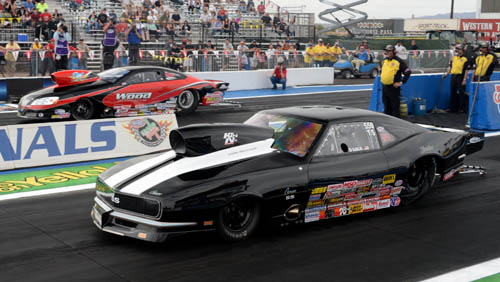 Ed Olpin defeated Jimmy Lewis
Glenn Kern won for just the second time in his career having won for the first time over 25 years ago in Seattle. The Modesto, Calif., resident faced off with Steve Williams, Beaumont, Calif., as Kern was better at both ends of the track for the Super Comp win in 8.912 seconds, 168.96 mph. Williams, who took the Super Gas title in Pomona, crossed the line in 8.949, 166.42 for his runner up finish.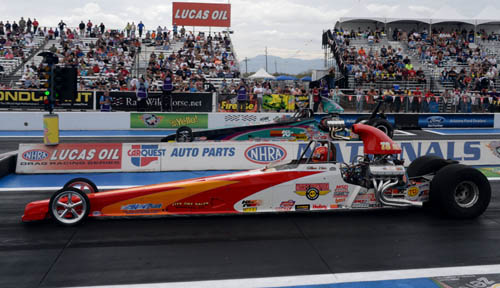 Glenn Kern defeated Steve Williams
Phil Unruh and Kyle Seipel rounded out the winners with Unruh, McPherson, Kan., earning his third and Seipel, Pleasanton, Calif., his tenth. Unruh took the hole shot over Don Thomas, who was looking for his first national event win, and won on a double breakout in 8.525 seconds at 155.22 in his '10 Cobalt to take home the hardware in Super Stock. Thomas, Spruce Grove, Alb., covered the quarter mile in 10.078, 131.56. Seipel met up with Kyle Rizzoli and his '69 Camaro out of San Luis Obispo, as the two were close at the start of the Stock Eliminator final but Rizzoli ran too quick at 10.386 on his 10.41 dial. Seipel was 11.020 on his 10.99 dial for the win and the NHRA Wally trophy in his '70 Camaro.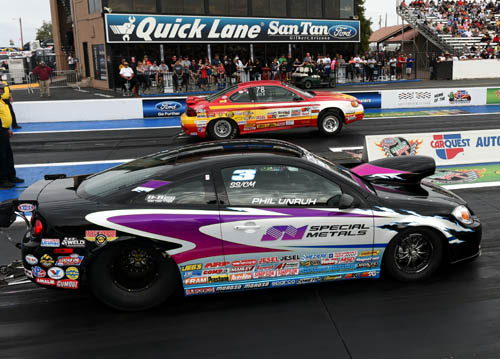 Phil Unruh defeated Don Thomas
NHRA Pacific Division racers are back at Wild Horse Pass Motorsports Park next weekend for the Pacific Division NHRA Lucas Oil Drag Racing Series season opener, Feb. 27-Mar. 1 The event will be highlighted by the Top Alcohol Dragster and Funny Car classes.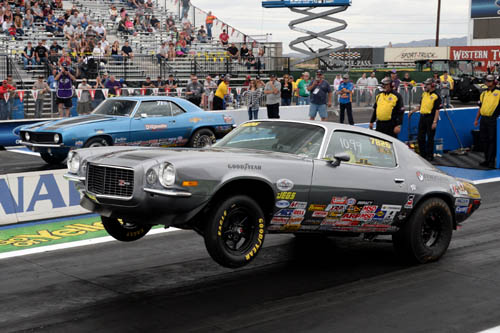 Kyle Seipel defeated Kyle Rizzoli
The following are the final results from the NHRA Lucas Oil Drag Racing Series CARQUEST Auto Parts NHRA Nationals at Wild Horse Pass Motorsports Park:
COMP ELIMINATOR
Justin Lamb, Cobalt, 7.972, 172.43 def. Alan Ellis, '23-T Ford, 6.529, 207.08.
SUPER STOCK
Phil Unruh, Cobalt, 8.525, 155.22 def. Don Thomas, Grand Am, 10.078, 131.56.
STOCK ELIMINATOR
Kyle Seipel, Camaro, 11.020, 106.34 def. Kyle Rizzoli, Camaro, 10.386, 117.60.
SUPER COMP
Glenn Kern, Dragster, 8.912, 168.96 def. Steve Williams, Dragster, 8.949, 166.42.
SUPER GAS
Bernie Polvadore, Grand Prix, 9.912, 163.45 def. Brad Pierce, Corvette, 9.902, 139.00.
TOP SPORTSMAN
Ed Olpin, Camaro, 7.272, 189.63 def. Jimmy Lewis, GXP, 6.995, 190.40.
TOP DRAGSTER
Trevor Ritchie, Dragster, 6.815, 191.81 def. John Taylor II, Dragster, 6.944, 191.08.




NHRA: 10 Most Recent Entries [ top ]

Jun 24- NORWALK - Sunday Video
Jun 24- NORWALK - Pro Mod Wrap Up
Jun 24- NORWALK - E3 Spark Plugs NHRA Pro Mod Drag Racing Series Championship Points
Jun 24- NORWALK - SAM Tech.edu NHRA Factory Stock Showdown Championship Points
Jun 23- NORWALK - Championship Points
Jun 23- NORWALK - Bonus Points
Jun 23- NORWALK - Sunday Wrap Up
Jun 23- NORWALK - Summary of Eliminations in Top Fuel
Jun 23- NORWALK - Summary of Eliminations in Funny Car
Jun 23- NORWALK - Summary of Eliminations in Pro Stock