Wed, 31 Dec 2014, 09:16 AM



Montecalvo Welcomes Crew Chief Tommy Lee



Courtesy of Lisa Collier



CENTER MORICHES, N.Y. --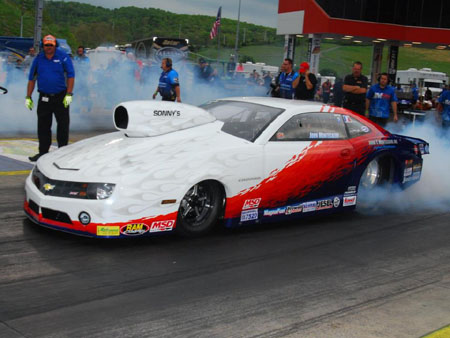 John Montecalvo
For the last three seasons John Montecalvo and his Championship caliber Extreme Pro Stock team have utilized the talents of Justin Belfance as Car Chief and Crew Chief. A young talent in the sport, Belfance has been busy not only as Montecalvo's main hired hand, but also starting a family with his wife Ashley in their Georgia home. With his growing family requiring greater time commitments Belfance has stepped aside from his race career and busy travel schedule. In his place, Montecalvo welcomes well known tuner and driver, Tommy Lee.
Tommy Lee has been a fixture among both Mountain Motor and 500 cubic inch Pro Stocks for decades. With experience as both a driver and a crew chief, Lee is as well-rounded and knowledgeable as they come. "We we are excited to have Tommy Lee on board with us; it's a bad news/good news scenario for our team" told Montecalvo. "It's tough to say goodbye to Justin. He was a good fit for our team and did an outstanding job for us and we wish him all the best. We'll miss him, but I feel very comfortable having Tommy join us as he knows his way around Mountain Motor Pro Stock."
Montecalvo's car, hauler and equipment have already been relocated to Tommy Lee's Statesville, NC based shop. The team will operate from that central location, rather than Montecalvo's New York home. "Tommy's shop is closer to Sonnys for us and close to some good test tracks," said Monte. "An added bonus is that he's an excellent driver if we need him behind the wheel to test.
"It won't just be Justin that we're missing this year," Montecalvo continued with a decidedly somber tone. "One of our long time friends lost his battle with cancer just after Christmas. Donnie Crowder was a great man, and we will all miss him terribly. Our thoughts and prayers are with his wife Debra and family. There is some solace in knowing he is with Shirley, Hank, Bert and all of our racing family that have passed. For sure he will still be watching over us, but from a much better view."
Donnie Crowder, former IHRA and PDRA official lost his battle with cancer on December 26th at the age of 63. He was laid to rest Monday, December 29th. He will be missed by many in the racing community.
"We hope to honor Donnie's memory throughout the 2015 season. We're really looking forward to getting back on the race track and taking some win lights. We want to wish all our friends a healthy and safe Happy New Year. We'll see you soon."




Drag News: 10 Most Recent Entries [ top ]

Jun 02- Timoszyk and Umlauf Execute at Eddyville Chaos
Jun 01- Franklin, Salemi, Pluchino, Davis, Lannigan and Micke Win Season-Opening PDRA East Coast Nationals
Jun 01- Halsey, Weatherford, Carr and Davis Highlight First-Round Winners
Jun 01- Friday Qualifying Rained Out at PDRA East Coast Nationals
May 31- Austin Aces Xtreme Raceway Park Season Opener
May 29- ADRL Providing Lone Star State's First Fan-Attended Sporting Event
May 28- Live Funny Car Chaos this Weekend on Bangshift
May 27- PDRA to Kick Off 2020 Season at East Coast Nationals
May 21- PDRA Releases Seven-Race Revised 2020 Schedule
May 20- New Location-Nitto Tire NMRA/NMCA Super Bowl of Street-Legal Drag Racing Moves to St. Louis