Tue, 30 Dec 2014, 11:54 AM



Nitro Crew Chief Ronnie Swearingen Joins Nelson Racing



Courtesy of Darr Hawthorne



PASO ROBLES, Calif. --
Don Nelson, owner of the California Hustler 1977 Pontiac Firebird nitro funny car, announced today that veteran crew chief Ronnie Swearingen has joined the team in their quest for the 2015 NHRA Hot Rod Heritage Series Championship.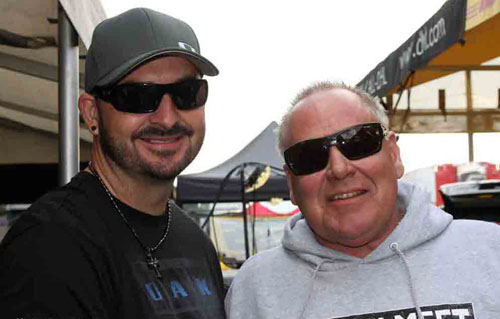 California Hustler nitro funny car driver Robert Overholser
and 2014 NHRA Hot Rod Heritage series winning Crew Chief Ronnie Swearingen
join together for the 2015 drag racing season.
In making the announcement, Nelson said of Swearingen's addition to the head tuner position, "I've gotten to know Ronnie over the past racing season, he's a winner and that is the company we want to be in. He's got a great history in the sport of professional drag racing as well as tuning the Championship winning funny car, I'm excited!"
Most recently, Swearingen was crew chief on Dan Horan's Patriot Mustang nitro funny car, winning the 2014 NHRA Heritage Series Championship. The team won three events in the Championship season, racing to eight final rounds in eleven events since joining the team in 2010. He also tuned nitro funny cars for KC Spurlock in the 1990's to multiple event wins, set NHRA national records there and tuned top fuel dragsters for Vandergriff Racing as well as a stint in European drag racing.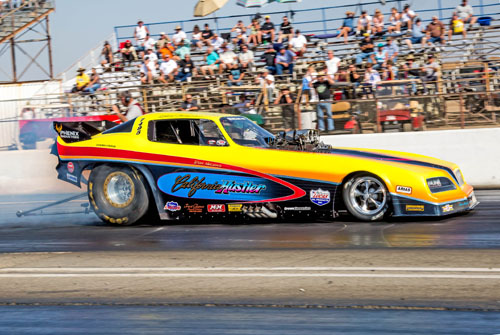 California Hustler
Second year California Hustler driver Robert Overholser finished third in 2014 NHRA Hot Rod Heritage Series points, said of the change, "I'm thrilled about Ronnie coming aboard, we get along really great. When I was a kid I watched him on TV, while he was tuning in the NHRA "Big Show". I was after Ronnie all this year and thanks to Don Nelson, he is now my crew chief! He's got some new ideas for us and has already made major changes to the car. I can't wait to get behind the wheel and stand on the throttle!"
Wanting to remain in California, Swearingen has completed a move from Los Angeles to be near the team's shop in Paso Robles, a smaller town near the Central Coast. He's already begun to make improvements and go over everything from the ground up, the cool Kenny Youngblood designed paint scheme on the Firebird's carbon fiber body and the Victory Racecars chassis will remain the same.
The California Hustler team begins testing Swearingen's new combination in February prior to the 57th Annual Good Vibrations March Meet on March 5 - 8 at Auto Club Famoso Raceway and has tentatively set a ten-race schedule for the 2015 season. They'll finish the season in October at the 24th Annual California Hot Rod Reunion.




Drag News: 10 Most Recent Entries [ top ]

Jun 02- Timoszyk and Umlauf Execute at Eddyville Chaos
Jun 01- Franklin, Salemi, Pluchino, Davis, Lannigan and Micke Win Season-Opening PDRA East Coast Nationals
Jun 01- Halsey, Weatherford, Carr and Davis Highlight First-Round Winners
Jun 01- Friday Qualifying Rained Out at PDRA East Coast Nationals
May 31- Austin Aces Xtreme Raceway Park Season Opener
May 29- ADRL Providing Lone Star State's First Fan-Attended Sporting Event
May 28- Live Funny Car Chaos this Weekend on Bangshift
May 27- PDRA to Kick Off 2020 Season at East Coast Nationals
May 21- PDRA Releases Seven-Race Revised 2020 Schedule
May 20- New Location-Nitto Tire NMRA/NMCA Super Bowl of Street-Legal Drag Racing Moves to St. Louis