Mon, 29 Dec 2014, 19:52 PM



Win With Force Sweepstakes Delivers New Ford Escape From Brandsource



Courtesy of Elon Werner - JFR Public Relations



YORBA LINDA, Calif. --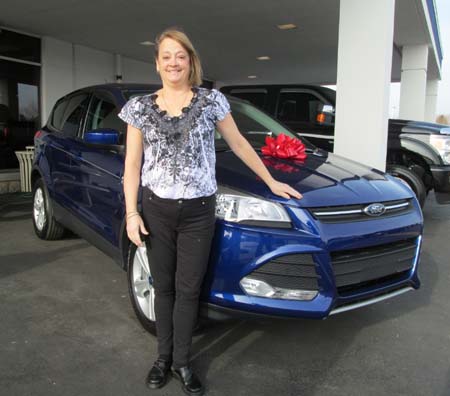 Amy Abbott
BrandSource and Ford Motor Company teamed-up with John Force Racing during the 2014 racing season to giveaway a new Ford Escape as the Grand Prize in the Win With Force Sweepstakes. Amy Abbott of Ohio, who signed up to win prizes at the race team midway display during the NHRA nationals in Norwalk, OH, was recently drawn as the Grand Prize winner of the new vehicle.
"I was very leery when I got the call that I had won; When I realized I had actually won the Ford Escape - I was extremely excited," said Abbott. "I am a huge John Force Racing fan! We're already making plans for our trip to the Norwalk races next year. We're driving the SUV and I'm hoping John will autograph the dashboard for me!"
More than 100,000 fans throughout the 2014 racing season entered the Win With Force Sweepstakes at the midway display during races, or entered online at www.brandsource.com.
"More race fans than ever visited BrandSource.com this season, and entered the Win With Force Sweepstakes. While they were on the website, fans also had a chance to see all of the electronics, appliances, furniture and other retail items our 4,000+ dealers in the U.S. offer daily. We are very thankful to Ford for their participation in the promotion, and congratulate Amy Abbott on winning the Grand Prize," said Bob Lawrence, CEO of BrandSource.
This past racing season, BrandSource also gave away 25 additional prizes to race fans across the country. Every time a John Force Racing driver qualified number one at an NHRA event, a registered fan won a front-loading washer and dryer set. In addition to that, every time a John Force Racing driver won a race, a fan took home a 55 inch flat-screen television and was given the opportunity to get their picture taken with the team in Winner's Circle.
BrandSource and Ford Motor Company have worked together multiple times to promote a vehicle giveaway as the Grand Prize for the Win With Force Sweepstakes. Past prizes have included a Ford Fiesta, Focus, Mustang, and this year, the most popular SUV in America, the Ford Escape.
Tim Duerr, Motorsports Marketing Manager, Ford Motor Company, said "Ford Motor Company is always thrilled to work with BrandSource on consumer promotions since we feel their customers are also Ford vehicle drivers and owners. The current design of the Ford Escape has been so popular in North America, that we knew it would be a Grand Prize that thousands of race fans would enter to win. Congrats to this year's winner, Amy Abbott, and we thank everyone who entered the fun season-long sweepstakes."




NHRA: 10 Most Recent Entries [ top ]

Mar 20- GAINESVILLE - Special Awards
Mar 20- GAINESVILLE - Lucas Oil Drag Racing Series Wrap Up
Mar 19- GAINESVILLE - Sunday Video
Mar 18- GAINESVILLE - Pro Mod Sunday Wrap Up
Mar 18- GAINESVILLE - Sunday Wrap Up
Mar 18- GAINESVILLE - Pro Mod Championship Points
Mar 18- GAINESVILLE - Bonus Points
Mar 18- GAINESVILLE - Championship Points
Mar 18- GAINESVILLE - Mickey Thompson Top Fuel Harley Series Championship Points
Mar 18- GAINESVILLE - Bonus Points