Mon, 22 Dec 2014, 07:44 AM



A Year Unlike Any Other for Jason Harris, Pro Nitrous Champ



Courtesy of Lisa Collier


Photo: Gary Rowe / RaceWorks.com / PDRA660.com





PITTSBORO, N.C. --
The majority of drag racers feel lucky to win one or two races a year, sometimes even just one or two races in a career. This year, PDRA Pro Nitrous driver, Jason Harris, did the unthinkable. He went to every final of the PDRA inaugural tour, winning six of eight races. Needless to say, this feat crowned him the first PDRA Pro Nitrous World Champion.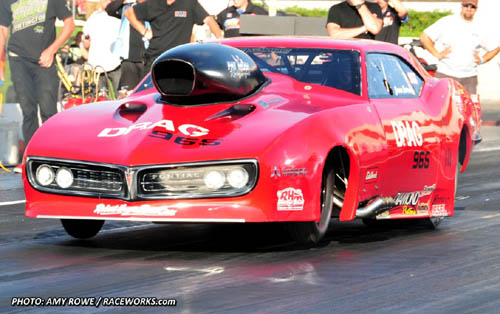 Jason Harris
"I never looked at the points all year," the North Carolina native confessed. "We won the first one and, I thought, okay, we won one. It wasn't that big of a deal. We won the second one, okay well I got lucky. We won a third one and I thought maybe I got a lot of luck on my side. By about the fourth one I began to think there was a good chance I could win the World Championship, but I didn't want to think about. If you start looking at points and paying attention to it, it starts playing on your mind. I didn't want it to affect me. I never pulled the website up and looked at points all year long. I let my dad and Robert figure the points and what we had to do. They wanted to throw a party at Rockingham because pretty much all I had to do was check in and I'd win the Championship, but there were two races left. I didn't want to do that. I wanted to concentrate on the racing. We're racers. Regardless of whether we had the Championship, we wanted to race and win. When we got to the finals at Rockingham, it became my goal to go to all finals."
Harris and his team accomplished that goal. rounding out the season by getting a runner up finish at the postponed Rockingham event and putting an exclamation point on the Championship by winning the PDRA Finals.
"This is the first World Championship I've won, so it's obviously special," Harris continued. "I've been close before, got third last year. We started out the year really well and I kept waiting for that one round that would mess things up for us, but it didn't really happen. I feel fortunate to be where I'm at, have the things I have and be able to race period. To be the first Champion of a big class in a new organization - I feel privileged to even be a part of the organization, much less be the Champion. Drag racing went through a big change in the last couple of years. Our type of racing was almost going by the wayside just because of bad management and bad organizations so I just feel privileged to even have a place to race and to have won the amount of races I've won this year.
"I definitely had some help along the way. I really want to thank Robert Hayes. As much as I would like to take a lot of credit for this Championship, me and him won this Championship together. There were times when the car really was stellar, and I didn't even have to hardly drive. I just had to get from one end to the other. Then there were times when the car needed my help, like in Virginia and Memphis. People were starting to gain power on us. There were probably five or six rounds we won this year where we were definitely showing less power than the guy next to us. Those times I was able to pull it out with a little bit of driving skill. But me and him were in this together. We've been doing this for about five years now and we've had a lot of accomplishments, along with ups and downs. This year was a stellar year and he's the number one reason that I got to where I'm at. He could tune a car for anybody, but he knows I'm a good driver and I know he's a good crew chief. Together, we're an unstoppable combination.
"I also want to thank the companies that help us out. Hoosier Race Tire has been with us since the beginning. We picked up Diamond Pistons, Fuse Fuel, and DRAG 965. Really got to thank Sheik Mohammad al Sabah. He came on board this year. Him and Robert spent a good deal of time in the Middle East last winter. He's helped us out a lot this year. Of course, Crystal, my wife, and my whole crew. I couldn't have done it without all these guys. It's a joint effort."
Harris finished ahead Lizzy Musi, Tommy Franklin, John Camp and Pat Stoken who round out the top five in Pro Nitrous points.
For more on the world's premier eighth mile drag racing organization visit www.pdra660.com. Follow the PDRA: Facebook, Twitter, Instagram, Youtube.




Drag News: 10 Most Recent Entries [ top ]

May 29- ADRL Providing Lone Star State's First Fan-Attended Sporting Event
May 28- Live Funny Car Chaos this Weekend on Bangshift
May 27- PDRA to Kick Off 2020 Season at East Coast Nationals
May 21- PDRA Releases Seven-Race Revised 2020 Schedule
May 20- New Location-Nitto Tire NMRA/NMCA Super Bowl of Street-Legal Drag Racing Moves to St. Louis
May 20- Illinois Motorsports Coalition Formed to Lobby State Government
May 20- Illinois Motorsports Coalition
May 18- Beech Bend Raceway Park National Open Postponed
May 18- NHRA Announces NHRA Hot Rod Heritage Series at Sacramento Raceway is Postponed
May 11- POSTPONED-NMRA/NMCA Power Festival