Thu, 18 Dec 2014, 10:33 AM



Courtney Force Looks Back at 2014 and Forward to 2015



Courtesy of Elon Werner - JFR Public Relations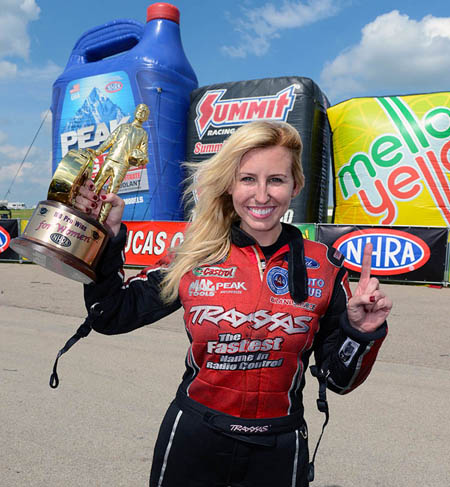 Courtney Force celebrates
100th win for a woman in Topeka.
Photo copyright 2014 Gary Nastase Photography
Traxxas Funny Car driver Courtney Force looks back at the 2014 season and also turns her attention to the 2015 NHRA Mello Yello Drag Racing Series. In 2014 Force raced to four wins (a season high for a female in the Funny Car class) as well as a No. 4 finish in the Mello Yello point standings.
What was the biggest highlight for you last season?
CF: Courtney Force: The biggest highlight for me was becoming the winningest female in Funny Car history, after our Traxxas team picked up our 5th win of my career, in Sonoma, CA. Going into the Countdown and getting back-to-back wins totaling seven of my career, made this a highlight in itself.
Can you talk about your growth as a driver in your third season?
CF: It's unbelievable to think I have just completed my third season in Funny Car. As a driver I think I've pushed myself harder than ever before and am learning with every pass, at every track on the circuit. I think we have reached a point where we are strong as a team and I've been working hard to make less mistakes and try to improve my lights growth in myself as the years go on. Plus we made our best finish yet, concluding the 2014 season where we finished 4th!
You reached some personal goals in 2014 but what are you looking forward to in 2015?
CF: I'm looking forward to hopefully more wins and records to be broken. Obviously my personal goal is to become more consistent as a driver but as a team to go after that Championship in the 2015 season!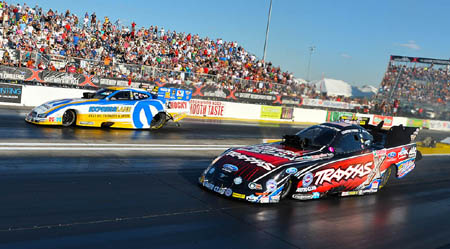 Force defeated Matt Hagan for the Seattle title.
Photo copyright 2014 Ron Lewis Photography
Many called 2014 the year of the woman, what do you think about that?
CF: I think it's amazing and I'm honored to be a part of such a monumental year for women. It's exciting to be a part of history and to watch so many great female drivers breaking records week after week. This really goes to show how far our sport has come and it makes me excited for what is in the future.
What do you think will motivate you the most heading into 2015?
CF: The fact that we have a great team and car and had such an impressive season last year gives me the motivation to have more consistency in the Countdown next year. My main motivation is to get the win for my team and my sponsors, and for the new ones coming on board. I want these sponsors to be excited and proud that they have come on board with our teams at John Force Racing.
When you look at the competitiveness of your respective classes what excites you the most about being a Funny Car driver?
CF: The most exciting thing about being a Funny Car driver is the sheer competitiveness between drivers on the race track. There are so many impressive cars competing week after week, and you have to fight to the end, because there is only one winner. The adrenaline, the competition, the unexpected, the team work, the speed and the smell of the nitro excites me most about being a funny car driver.
Where do you think you improved the most this past season?
CF: I think I've improved the most with knowing the lanes at each race track. Some tracks are entirely different than others, although we are only going one direction, but from a driver's stand point, the feeling of each unique track, the car, and the lane is something I've continued to understand and memorize throughout the season.




NHRA: 10 Most Recent Entries [ top ]

Jun 18- Mark Oswald Named 2018 Legend of Thunder Valley
Jun 18- BRISTOL - Sunday Pro Mod Wrap Up
Jun 18- BRISTOL - Special Awards
Jun 18- BRISTOL - Pro Mod Championship Points
Jun 18- BRISTOL - Sunday Video
Jun 18- BRISTOL - Championship Points
Jun 18- BRISTOL - Sunday Wrap Up
Jun 18- BRISTOL - Summary of Eliminations in Factory Stock Showdown
Jun 18- BRISTOL - Summary of Eliminations in Super Gas
Jun 18- BRISTOL - Summary of Eliminations in Top Fuel Harley