Thu, 18 Dec 2014, 09:39 AM



PDRA Puts Exclamation Mark on Inaugural Year



Courtesy of Lisa Collier



PITTSBORO, N.C. --
The 2014 Performance Racing Industry Trade Show was abuzz with all the expected announcements and plans for another season. But for Professional Drag Racers Association racers, staff and supporters it was also a major occasion for celebration. The organization announced new partnerships and plans for 2015 and capped off the event with their first ever awards banquet on Saturday evening.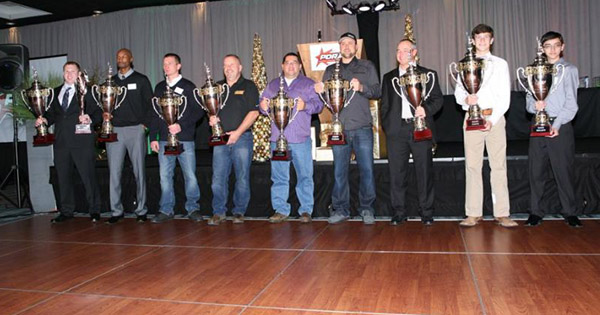 PDRA Chapions
Besides celebrating an incredible first season, the PDRA made sure to celebrate their champions in grand style. Class Champions each received a monetary award and Championship trophy. Professional champions as well as Top Sportsman and Top Dragster Champs also received a Championship ring. In Pro Extreme, Mississippi's own Bubba Stanton was crowned King as the first champion of the organization's premier class. Jason Harris celebrated his incredible season by accepting the Pro Nitrous title. Todd Tutterow, Cary Goforth and Eric McKinney rounded out the professional category champions in Pro Boost, Extreme Pro Stock and Pro Extreme Motorcycle, respectively. Sportsman champions included Dan Ferguson in Top Sportsman, Travis Harvey in Top Dragster and Isaac Evans and David Roloff in Pro and Top Junior Dragster.
Top 10 finishers in each class were also recognized and received a monetary award and trophy. Several other notable drivers and partners were honored during the awards banquet as well, which included dinner, fellowship and concluded with dancing.
Appropriately, Jason Harris earned Pro Driver of the Year. Going to every final of the eight PDRA events contested this year, winning six of those and coming in 972 points ahead of his closest competitor, Harris clearly swept Pro Nitrous from start to finish this inaugural season. Top Sportsman Champ Dan Ferguson earned Sportsman Driver of the Year by beating the odds as a first-generation, self-funded racer beating the best of the best in the ultra-tough Top Sportsman category.
Rookie of the Year for professional classes was Lizzy Musi, who made the move from Top Sportsman to Pro Nitrous seamlessly this season. She captured her first professional victory at Virginia and finished third in Pro Nitrous points. Sportsman Rookie of the Year was young gun Kyle Dvorak. A product of the Junior Dragster ranks, Dvorak is quickly making a name for himself in the PDRA, finishing third in Top Dragster in just his first season in full size car.
PDRA's 'Good Guy of the Year' Award recognizes the individual that goes above and beyond to help fellow racers. Although many PDRA competitors fit the bill for this award, the clear winner this season was Pro Boost racer Larry Higginbotthan, whose friendly demeanor and quickness to lend a hand makes him stand out as a true 'good guy' of the sport.
An equally special award, the Heart of the PDRA Award, goes to a person who truly represents the heart of what the PDRA stands for. Andrew Tanner fields two Junior Dragsters, driven by his children Preston and Alexis. The Tanners traveled over 19,000 miles to attend this season's events. Andrew Tanner was always smiling this season, no matter how many miles he'd driven or what situation he found himself in. He received the Heart of the PDRA Award for epitomizing the human side of the PDRA.
It's no surprise that Keith Haney and Todd Martin of Tulsa Raceway Park were awarded Promoters of the Year for the outstanding work they continually do to promote each of their events. Track of the Year went to Virginia Motorsports Park. Track Manager, Alan Carpenter, accepted the award on behalf of the facility.
"We had an excellent program tonight and everyone truly enjoyed our time together," said Series Director, Bob Harris. "Our first full season is in the record books now, and we are very happy with what we accomplished as a new organization.
"A very special thank you to everyone who prayed for Tommy Franklin after he became ill after the event. It was very moving," added Bob Harris, speaking to the scary moment of the Awards Banquet when Pro Nitrous racer and co-owner Tommy Franklin suffered a mild stroke. Thankfully, Tommy is on the mend for a complete recovery.
"We look forward to great racing within the PDRA Series for many years to come, and we are hard at work preparing for our 2015 season," Harris concluded. "A great group of people came together to make the PDRA series successful."
For more on the world's premier eighth mile drag racing organization visit www.pdra660.com. Follow the PDRA: Facebook, Twitter, Instagram, Youtube.




Drag News: 10 Most Recent Entries [ top ]

Jul 07- Announcement- World Wide Technology Raceway and Total Venue Concepts =
Jul 06- BTE World Footbrake Challenge- Final Day Results
Jul 06- BTE World Footbrake Challenge- Saturday Results
Jul 05- BTE World Footbrake Challenge- Friday Results
Jul 05- BTE World Footbrake Challenge- Thursday Results
Jun 30- BTE World Footbrake Challenge Pre-Race
Jun 30- Scoggin-Dickey Parts Center NMRA/NMCA All-Star Nationals Race Wrap Up
Jun 29- SACRAMENTO NO SUNDAY - Stock/Super Stock Combo Final, Round 6 Eliminations
Jun 29- SACRAMENTO NO SUNDAY - Top Comp Final, Round 5 Eliminations
Jun 29- SACRAMENTO NO SUNDAY - Super Comp Final, Round 5 Eliminations