Thu, 18 Dec 2014, 09:09 AM



Flamholc to Return to PDRA Action in Pro Extreme in 2015



Courtesy of Lisa Collier



PITTSBORO, N.C. --
Few racing enthusiasts are able to make it to the professional level of drag racing. Fewer still are successful. The select group who rise to international prominence, dwindles to only a handful. Among that handful is PDRA racer Adam Flamholc. Over the last several years Flamholc, a native of Sweden, has become a fixture in professional eighth mile drag racing in the US and abroad. In 2014 he competed at select events with the PDRA, managing a 16th place finish in overall Pro Boost points with just three appearances.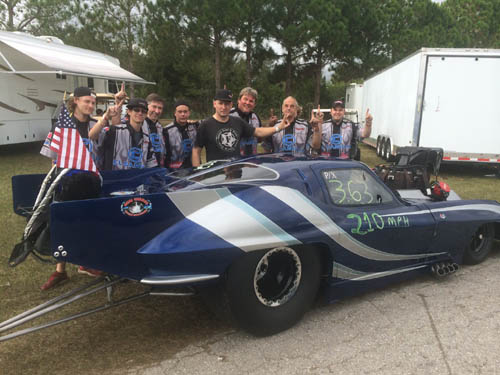 Adam Flamholc
When not following the PDRA tour here in the US, Flamholc and team were busy chasing the European Drag Racing Series Championship in Europe. Flamholc fielded a Pro Extreme car with the SRIF and took home top honors in his class, winning the SRIF Championship.
His European success inspired Flamholc to make the move to Pro Extreme with the PDRA. He recently sold his Pro Boost car and purchased Brandon Snider's Joey Martin-build '63 Corvette. Flamholc tested his new ride at the Snowbird Outlaw Nationals at Bradenton Motorsports Park this past weekend with pleasing results. He plans to run as many PDRA events in 2015 as possible.
"We did so well with our Pro Extreme car in Europe in 2014 that I plan to run as many PDRA events as I can in Pro Extreme next year," relayed Flamholc. "We'll run as much as we can in Sweden as well. Every year it's been like that for the last four or five years. We probably do 25 races a year."
Flamholc not only serves as pilot for the team, but handles the roles of Crew Chief and engine builder as well. Their supercharger is provided by Mike Janis.
"Our U.S. Team is only three or four guys," Flamholc added. "We work hard. We try to keep it not too big. It's easier to have control over it. The same guy does the same thing every time.
"It makes more sense to have two cars that are similar so I can share data from what we're doing over here in the U.S. with what we're doing in Sweden and vice versa."
While Flamholc plans to keep much the same between his two racing operations, he admits that there are differences between racing on the separate continents. "The big difference is that drag racing in Europe is not at all as big as drag racing here. So most of the tracks in Europe are old airfields that some organization bought and fixed up and is organizing racing on. So they're basically all asphalt tracks. It's harder to race over in Europe. You can't go as fast as you do over here. So doing what I do is quite a big difference. If we run into tricky track conditions [here in the US], it can be an advantage to have the data from European racing.
"We bought a really, really good car. Brandon [Snider, previous car owner] was racing a similar setup and a similar budget as what we have, so I hope that we can run well. The class is competitive, of course, but I really hope we can be among the top eight teams just like always." Flamholc plans to start his U.S. season with the PDRA opener at the Texas Motorplex in Ennis, Tx. March 20-21, 2015. Updates and additional information on Flamholc Racing can be found at www.flamholcracing.com. For more on the world's premier eighth mile drag racing organization visit www.pdra660.com. Follow the PDRA: Facebook, Twitter, Instagram, Youtube.




Drag News: 10 Most Recent Entries [ top ]

Jun 02- Timoszyk and Umlauf Execute at Eddyville Chaos
Jun 01- Franklin, Salemi, Pluchino, Davis, Lannigan and Micke Win Season-Opening PDRA East Coast Nationals
Jun 01- Halsey, Weatherford, Carr and Davis Highlight First-Round Winners
Jun 01- Friday Qualifying Rained Out at PDRA East Coast Nationals
May 31- Austin Aces Xtreme Raceway Park Season Opener
May 29- ADRL Providing Lone Star State's First Fan-Attended Sporting Event
May 28- Live Funny Car Chaos this Weekend on Bangshift
May 27- PDRA to Kick Off 2020 Season at East Coast Nationals
May 21- PDRA Releases Seven-Race Revised 2020 Schedule
May 20- New Location-Nitto Tire NMRA/NMCA Super Bowl of Street-Legal Drag Racing Moves to St. Louis