Thu, 18 Dec 2014, 08:57 AM



Travis Harvey, A Bridesmaid No More



Courtesy of Lisa Collier


Photo: Gary Rowe / RaceWorks.com / PDRA660.com





PITTSBORO, N.C. --
Travis Harvey is no stranger to the winner's circle. He's seen a great deal of success during his driving career. Last year he finished second in both Top Dragster and Pro Nitrous with the ADRL. Those two second place finishes marked his seventh and eighth time coming up the bridesmaid in a series' championship points. While Harvey admits that coming up short had been heartbreaking over the years, it may just have made his 2014 season all that much sweeter.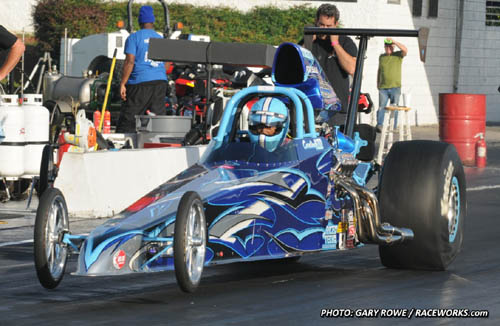 Travis Harvey
Harvey started out the season at the PDRA's opener in Rockingham, N.C. with plans to run all eight stops on the tour. A win in Top Dragster at Rockingham and Harvey was already hoping that 2014 would be his year. He quickly realized, however, that the true battle for his season might just be to qualify for the ultra-competitive Top Dragster class. In the end, Harvey and his team selected to stay home from events that promised a low bump.
"When I went into Rockingham we had planned on running the full circuit with both cars. My dragster isn't a fast car compared to some of those guys, so I knew some of the events were going to be tough to qualify. I think the third or fourth race I missed because I knew I wouldn't be able to qualify. So as the year went on I was just going to race and I wasn't worried about the points because I felt like I couldn't win since I decided not to go to all the races. I really didn't think about the Championship again until [the second] Rockingham when I saw I still had a shot. So I just took it round by round and tried not to think about the points. Last year I finished second in both cars. I kinda raced trying to be a hero and I messed up my opportunity. So this year I just tried to race smart and if it went my way it went my way. But if it didn't I was going to be upset about it."
The Top Dragster points chase was close and Harvey would have his work cut out for him. In the end, he did exactly what he needed to do, making it to the semifinals at Richmond. There he had to run his closest competition, Danny Payne. Harvey was ahead of Payne going into that round. Payne would have to win the race to pass him. With an. 017 package, Payne put Harvey out in the semis. Now he would have to sit and wait. In the finals Alan O'Brien used a perfect light on Payne to take the win in Top Dragster at Richmond. Travis Harvey earned the first PDRA Top Dragster Championship, coming in five points ahead of Danny Payne.
"This Championship means a lot," Harvey expressed. "Finishing second last year was tough, but to come back and be the Champion feels good. It feels really good. I'm just glad I got to do it for my team. They support me a lot. All my sponsors and family - I'm just glad to do it for them.
"First of all I thank God for this opportunity to race. I want to thank my wife and kids, my mom, dad, family for all the support they give me throughout the year and each and every day. Race Tech Race Cars for building my dragster. Nesbitt Performance Engines for building the engine. Jeff Miller takes care of my FTI transmission. I also want to thank Greg Slack, Red Line Oil, Hoosier Tire, Barry Allen, Lance Stanford, all my crew guys. Every time I'm racing they're there helping me out. Last but not least my partner and sponsor, Vaughn Myles with Miles Truck Service."
Harvey also finished eighth in Pro Nitrous points, which is even more impressive considering that Harvey missed select stops on the tour. While Harvey plans to field his Championship-winning dragster again next year he says he may be looking for a ride in Pro Nitrous, depending on his team owner's plans.
"I just want to thank the owners of the PDRA for a great series this year," Harvey finished. "It was run well. We got paid when they said they were going to pay us. Everything was great. I would love to race with them again next year."
For more on the world's premier eighth mile drag racing organization visit www.pdra660.com. Follow the PDRA: Facebook, Twitter, Instagram, Youtube.




Drag News: 10 Most Recent Entries [ top ]

Jun 02- Timoszyk and Umlauf Execute at Eddyville Chaos
Jun 01- Franklin, Salemi, Pluchino, Davis, Lannigan and Micke Win Season-Opening PDRA East Coast Nationals
Jun 01- Halsey, Weatherford, Carr and Davis Highlight First-Round Winners
Jun 01- Friday Qualifying Rained Out at PDRA East Coast Nationals
May 31- Austin Aces Xtreme Raceway Park Season Opener
May 29- ADRL Providing Lone Star State's First Fan-Attended Sporting Event
May 28- Live Funny Car Chaos this Weekend on Bangshift
May 27- PDRA to Kick Off 2020 Season at East Coast Nationals
May 21- PDRA Releases Seven-Race Revised 2020 Schedule
May 20- New Location-Nitto Tire NMRA/NMCA Super Bowl of Street-Legal Drag Racing Moves to St. Louis