Tue, 16 Dec 2014, 21:51 PM



Dan Ferguson Beats the Odds to Clinch PDRA Top Sportsman Championship



Courtesy of Lisa Collier


Photo: Gary Rowe / RaceWorks.com / PDRA660.com





PITTSBORO, N.C. --
Dan Ferguson is a college student who took to the sport of drag racing a few short years ago. In that span of time, he's worked his way up to the top level of sportsman door car racing. For the most part, Ferguson is a self-funded and self-taught racer. For a college student on a shoestring budget, even attempting to compete with a national-level racing series is a lofty goal. But Ferguson did more than just compete this season. He won the 2014 PDRA Top Sportsman World Championship.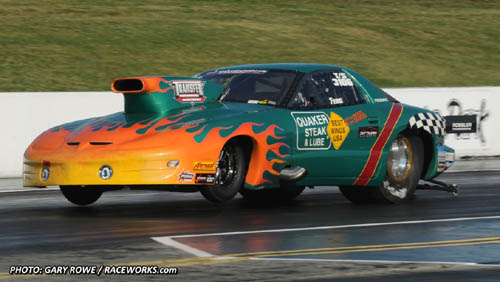 Dan Ferguson
Ferguson used a semifinal finish at the first race of the series in Rockingham, N.C. and a final round appearance at the second stop on the PDRA's inaugural tour in Valdosta, Ga. to jump to the TS points lead. Although fellow young gun of the class, Dylan Stott, gave Ferguson a run for his money, Ferguson never relinquished his points lead. He continued to go rounds at each stop on the series and went to the semis again at the PDRA Finals in Richmond, Va. to come away with the World Championship, 230 points ahead of Stott.
"This championship means a ton," Ferguson said. "I think it's awesome. It's such an honor to come out as the champion after a season of competing with racers of this level. These PDRA guys are tough competitors. Going into the final race, there were a lot of nerves in the beginning. It was killing me having to wait a little over a month, after the rained out Rockingham race."
At Virginia, the remaining rounds from the Rockingham race would be contested in qualifying, to complete the event. "Dylan Stott was only a round or two behind me in points, and he was still in from Rockingham, so at the final race of the year he would have the opportunity to go more rounds than I would. Having over a month to think about how that might go was feeling like forever. Having to wait for the the Rockingham race to be finished so I could get back at it in the Richmond segment of the race to defend my points lead- that was the worst part. But once we were racing the Richmond event I was just ready to race. I wasn't nervous anymore. I just wanted to get to business."
The machine that Ferguson used to beat the best that TS has to offer was 15 years old this season. When traveling from 0 to 175+ MPH in an eighth of a mile, only 660 feet, Ferguson hopes to have a newer car for the 2015 season. "My car is currently for sale. I have my eye set on one, and if I can sell my car I think I can make it happen. Hopefully I can find someone who my car would be a good fit for. It has been a good to me and took me much further than I ever imagined I would go with any car. It will be a sad day when it is sold, but that is the only way to move forward."
"Hopefully earning the championship will help me gain some support and find new marketing partners. I would really like to be able to go and try to defend my Championship next year, and it would be very cool to help someone promote their products or services in a mutually beneficial partnership. A 10 race series is a lot to fund. It will be tough, but at the same time we will be covering a lot of ground and many people will see us in many different markets, which would be a great thing for anyone interested in advertising on the car," said Ferguson.
Although much of his operation largely depends on his own efforts and funding, Ferguson is quick to point out those who helped make his Championship run possible. "I want to thank my parents and grandparents for molding me into the person I am today. Without that foundation, I might not be so driven. Dale Pittman at Pittman Engineering, Ed Steffey and Ted Miller at Transfer Performance Machine, my good buddies Marty Noir, Jon, Williams, John Podleyon and Ron Solyan. My good friends Jim Rowe and Rick Fogle helped me at Tulsa and the finals at Virginia, where we clinched the championship together so I want to give them a big shout out."
Ferguson wants it to be known that it was not just he who won the 2014 PDRA Top Sportsman world championship, it was everyone who was involved from the beginning. "There's no one man band in this sport; you can't do it on your own. And I am thankful to everyone who has had a hand in my racing season."
Ferguson is also thankful for the fans he has gained throughout this racing season as well. Sometimes the stress of trying to keep up was high. "I was starting to run out of money after an expensive trip to Tulsa combined with a first round loss, I lost by five thousandths of a second out there. That killed me on money. Knowing there's people out there that have been encouraging me and rooting for me, and not wanting to let down all the people who helped me through the season, that kept the fire lit. I felt like if I gave up I'd be letting them down.
"I also want to thank a man named Robert Hudson. He had seen an earlier story on me and came by my trailer at Rockingham, and offered some support and encouragement. He said it was more interesting if he had a little skin in the game," Ferguson recalled fondly."That was really neat, to have someone I had never met come to us in such a kind way. He said the first person he ever helped out was Todd Tutterow, so I thought that was really cool. Todd Tutterow is a really good racer so if I could ever do half of what he has done in racing, that'd make me a pretty good racer!"
"I want to thank all the PDRA staff, too - Bob Harris, Bobbi, Renee Bingham, Denise, David Cooke, and everyone. All the owners, too, Tommy Franklin, Jason Scruggs, Gene Hector and Roger Henson. I want to thank all of them for being willing to make the commitment to make this organization happen. The PDRA is big, and it's going to keep getting bigger."
One Championship isn't enough for Ferguson. The 26 year old hopes that his career is just beginning and is looking for potential marketing partners to make his operation stronger for the 2015 season. "I'm still just as hungry as I was. I want to continue to learn and be a better racer. I guess that's just my competitive nature."
Money talks in many ways, but for Ferguson it was his passion, determination and a lot of hard work that kept him going round after round en route to the TS title.
For more on the world's premier eighth mile drag racing organization visit www.pdra660.com. Follow the PDRA: Facebook, Twitter, Instagram, Youtube.




Drag News: 10 Most Recent Entries [ top ]

May 29- ADRL Providing Lone Star State's First Fan-Attended Sporting Event
May 28- Live Funny Car Chaos this Weekend on Bangshift
May 27- PDRA to Kick Off 2020 Season at East Coast Nationals
May 21- PDRA Releases Seven-Race Revised 2020 Schedule
May 20- New Location-Nitto Tire NMRA/NMCA Super Bowl of Street-Legal Drag Racing Moves to St. Louis
May 20- Illinois Motorsports Coalition Formed to Lobby State Government
May 20- Illinois Motorsports Coalition
May 18- Beech Bend Raceway Park National Open Postponed
May 18- NHRA Announces NHRA Hot Rod Heritage Series at Sacramento Raceway is Postponed
May 11- POSTPONED-NMRA/NMCA Power Festival