Tue, 16 Dec 2014, 20:47 PM



PDRA Top Junior Dragster Title Goes to David Roloff



Courtesy of Lisa Collier


Photo: Gary Rowe / RaceWorks.com / PDRA660.com





PITTSBORO, N.C. --
Having the skill and endurance to win a national-level drag racing championship is hard to come by at any age. Youngster David Roloff has pulled off a World Championship not just once, but twice now with back to back Championships.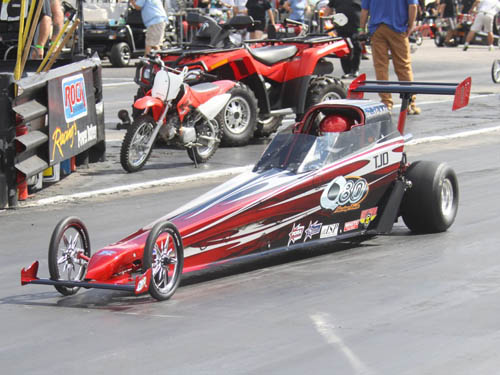 David Roloff
At 13 years old, Roloff, along with his family, travels the professional eighth mile drag racing circuit, turning on win lights in Top Junior Dragster (TJD). Last year he took home the ADRL TJD World Championship and with two wins (Georgia Drags and U.S. Drags) this season, Roloff was crowned the first ever Professional Drag Racers TJD World Champion.
"It feels very good," Roloff said, well-spoken for a seventh grader. "We tried to hang on to last year's Championship and keep on going with it. I owe a lot to Q80 Racing along with Dawn's Vinyl Graphics, ATG Toxic Tee's, ISP Seats, Pure Power CNC, and Gaged Engineerings. They helped us out with parts and things we needed. I also need to thank my parents. They were always there. They were working all the time, raising money to do this. The rest of my family, too, were were big supporters of our racing. They helped out and were always watching, cheering us on. I want to thank the PDRA for giving us a place to race, and I also want to thank Larry Higgs, who drives Pro Mod, and his crew. They helped us out a lot."
Eventually, Roloff wants to try for a Championship behind the wheel of a faster door car or funny car, but for now he and his family plan to keep working hard to raise the funds to compete with the PDRA next year, which increases from an 8 to 10 race schedule, with greater travel distances for the Illinois-based Roloff team. Although a third Championship is surely on his mind, Roloff says he just hopes, "to go back out there, try to race all the races and have a good time. I like to be competitive. It's one of my favorite things. There are a lot of great racers out there, a lot of great people. They make it tough and I like that."
Alexis Tanner finished behind Roloff for the number two spot in TJD points with the rest of the field rounding out the top 10 as follows: Cole Isbell, Mia Schultz, Amber Franklin, Scotty Taylor, Thomas Oates, Caleb Russell, Blake Denton, Connor Glaser.
For more on the world's premier eighth mile drag racing organization visit www.pdra660.com. Follow the PDRA: Facebook, Twitter, Instagram, Youtube.




Drag News: 10 Most Recent Entries [ top ]

Dec 02- First-Time Stops at Norwalk, Maple Grove and Bowling Green Highlight 2021 PDRA Schedule
Dec 02- 2021 Summit Motorsports Park Schedule Stuffed with Power and Pageantry