Tue, 16 Dec 2014, 20:01 PM



Isaac Evans Takes Home Top Honors in Pro Junior Dragster



Courtesy of Lisa Collier


Photo: Gary Rowe / RaceWorks.com / PDRA660.com





PITTSBORO, N.C. --
In just his first year in the class, Isaac Evans dominated Professional Drag Racers Association Pro Junior Dragster (PJD). He won two events (Summer Drags and PDRA Finals) and was runner up at the Georgia Drags this season, earning enough cumulative points throughout the eight race series to be crowned PJD World Champion.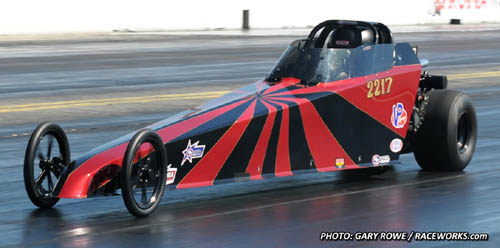 Isaac Evans
The eighth grader from Athens, Alabama began racing when he was 8 and has already risen to the top of the game in drag racing at just 13 years old. "It feels great to win this Championship," he said. "I want to thank the PDRA for a great series. I'm grateful I was able to be a part of it.
"I didn't think I was going to be able to compete for the Championship at the beginning of the year. It was an adjustment because you're going a little bit faster and you have a different kind of tree," Evans continued. He made the switch from Top Junior Dragster this season, and clearly made the necessary adjustments with flying colors. At 13 years old he's only a few short years away from the possibility of adjusting to a full size car, but he admits that it will take some sponsor help to get him there. For now, he and his family field their racing operation, which also includes a Pro Junior Dragster for his sister, Rebekah. Rebekah did well this season, too, finishing fifth in overall points.
"I want to thank my dad for staying up all night and driving all the way there and back home," Evans added, referring to the PDRA Finals in Richmond, Va. It was worth the effort with Evans winning PJD and clinching the Championship.
Alexis Schultz finished second behind Evans with Preston Tanner, Tia Tutterow, Rebekah Evans, Devin Isenhower, Jimmy Sackuvich, Abbey Molek, Kristy Messer, Jake Thurwell finishing out the top 10.
For more on the world's premier eighth mile drag racing organization visit www.pdra660.com. Follow the PDRA: Facebook, Twitter, Instagram, Youtube.




Drag News: 10 Most Recent Entries [ top ]

May 29- ADRL Providing Lone Star State's First Fan-Attended Sporting Event
May 28- Live Funny Car Chaos this Weekend on Bangshift
May 27- PDRA to Kick Off 2020 Season at East Coast Nationals
May 21- PDRA Releases Seven-Race Revised 2020 Schedule
May 20- New Location-Nitto Tire NMRA/NMCA Super Bowl of Street-Legal Drag Racing Moves to St. Louis
May 20- Illinois Motorsports Coalition Formed to Lobby State Government
May 20- Illinois Motorsports Coalition
May 18- Beech Bend Raceway Park National Open Postponed
May 18- NHRA Announces NHRA Hot Rod Heritage Series at Sacramento Raceway is Postponed
May 11- POSTPONED-NMRA/NMCA Power Festival