Wed, 03 Dec 2014, 10:37 AM



Broussard Crowned 2014 Outlaw Fuel Altered Champion



By Chris Graves


Photo copyright 2014 Max Cackle Photography





In its nineteenth consecutive season the Painless Performance Products Outlaw Fuel Altered Association crowned it's ninth different series Champion at the final event of this year's season. John Broussard of Lake Charles, Louisiana not only won his first OFAA Championship, but also became the youngest person to do so at the age of 25. Broussard stepped into the seat of the family owned "Purple Haze" entry in 2007 after his father and crew chief Kevin passed the seat down to his son. The car is a 1932 bantam bodied 125" altered powered by a blown 526 cubic inch Alan Johnson alcohol burning combination.
John Broussard
Broussard was able to clinch the 2014 OFAA Championship despite not winning a single event in the eight race season. Consistency was the determining factor in a points battle that came down to the first round of eliminations of the final event in San Antonio. Broussard and three time defending Champion Jimmy Jones entered the event separated by just 1 point with Jones leading. After two rounds of qualifying in San Antonio, Broussard sat atop the pack to claim his fourth number one qualifying effort of the season and held the points lead by a slim margin as the first round of eliminations approached.
In first round, Jones was up first and clicked off a 4.05 at 177 mph to defeat Nick Poloson, which put the pressure on Broussard who was sitting in the water box, set to take on Randy Mueller in the next pair. Broussard used a 4.03 at 174 to earn the round win and that 4.03 held up as one of the two quickest winning passes of first round, also earning him a trip to the final which clinched him the 2014 Championship. Broussard and company went on to post a runner-up finish in San Antonio to winner Mary Reep. The Championship celebration went on long into the night in the "Purple Haze" pit area as all the teams gathered to congratulate the new champ.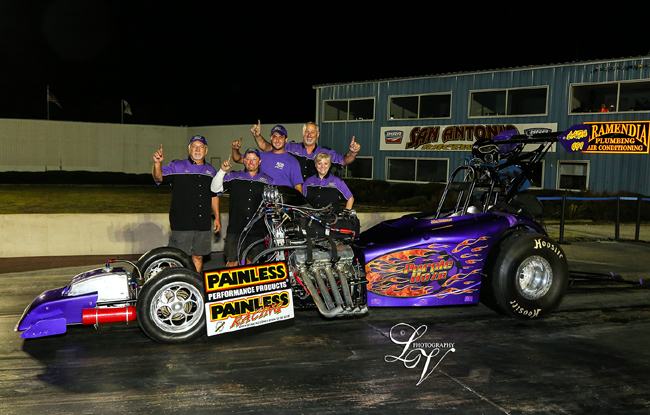 John Broussard and crew celebrate Championship.
"I am so thankful for my crew, without them none of this would be possible. My dad Kevin along with Dale, Chad, Celia and Jose are the ones who deserve the recognition. We had a consistent year this year and it paid off in the end. It is an honor to even compete against racers like Jimmy Jones, but to win the Outlaw Fuel Altered Championship is truly the biggest accomplishment of my family's racing history. Racing with this group is not only very competitive, but it's just as much fun to see all our friends at the races and spend time together. We'll be back next year and see if we can make a run at defending our title, but either way, it will be all smiles in our pits," said Broussard.
For the Broussard family and entire "Purple Haze" racing team, who have been running with the Outlaw Fuel Altered Association since 2005, the 2014 season will be one cherished forever. Congratulations to the Champions and all the participants of the OFAA series this season. A special thanks goes out to series title sponsor Painless Performance Products and bonus program sponsors Good Vibrations Motorsports, Napa Auto Parts, North Texas Diesel and Competition Sales of Dallas. The Outlaw Fuel Altered Association plans to announce it's 2015 series schedule in early January, be sure to follow the latest news at www.ofaa.net.




Drag News: 10 Most Recent Entries [ top ]

Jul 07- Announcement- World Wide Technology Raceway and Total Venue Concepts =
Jul 06- BTE World Footbrake Challenge- Final Day Results
Jul 06- BTE World Footbrake Challenge- Saturday Results
Jul 05- BTE World Footbrake Challenge- Friday Results
Jul 05- BTE World Footbrake Challenge- Thursday Results
Jun 30- BTE World Footbrake Challenge Pre-Race
Jun 30- Scoggin-Dickey Parts Center NMRA/NMCA All-Star Nationals Race Wrap Up
Jun 29- SACRAMENTO NO SUNDAY - Stock/Super Stock Combo Final, Round 6 Eliminations
Jun 29- SACRAMENTO NO SUNDAY - Top Comp Final, Round 5 Eliminations
Jun 29- SACRAMENTO NO SUNDAY - Super Comp Final, Round 5 Eliminations