Tue, 02 Dec 2014, 18:03 PM



13th Annual FEL-PRO NMCA World Finals Race Wrap Up



Courtesy of=20



SANTA Ana, Calif. --
Cool October weather set the stage for big performances at the NMCA's final race of the year at Lucas Oil Raceway in Indianapolis, and as expected, records fell in a number of classes and numerous upsets made for an exciting finale of the Flowmaster series at the 13th Annual FEL-PRO NMCA World Finals. Race teams put it all on the line to win the Aerospace Components NHRA Unleashed Wally and collect as many points as possible to achieve championship status.
Kooks Pro Mod saw four cars qualify in the 5.80-5.90 range - a feat that had never occurred before in NMCA competition. As these ultra-fast machines went through the rounds, Steve Summers' parachutes failed to deploy after his semifinal win. A subsequent thrash ensued and he made the lane call to square off against Michael Biehle II in the final. Biehle's Boss Mustang Pro Mod was at the top of its game this weekend, and secured the event win with a 5.89 at 251 mph pass, while Summers broke traction early in the run.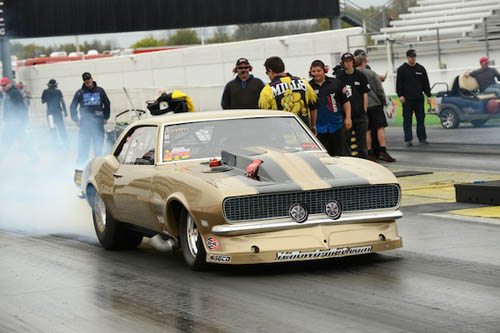 In Mickey Thompson's Radial Wars, DeWayne Mills faced off against Keith Berry, both of who had posted times in the 4-teens all weekend. Both cars left hard and Mill's front wheels slowly crept into the air past the 60-foot clocks. At the eight-mile marker, Mills was first, stopping the clocks in a staggering 4.08 seconds at 197 mph. Berry wasn't far behind at 4.11, his best effort of the weekend. The side-by-side final goes into the record books as the fastest side-by-side run in 1/8-mile drag radial competition.
ARP Nitrous Pro Street saw Don Baskin put up a stout 7.19 in Round 2 and backed it up with a 7.20 in Round 3. Greg Delaney didn't show up for what would be an all-Baskin-Truck-Sales final, allowing Don Baskin to solo for the win.
The Edelbrock Xtreme Street class was one of the most exciting classes of the weekend with wild wheelstands and wicked performances. The chilly weather saw the ET record bounce from competitor to competitor as the weekend progressed. In the final round of action, John Warren left hard, and early, in his yellow Nova charging to a red-lighted 7.84. Dave Hutnick ran 7.75 at 178 mph for the win.
Traveling all the way from Florida, Robbie Blankenship squared off against Rocko Khoury in the FSC NA 10.5 final. Khoury left first and charged to an 8.04, but it wasn't enough to edge out Blankenship's 7.90 at 170mph performance.
Dwayne Barbaree was the Stainless Works Street Outlaw points leader coming into Indy, and he wasn't about to let that go, despite Phil Hines taking the number 1 qualifier spot with a low-ET-of-the-weekend 6.85 and a top speed of 205.76. The pin had been pulled, though, as Hines engine let go in the semifinals. That set up Barbaree vs. Andy Manson for the final. Barbaree was first to leave, but it was a close race to the end, with Barbaree edging out Manson with a 6.971 to Manson's 6.973.
In ATI Performance Nostalgia Super Stock, it was an all-Mopar final with Jan Niceswanger's '65 Coronet facing Mike DeChicco's '65 Coronet. The better light by Niceswanger was the deciding factor as his 10.52 ET on a 10.50 dial-in was further off than DeChicco's 9.75 on a 9.75 effort.
Chris Stephenson took his '73 Buick Apollo to the Detroit Truetrac Nostalgia Muscle Car winner's circle in Indy after defeating Gerry Vizzo and his '67 Chevy II Nova. Vizzo made a run for the win cutting a .005 light, but he was a tenth off at the stripe while Stephenson was closer with an 11.56 on an 11.50 dial-in.
MagnaFuel Open Comp saw the top points-holding racers bow out early in Indy. In the final round, it was Louie Raffetto and his '66 Chevy II against Kevin Skinner in his 2014 Cobra Jet Mustang. Skinner had the slightly better light, but Raffetto was closer to his dial-in at the finish line. Raffetto, ran a 9.477 on a 9.45 dial-in, while Skinner was 8.55 on an 8.50 dial-in.
Thirty-three of the thirty-eight cars entered in Gear Vendors True Street finished the abbreviated two-run True Street schedule, and recent NMRA Bowling Green True Street winner, Cal Haywood, was in attendance to take home another win. Despite some startling-line issues, Haywood put up an 8.17 on his first run and slammed it home with a 7.85 for an 8.01 average-just a tad slower than his 7.73 from the NMRA World Finals in Bowling Green, KY. Scott Klepinger brought home the Runner-Up award with an 8.69 average.
A teaser for the 2015 season, spectators got to see a number of Top Sportsman racers competing this weekend. Clocking high-7 and low-6-second times, the Top Sportsman door-slammer class will fit in nicely right behind Kooks Pro Mod.
As part of the NHRA Unleashed program presented by Aerospace Components, all of the points-class winners received an official Wally for their efforts. As this event finishes the NMCA season for 2014, it also concludes the Unleashed program with NHRA.
8th Annual Chevrolet Performance LSX Challenge Series
The LME 5th Gen Camaro class featured six entries with Ronnie Hackelton the number 1 qualifier. Hackelton then made his way to the finals where he faced off against Tom Calabrese. After Hackelton turned on the red light, Calabrese ran it out the back door, running 11.96 on his 12.00 dial-in.
In Proform LSX Rumble competition, Nicholas Massengale qualified on top, but it was Kevin Lumsden that dropped a .003 light on Kurt Anderson who wasn't far behind with a .029. Anderson went 10.006 on his 10.00 dial while Lumsden ran 10.030 on his 10.00 for the win.
Holley EFI Real Street was all about Louie Fillipides and his American Racing Headers 2010 Camaro. Fillipides was number one qualifier and top speed holder for the class, and his 7.84 at 176 was too much for Adam Preston and his 7.94 at 170mph effort. The Baskin train kept rolling as Don Baskin's '67 Chevy II was victorious in ERL Performance All-Motor. Baskin's 8.31 was too great for Robert Strong and his Monte Carlo's 8.62 to beat.
Anthony Manna was top qualifier and the top-speed holder coming into JE Piston Drag Radial eliminations. Manna charged to the final where he met up with the quick Corvette of Mark Carlyle. Carlyle had a slight advantage at the start, but encountered problems as Manna drove around his 6.36 with a 4.59 at 167mph performance.
Fifty-seven cars made up the Gear Vendors LSX True Street class. All but a handful made it through the two rounds of competition. It was Don Rensch and his '72 Nova averaged 8.29 for the win, while Tim LeMay and his '87 Buick Regal weren't close behind in the Runner-Up spot with an 8.64 average.




Drag News: 10 Most Recent Entries [ top ]

May 29- ADRL Providing Lone Star State's First Fan-Attended Sporting Event
May 28- Live Funny Car Chaos this Weekend on Bangshift
May 27- PDRA to Kick Off 2020 Season at East Coast Nationals
May 21- PDRA Releases Seven-Race Revised 2020 Schedule
May 20- New Location-Nitto Tire NMRA/NMCA Super Bowl of Street-Legal Drag Racing Moves to St. Louis
May 20- Illinois Motorsports Coalition Formed to Lobby State Government
May 20- Illinois Motorsports Coalition
May 18- Beech Bend Raceway Park National Open Postponed
May 18- NHRA Announces NHRA Hot Rod Heritage Series at Sacramento Raceway is Postponed
May 11- POSTPONED-NMRA/NMCA Power Festival