Tue, 02 Dec 2014, 17:25 PM



Route 66 Raceway to Host NMRA/NMCA Super Bowl of Street Legal Drag Racing



Courtesy of Camee Edelbrock



SANTA ANA, Calif. --
The ProMedia Competition Department is proud to announce that the Nitto Tire NMRA/NMCA Super Bowl of Street Legal Drag Racing will be held at the historic Route 66 Raceway from Thursday, July 30 to Sunday, August 2, 2015. On this weekend, Joliet will be ready to host one of the biggest and most popular events of the season. And with the recently renewed contract between ProMedia LLC and Route 66 Raceway, the famed Super Bowl of Drag Racing has a home through the year 2020.
ProMedia National Event Director Rollie Miller said, "Our entire team is thrilled to continue the relationship with Scott Paddock, Ken Kohrs and their staff through 2020. Route 66 Raceway is one of the best facilities in the country and their team is a pleasure to work with." Miller continued, "We are excited to keep our Super Bowl Event in Joliet."
Route 66 Raceway is the first True Stadium of drag racing and hosts over 50 events per calendar year. Opened in 1998 and situated on historic Route 66, the NHRA-affiliated, quarter-mile drag strip is now fully owned and operated by the International Speedway Corporation and is the sister track to Chicagoland Speedway. "We are excited to welcome back the NMRA/NMCA event to our world class facility," said Scott Paddock, Route 66 Raceway president. "We pride ourselves in offering the most diverse and dynamic forms of drag racing programming to our great fans throughout the Midwest, and the Super Bowl of Street Legal Drag Racing certainly delivers on that commitment."
The NMRA/NMCA Super Bowl of Street Legal Drag Racing is one of the biggest and most exciting events of the season. Featuring some of the world's fastest American muscle cars and trucks, several classes in the event reach speeds of up to 250 mph. This is the event where NMRA racers compete directly with NMCA racers for bragging rights and the Nitto Tire Diamond Tree Super Bowl rings. Presented by Keystone Automotive and Flowmaster, all of the NMRA and NMCA events include thrilling heads-up drag racing, car shows, giant swap meets, a big manufacturers midway, burnout contests, Aerospace Components Winner's Circle and more.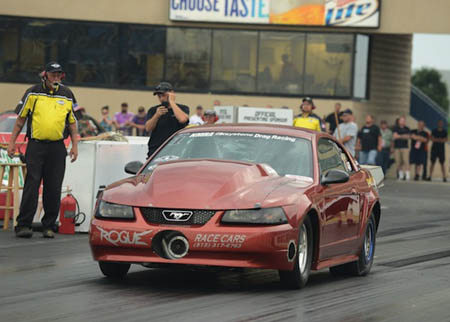 "Route 66 Raceway has played host to our NMRA/NMCA Super Bowl of Street Legal Drag Racing since 2006 and it has become one of the largest street car races in the U.S.," said Steve Wolcott, President & CEO of ProMedia Events. "It's incredible to showcase the 'World's Fastest Street Cars' in the Chicagoland area, where street car racing began in the 80's. Route 66 Raceway's 6-year commitment to NMRA/NMCA demonstrates the popularity of early- and late-model street racing on the dragstrip."
For more information about the NMRA and NMCA, go to www.NMRAdigital.com and www.NMCAdigital.com. Be sure you're a Facebook fan of each series by going to www.facebook.com/NMRANationals and www.facebook.com/NMCANationals.




Drag News: 10 Most Recent Entries [ top ]

Jan 14- NHRA Jr. Drag Racing League Conference Finals Set for Summer 2021
Jan 13- Funny Car Chaos Announces $250,000 Championship Tour Payout
Dec 29- Inaugural Southern Sportsman Showdown to Spotlight Stock and Super Stock Racers
Dec 23- Inaugural Nitro Chaos Event Set for July 2021
Dec 21- NHRA Announces Eight-Race 2021 NHRA Hot Rod Heritage Series Schedule
Dec 21- Pacific Division Summit Racing Equipment ET Finals Moves to Sacramento Raceway
Dec 18- Texas Motorplex Releases 2021 Schedule
Dec 17- "Flings" Add Lohnes, Perivolaris and Lazzari for 2021
Dec 17- 2021 Good Vibrations Motorsports March Meet Postponed
Dec 14- Second Annual CTech World Doorslammer Nationals Set for March 5-7, 2021