Tue, 02 Dec 2014, 14:57 PM



Snake & Mongoose to Join MAVTV's Dave Despain On Stage



Courtesy of John Kilroy, Performance Racing Industry



At PRI Trade Show's Grand Opening Breakfast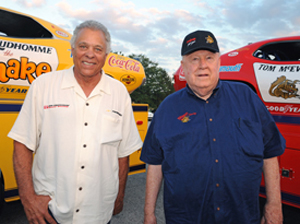 Motorsports professionals will be able to hear
the colorful racing stories behind one of
the most popular rivalries in racing at the
PRI Trade Show Grand Opening Breakfast,
as Don 'Snake' Prudhomme and Tom 'Mongoose' McEwen
join MAVTV's Dave Despain on stage.
Drag racing legends Don 'Snake' Prudhomme and Tom 'Mongoose' McEwen will share their colorful racing stories at the Grand Opening Breakfast, kicking off the world's largest gathering of motorsports professionals.
This is going to be fun!
On the morning of Thursday, December 11, 2014, the great heritage of the Grand Opening Breakfast at the Performance Racing Industry Trade Show continues with the special appearance of two of the biggest names in drag racing's storied history: Don 'Snake' Prudhomme and Tom 'Mongoose' McEwen.
The two were part of the greatest rivalry in drag racing history-Snake and Mongoose! With 49 career victories, Prudhomme ranks sixth in NHRA history for most wins. Beginning his driving career in 1962, he was the first driver to win the NHRA series title four consecutive times. McEwen is listed as number 16 of the 50 most significant drivers of NHRA's first 50 years, winning five NHRA national events.
McEwen started racing in 1953, and received the nickname "the Mongoose" in 1964 from engine builder Ed Donovan as a way to promote Funny Car match races against Prudhomme, nicknamed Snake. McEwen's promotional abilities evolved into a 1969 deal with Mattel's Hot Wheels toy line that become one of the biggest, most successful national promotions in racing history.
The Hot Wheels promotion of Prudhomme's Plymouth Barracuda and McEwen's Plymouth Duster was so big, and made such an impact on so many children at the time, that Mattel organized a two-day, 35-year anniversary celebration in 2005. The original Hot Wheels Snake and Mongoose toys are now highly sought-after collectibles.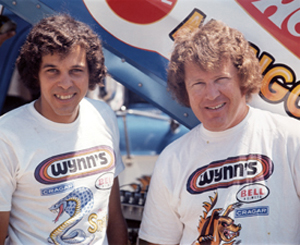 Working with Mattel's Hot Wheels,
Snake & Mongoose created one of
the greatest promotional phenomenon's
in racing history.
A film on the two Southern Callifornia drag racers came out in 2013.
"We're honored to have Don Prudhomme and Tom McEwen as our special on-stage guests at the Grand Opening Breakfast," said John Kilroy, producer of the PRI Trade Show. "In addition to their skills as racers, they were responsible for a promotion that started countless boys, as well as girls, dreaming about becoming drag racers.
"I've seen Don and Tom together before, and the friendship and the rivalry of Snake and Mongoose will be a treat for the audience, as Dave Despain is sure to draw out their best racing stories," continued Kilroy.
The Grand Opening Breakfast begins at 8 a.m., Thursday, December 11, 2014, with doors set to open at 7 a.m. It will be held in the Sagamore Ballroom of the Indiana Convention Center.
The PRI Trade Show takes place Thursday, Friday and Saturday, December 11-13, 2014, in Indianapolis. Over 1100 industry suppliers will exhibit the latest developments in auto racing technology before tens of thousands of buyers from the US and 70 countries. It is the premier trade show for motorsports professionals in the world. It is open to the trade only.




Drag News: 10 Most Recent Entries [ top ]

Dec 02- First-Time Stops at Norwalk, Maple Grove and Bowling Green Highlight 2021 PDRA Schedule
Dec 02- 2021 Summit Motorsports Park Schedule Stuffed with Power and Pageantry