Tue, 02 Dec 2014, 13:09 PM



Aman Crowned $20K American Doorslammer Nationals Champion



By Michael Beard



Krushinskie, Johnson, and Pelo also Score



JULIAN, N. C. --
A record 225 entries shared in over $77,000 in cash and prizes at Loose Rocker's 3rd Annual American Doorslammer Nationals presented by McCarty Auto Parts, hosted by Piedmont Dragway, November 7-9, 2014. Competitors flocked to "The Doorslammer Capitol of the World" in Julian, NC from as far away as Georgia, Ohio, and even Canada to vie for the $20,000 top prize.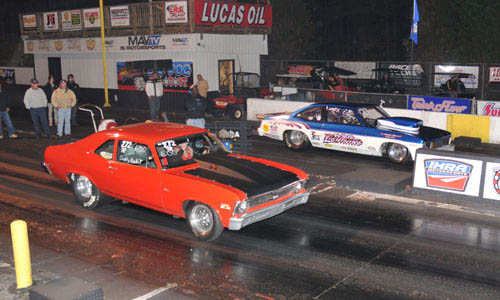 Eric Aman (far lane) defeated Brett Nesbitt.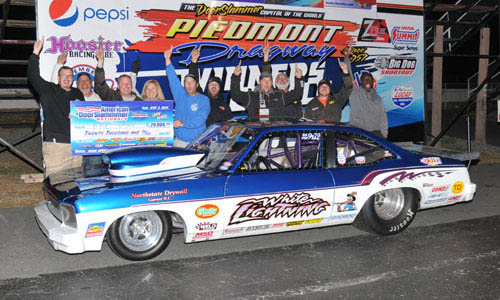 Eric Aman celebrates win.
Photo by Chip Bralley
Mount Olive, NC's Eric Aman, a former IHRA Div. 9 Modified ET Champion proved his mettle off the top bulb, wheeling the Ronnie Roberts Racing "White Lightning" Nova to the winner's circle in Saturday's $20,000 main event. Aman held off engine builder and TS/TD standout Brett Nesbitt of Graham, NC in the finals, using an .027-backed dead-on 5.554 to encourage Nesbitt's 5.997 breakout (6.00 dial-in), despite a .006 reaction time. Aman advanced to the finals by defeating last year's $5K Finale victor Frank Mark, with aN .010 at the tree and an .01-over 5.560 to Mark's .013 and 7.313 (7.29). Nesbitt had the semifinal bye run. Of special note, Nesbitt recorded a perfect run on Friday, a feat that was duplicated by Stacker Steve of Murrysville, PA on Saturday. Ironically, both perfect runs were posted in the re-entry round.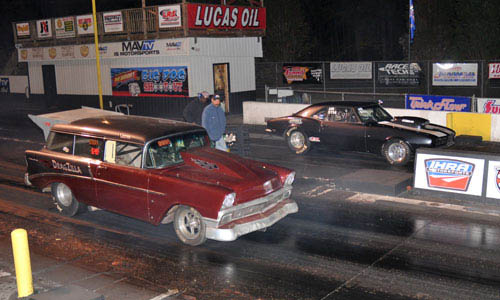 Lester Johnson defeated Shawn Carpenter.
Photo by Chip Bralley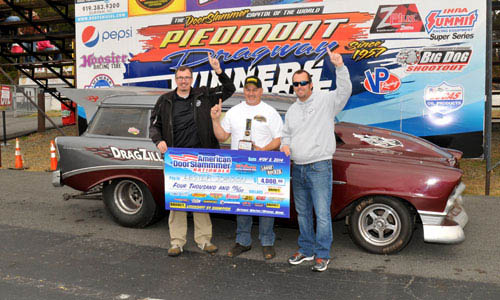 Lester Johnson celebrates win.
Photo by Chip Bralley
Saturday night also featured the Brodix Legendary 64 Shootout, with $4,000 on the line plus a $1,000 Brodix gift certificate. Lester Johnson of Cynthiana, KY and his fan favorite "Dragzilla" Nomad wagon treated everyone to not only one massive wheelstand spectacle after another, but also a master class en route to the winner's circle. Johnson dealt a .006 package to Chad Duke in the semifinals, and cruised to a .003 package in the finals after multi-time Loose Rocker Champion Shawn Carpenter met the bulb coming on for an -.018 red from his Shawn's Body Shop & Powdercoating Camaro. Carpenter put a holeshot on John Hill in the lone full semifinal match to get his shot at Johnson.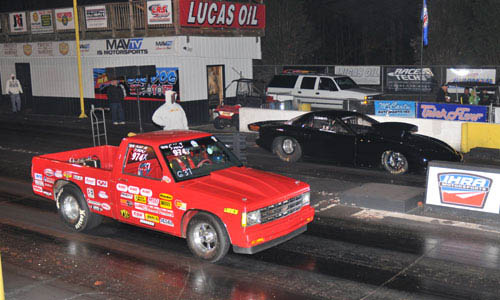 Jeff Krushinskie (far lane) defeated Nick Womack
Photo by Chip Bralley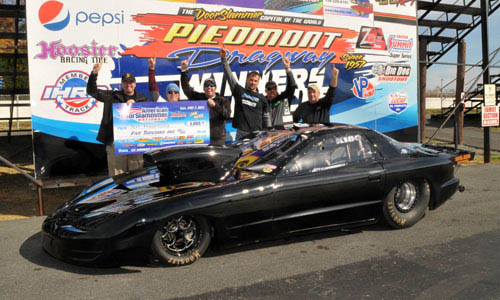 Jeff Krushinskie celebrates win.
Photo by Chip Bralley
Loose Rocker's popular "FAT $5K" format, featuring $100 round money, bookended the weekend, with both races boasting 198 entries in the first round of competition. Shamokin, PA's Jeff Krushinskie used his quick and consistent Firebird to pick up his ninth big check of the season in Friday's $5K Warmup final round against Nick Womack's S-10. Krushinskie's brutal .007, dead-on 5.157 pushed out Womack's .003, 6.355 (6.37). In the semis, Womack stopped former IHRA Summit Box World Champion Joe Gary with a .001, 6.378 (6.36) to Gary's .007 and breakout 5.468 (5.48). Krushinskie had the semifinal bye run, where he showed his hand with a -.002 tree and a dead-on 5.152.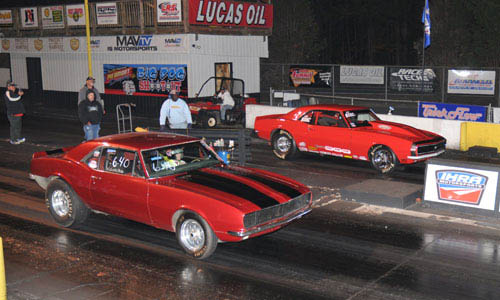 Michelle Pelo defeated Chris Dean.
Photo by Chip Bralley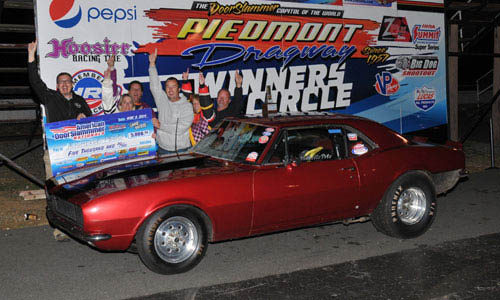 Michelle Pelo celebrates win.
Photo by Chip Bralley
Sunday's $5K Finale featured more cutthroat competition. Michelle Pelo of Jacksonville, NC and Chris Dean were undoubtedly the class of the field, with both drivers still double-entered at nine cars. Although each dropped one entry in the sixth round, they were each able to carry their remaining entry to the finals. Pelo leveled a crushing .003, dead-on 6.409 for an .012 package, leaving Dean's .012 light to suffer a 6.034 (6.04) breakout. In the semis, Pelo took the solo ride, while Dean benefited from a redlight start by Greg Walker.
To kick off the weekend, the first ten pairs of drivers were given the opportunity to win a $100 Summit Racing Equipment Gift Card, awarded to the best reaction time. There were three perfect .000 lights in those ten pairs, and each received a gift card! Other special awards included the C&C Auto Glass Dash for Cash presented by Summit Racing Equipment won by Michael Paschal of Pleasant Garden, NC, Imagine That Customs Best Appearing Car awarded to the duo of Ed and Stephanie Beyer of Beavercreek, OH, and the Redline Speed Shop Best Engineered Car earned by Matt Weston of Hendersonville, NC. Weston received a $100 Redline gift certificate, and promptly donated it to fellow racer A.J. Currie who lost his racing operation in a fire earlier this year. Additionally, thousands of dollars worth of prizes were presented to dozens of racers courtesy of Abruzzi Racing Transmissions and Converters, NitroPlate High Temperature Coatings, Summit Racing Equipment, Mickey Thompson Tires, Auto Meter, Moser Engineering, Flatout Gaskets, ThisIsBracketRacing.com, and Loose Rocker Promotions.
Prize Winners:
Loose Rocker Free Re-Entry: Nick Hastings, William Roberts, Alex Richardson
ThisIsBracketRacing.com subscriptions: Joe Hartsell, Jordan Wike, Zack Norris
Summit gift cards: Paul Warwick, Shawn Carpenter, Michelle Pelo, Michael Paschal, Ken Ellison, Carl Bane, Mark Milford, Tommy Plott
Moser Engineering gift certificates: Nick Womack, Randall Blinson
Mickey Thompson gift card: Don Cox
Abruzzi torque converter: Skip Briggs
Abruzzi gift certificates: Matt Robinson, Billy Sasser Auto Meter gift certificate: Darryl Morris
Flatout Gaskets gift certificate: Michael Paschal, Matt Cooke
NitroPlate Bye Runs: Frank Mark, Dwayne Bowman, Terry Goff, Jr., John Lassiter, William Bird, Matt Cooke, Nick Womack, Jeff Krushinskie, William Roberts, Barry Teachy II, Brian Cireddu, Eric Aman, Greg Huffine, Nick Hastings, Brett Nesbitt, Delton Hairfield, Jr, Andy Bailey, Greg Walker, Bug McCarty, John Bailey, Chris Dean, Michelle Pelo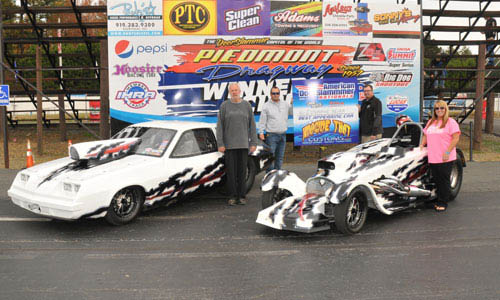 Best Appearing Car - Beyer
Photo by Chip Bralley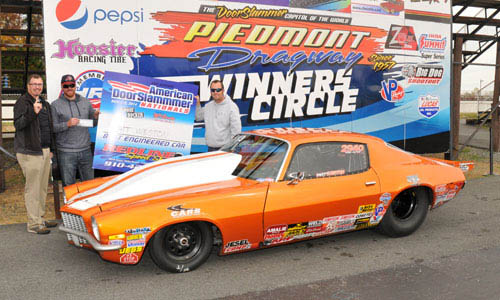 Best Engineered Car- Weston
Photo by Chip Bralley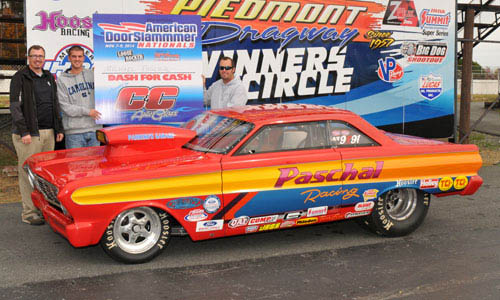 Dash Winner- Paschal
Photo by Chip Bralley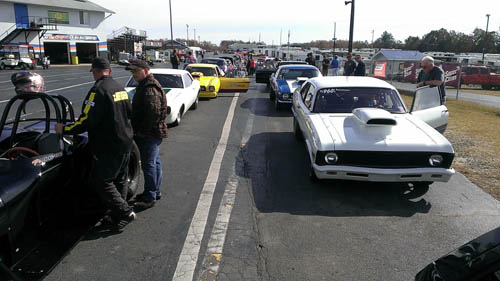 Photo by Michael Beard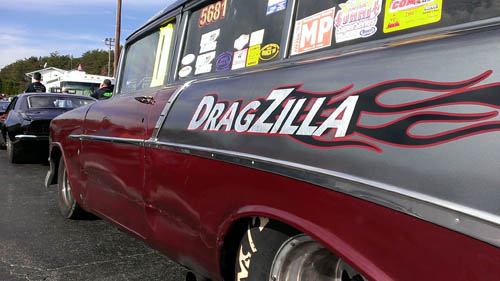 Photo by Michael Beard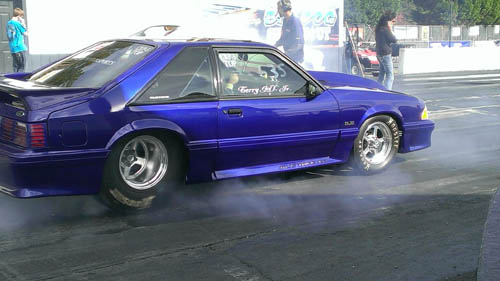 Photo by Michael Beard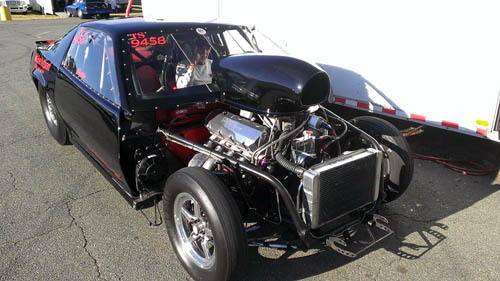 Photo by Michael Beard




Drag News: 10 Most Recent Entries [ top ]

Dec 02- First-Time Stops at Norwalk, Maple Grove and Bowling Green Highlight 2021 PDRA Schedule
Dec 02- 2021 Summit Motorsports Park Schedule Stuffed with Power and Pageantry