Fri, 29 Aug 2014, 16:14 PM



Bill Reichert to Retire from Driving at the End of the 2014 Season



Courtesy of Jim Luikens



BROWNSBURG, Ind. --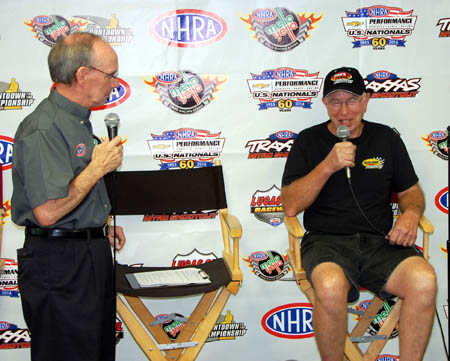 bob Frey and Bill Reichert
Five-time NHRA National Champion Bill Reichert announced today that he is retiring from driving in NHRA competition at the end of the 2014 racing season. Reichert, who has compiled one of the most accomplished NHRA resumes ever in his 22-year driving career, is still the all-time low elapsed time record holder in Top Alcohol Dragster at 5.10 seconds. He recorded that elapsed time, as well as a companion 284.75 MPH top speed record, at Houston in 2007. Both are records that will likely never be broken.
In his retirement announcement Bill noted that his racing career has been very satisfying with more career accomplishments than even he could have imagined at its start. Those include 28 NHRA National Event wins beginning with the 1995 Brainerd event. Bill has also recorded 54 NHRA Regional/Divisional wins in 77 final round appearances.
Bill was quick to thank his family and friends for their support throughout his long and fruitful racing career. He also remarked that none of these accomplishments would have been possible without the enthusiastic support of the Bar's Leaks and Rislone brands of automotive chemicals.
Noting that he competed in a class that required a significant investment, it was Bar's Leaks and Rislone that had made it possible for him to achieve all that he has. He was honored to have earned their support for so many years and thanked them in closing.
At the end of this season Bill's recording-holding dragster, as well as his transporter, all of his spare parts, and his support equipment will be available for purchase. Ideally, Bill would prefer to sell his entire turn-key racing operation to one party and be hired to tune the car for its new owner/driver. Lacking that he will be willing to break up his major components and/or be available to tune for another racing team.




NHRA: 10 Most Recent Entries [ top ]

Feb 28- GAINESVILLE - Fact Sheet
Feb 28- GAINESVILLE - Event Preview
Feb 25- PHOENIX -Through the Lens of Ron Lewis
Feb 25- PHOENIX - Torrence Back On Top at Arizona Nationals
Feb 25- PHOENIX - Tommy Johnson, Jr. Earns 20th NHRA Victory, and First for MD Anderson
Feb 25- PHOENIX - Special Award
Feb 25- PHOENIX - Erica Enders Continues Strong Start, Rolls to Pro Stock Win in Phoenix
Feb 24- PHOENIX - Mickey Thompson Top Fuel Harley Series Wrap Up
Feb 24- PHOENIX - Lucas Oil Drag Racing Series Wrap Up
Feb 24- PHOENIX - Sunday Video