Sun, 24 Aug 2014, 07:58 AM



Line Looking to Add to His Cowboy Hat Collection with Another Win



Courtesy of NHRA Communications


Photo copyright 2014 Auto Imagery, Inc.





At Texas AAA NHRA Fall Nationals



ENNIS, Texas --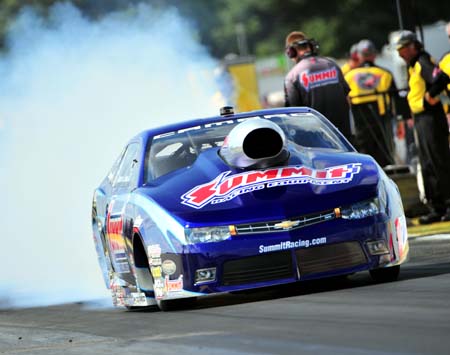 Jason Line
Jason Line has never thought of himself as a cowboy but he doesn't mind looking the part when he's at Texas Motorplex.
Line, who won the Texas AAA NHRA Fall Nationals Pro Stock title a year ago, can't wait to get back to the concrete marvel for the Sept. 18-12 event, not just because it's one of his favorite places to race or because it's the second race in the Countdown to the Championship but also because he loves collecting cowboy hats.
One of the most coveted trophies at any NHRA event, cowboy hats are awarded to Texas Motorplex winners, along with the iconic Wally. And Line is looking to add a third hat to his valuable collection next month.
"Hey, I've got two of those hats and I love them," he said. "Last year I got a brown one so now I have a black one and a brown one and I'd like to get another one. That cowboy hat is one of the coolest trophies we can win and I'm really proud of the ones I have."
Not that he's ever really been all that comfortable wearing one outside of winner's circle.
"I'm not a cowboy," Line said. "Some guys could probably pull that off but I'm not one of them. When I win one though, I'm really proud to wear it the whole time I'm there. Once they fit me for it, I don't take it off until it's time to go home, then I put it on for a while when I get home because my kids really love to see me wearing it.
"It's really just a great tradition there at Texas Motorplex and I think all the drivers really want to have that hat in their trophy case. Yes, we get a Wally when we win and that's great but adding that cowboy hat is icing on the cake. "
With three wins to his credit already this season, the two-time NHRA Pro Stock champion, would love to not only win again at the Motorplex but also put his name on another championship. And he feels he has a good shot at doing just that.
"We're having a good year and it's just getting better and better," he said. "I believe I can win and I believe (teammate) Greg (Anderson) can win it - he's hungrier than a big guy at the buffet. I've got lots of confidence in both of us. My hope is that we can duke it out for the championship and for the hat at Texas.
"I'm very optimistic and that's happened just over the last three weeks. I know it's not magic (winning) and I know why we weren't running great and I know why we're so much better now. Right before the Denver race we figured some things out, we've been working on the new engine and it's made a big difference. The reality is that we both really do have a chance to win the championship."
But before the championship, there's the Texas AAA Fall Nationals and the opportunity to score another cowboy hat. While Anderson has four wins at Texas Motorplex, he only has one cowboy hat because they only started awarding them in 2010. That means Line has one more than his teammate.
"I might have more hats but Greg has more wins," he said. "He really, really wants to win there and get another one but so do I. I still need to gain on him as far as wins go."
Line feels like whoever wins at the Motorplex has a good shot at winning the championship. In 2011, he won the Texas AAA Fall Nationals and the title and in 2012, Allen Johnson won the Texas race prior to claiming his championship.
"A win there is huge," he said. "The last few years whoever wins the Pro Stock race there has gone on to win a championship more often than not. So a win there is key. Every race is important if you want to win the championship but I really feel the first couple, you really have to get off to a fast start and a win at the Motorplex would be huge."
Tickets for the AAA Texas NHRA Fall Nationals are available now, ranging from just $10 to $380 for weekend packages. Youth tickets for children 12 and under start as low as $5. For tickets or more information, please call the Texas Motorplex office at (800) MOTORPLEX or visit www.texasmotorplex.com.
The first ever PreStage Fan Fest in Downtown Ennis will be held Wednesday, Sept. 17 between 5-10 p.m. with food trucks, music, driver appearances and more.
Gates open for the 29th annual AAA Texas NHRA Fall Nationals at 10 a.m. Thursday, Sept. 18 with sportsman qualifying runs between 10 a.m. and 6 p.m. Two rounds of professional qualifying, at 2:15 and 5:15 p.m., highlight the Friday, Sept. 19 schedule, along with sportsman qualifying throughout the day. Saturday, Sept. 20, is packed with sportsman eliminations and the final two rounds of professional qualifying at 11:15 a.m. and 2:15 p.m.
Gates open at 8 a.m. Sunday, Sept. 21, with pre-race ceremonies at 10 a.m. and final eliminations getting under way at 11 a.m.




NHRA: 10 Most Recent Entries [ top ]

Apr 23- HOUSTON - Sunday Video
Apr 22- HOUSTON - Sunday Pro Mod Wrap Up