Sat, 23 Aug 2014, 15:30 PM



One-on-One with Jack Beckman



Courtesy of NHRA Communications


Photo copyright 2014 Auto Imagery, Inc.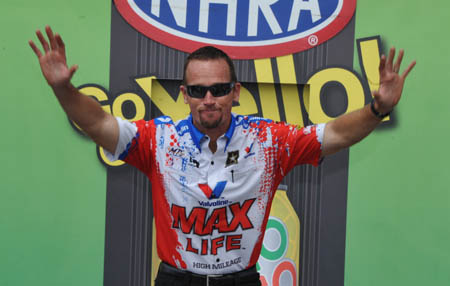 Jack Beckman
The following are excerpts from a national media teleconference Funny Car racer Jack Beckman.
THE MODERATOR: We are joined by Jack Beckman, the 2012 Funny Car world champion, heading into the final race of the regular season on the outside looking in. His primary mission at Indy will be to earn enough points to secure a Top 10 position and advance into the Countdown playoffs. Armed with a new crew chief in Todd Okuhara, Beckman will be one of the drivers to watch coming up next week. Jack, talk about that. You have the new crew chief with Todd. The car seemed to respond and run well in Brainerd. Are you close to kind of getting everything back together to make that one last run into the top 10?
JACK BECKMAN: I think. That's the plan. I feel we painted ourselves into the corner. We win a lot of races just kind of being mediocre, and the fact that we're not in the top 10, I'm in a position I've never been in in my entire nitro career this far into the season without a guaranteed spot into the Countdown. Even though the Countdown is relatively new, we've been only doing it since, what, '07, I think, it's just something that's unfamiliar to me, and it's been very frustrating. When I was a kid I thought I would give anything just to drive one of these cars. But I think once you've been to the top of the mountain you've won races, won a championship, you set your expectations a lot higher. So I think that we've made changes to go in the right direction to get this car into the Countdown. We just need to hope it's not too late.
Q: You did have success at this event last year, winning the shootout in spectacular fashion. Does that give you a little bit of confidence coming back into this track?
JACK BECKMAN: I just think it's how you take it. It can if you want it to. And it really makes no difference because it's a different year and it's different weather. Yes, it's the same racetrack, but right now it just started raining. We just made our run in testing. I ran up to the media tower and they shut off the next pair because it's raining. So the weather does so much to a racetrack with what it does to the rubber sticking there, that we won't even have the same racetrack next week that we're testing on right now let alone the same one as last year. So I'm always confident going in. I don't think because I've won two shootouts here it necessarily makes me more confident coming back to Indy.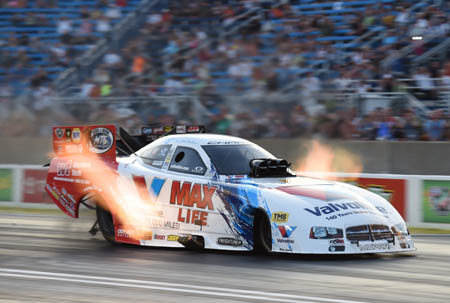 Jack Beckman
Q: Jack, you understand the elements of drag racing both as a driver and as an instructor from your past. And you mentioned how important it is for you at this point in the juncture of the season. Is there a better time to be digging deep and could you explain what really digging deep is, a place like Indy?
JACK BECKMAN: That's not my saying and that's never been my saying. I don't know what the hell it means. I think digging deep can put you in a deeper hole sometimes. I think the drivers that say that, I think their intent is meaning finding something within yourself over and above what you've been displaying. Boy, I'd like to think that I bring my "A" game up there even in qualifying. So to say we'll just try harder because this round is more important, to me that's basically admitting you haven't done your best every other round before. I just want to continue doing the best that I can each time I go up to the starting line.
Q; As far as getting some momentum like having a good race at Indy, do you think momentum is as easy to achieve as it is to retrieve?
JACK BECKMAN: You know, that's a great question. And not to be sarcastic, but parachutes take away all the momentum at the end of the strip. You know, I think momentum in nitro racing means that you find that niche with your tune up where it's responding well to everything and you have enough clutch disks to get you 20 or 30 more runs without having to run out of one and replace it, that's what tends to put us in slumps or throw us a curveball. And to stick with that term, "momentum," yeah, we just haven't had any of that this year. We'd have a good car for a few runs and then it would hiccup. It would throw us a curveball. We thought we were going in the right direction and then it wouldn't. We'd either get outrun or smoke the tires. I think that bringing Todd Okuhara back, and when I say back, when I started driving at Schumacher racing in 2006, Todd was my crew chief. So it's very familiar to be around him to me even though we haven't been in the same trailer for several years. I think the intent of all of this is to give us back some direction. And what you need to do is be able to get your car to the finish line and make it predictable. Once you make it predictable, then you can lean on it and make it quick. And a quick, predictable car is pretty damned hard to beat. If you want to see that, look at what (John) Force and Robert Hight have been able to do this year. That's what two quick and predictable cars will do. They take home a lot of trophies. We've been one or the other, but not both this year. So I think that's where we're trying to get back to, is quick and predictable.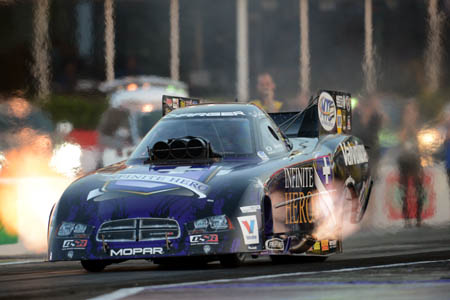 Q: You had great success in 2012 when you had a crew chief swap then. You've had another crew chief swap recently. How close are you to getting all the pieces put together to really mount that campaign in order to get into the top 10 but charge hard for the championship?
JACK BECKMAN: I don't mean to sound glib with you guys, but if you can fault us drivers in our interviews, we tend to be so clich?, it gets predictable. And we tend to put such a rosy spin on everything, that you really? I wish most of these interviews were conducted at lunch over food. So you really got to understand what we were thinking and why we were thinking it. The reality is I don't know the answer to your question. With nitro in the tank and 10,000 horsepower, it's very difficult for me to tell you that we are back on track and we're going to be great. So what I'll go off of is track records. And everything I've seen Todd Okuhara do in my entire nitro career has been to take cars and make them run fast and make them run consistent and turn them into race winners. So with just knowing that, I feel much more confident about our ability to be able to go rounds here at Indy and get into the top ten. I would be surprised, I'd be devastated, and I'd also be surprised if we don't make the top ten. Tim Wilkerson's in tenth right now. It's a single car. Tim runs it on a pretty tight budget. Tim owns the car, finds the money for it, tunes the thing and drives the thing. I'm a hired driver on a seven car team for Don Schumacher Racing. And the amount of resources we have are very impressive. We have a lot of smart people over here that are able to put their heads together. If we can't get this Valvoline car into the Countdown, I'd be devastated, but it means that we didn't earn it.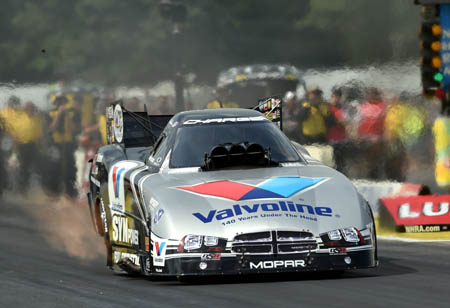 Q: Number one, let me say I applaud you in your answer. You're so very respectful. So my question to you is quite simple. Have you ever faced such a challenge during a racing season and what did you do at that time to overcome the issues?
JACK BECKMAN: That's an interesting question. It's an interesting term when people say "overcome." I would say more to deal with it. I had a student at the school ask me one time, well, how do you do it? You never get nervous. I said I'm human. I get nervous. They said but you don't show it. Okay. It's how you manage it, how you deal with it. You don't necessarily overcome it. You manage it. You try to control it more than let it control you. Yeah, I've had some big moments, going up there. There's a lot of races where you're not qualified going into the last session and the bump spot's pretty slow. And you know if you get in trouble and you do a good job pedaling the car, you can get the thing in. And let me tell you that's a Mount Everest, when you're looking against it. Pomona 2012, we're leading Ron Capps by two points. First round, they go up there, they win. They're now ahead of us. We have to win. We do. We go back ahead by two points. Second round, they run in front of us. They go out there and win. Those were huge moments. And again one of you had mentioned digging deep. I just think that that's a clich? that some coach came up with. You know, you should be bringing that level every single time you step up there. Every single time. So there's times that I don't have a very good light. There's times that I have tremendously good lights. Is that because I dug deeper? I don't know. Something in my thought processes, my eyes weren't focused as well. In other words, I'm capable of doing really well and I'm capable of being mediocre up there. What I have to do is not think about that. I just have to do the things that are necessary for me to be the best I possibly can every time I step on that throttle and for four seconds while I'm guiding that thing down the drag strip and hope that everything that the crew did back in the pits, that everything that Todd Okuhara, Chris Cunningham and Terry Snyder did made that car quick enough to be better than the car in the other lane. It's a ruthless sport. You know I was listening to your guys questions to Tony and he had mentioned this is one of the few sports where you can see the finish line from the starting line. So it's kind of a lot like a 100 yard dash, except there's not eight people. And there's not a second place. If you're not the winner, you lost the race. Our sport is very cruel the way it defines each heat and then the ultimate winner. NASCAR, they're delighted for a top 5 finish. You never see a drag racer who loses second round jumping up and down because he finished top 5. It's very tough on emotions out here. And when you do this a lot of time have a lot of those big moments, you just learn to temper them a little more. The highs may not be so high, and the lows not so low. And I'll stick to my last comment: If we don't get in the Countdown, it's not because of dumb luck. We had a throttle cable break on us. We were staged in oil in one race. But the reality is those two rounds didn't put us in the position that we were in, it was the course of 17 races that have got us here. So we've painted ourselves into a corner. We've put ourselves into a position where we have to be damn near flawless at Indy to get in there. Now that's just the battle. But that's the only thing I can think about right now is Indy. Our goal is to run for the championship, which it isn't possible if we're not in the Countdown.
Q: Sounds to me like you just described not just drag racing and running for a championship, but life in general. So I applaud you and we'll see you at Indy?
JACK BECKMAN: Thanks to all you guys. You guys are the ones that keep this sport alive. If it's not for the reporters and the announcers and photographers, we really don't have anything to present to people except the ones in the stands. So thank you guys for caring and doing great jobs.




NHRA: 10 Most Recent Entries [ top ]

Mar 18- GAINESVILLE - Pro Mod Sunday Wrap Up
Mar 18- GAINESVILLE - Sunday Wrap Up
Mar 18- GAINESVILLE - Pro Mod Championship Points
Mar 18- GAINESVILLE - Bonus Points
Mar 18- GAINESVILLE - Championship Points
Mar 18- GAINESVILLE - Mickey Thompson Top Fuel Harley Series Championship Points
Mar 18- GAINESVILLE - Bonus Points
Mar 18- GAINESVILLE - Summary of Eliminations in Top Fuel
Mar 18- GAINESVILLE - Summary of Eliminations in Funny Car
Mar 18- GAINESVILLE - Summary of Eliminations in Pro Stock