Thu, 21 Aug 2014, 19:50 PM



One-on-One with Erica Enders-Stevens



Courtesy of NHRA Communications


Photo copyright 2014 Auto Imagery, Inc.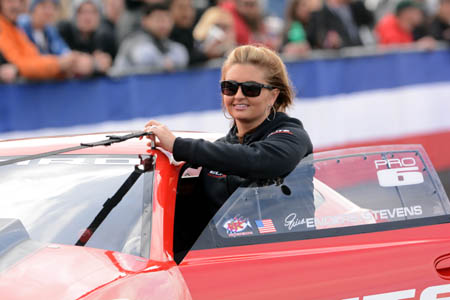 Erica Enders-Stevens
The following are excerpts from a national media teleconference featuring Pro Stock racer Erica Enders-Stevens.
THE MODERATOR: Erica joins us after leading the Pro Stock points for the majority of the season. She'll head to Indianapolis where she'll be looking to get her No. 1 spot back before the playoffs begin with an untimely second round upset in Brainerd, she lost the point series lead, unofficially, to Jason Line. You have had a strong season. You kind of come into Indy knowing that after completion of the Brainerd race you'll lose that No. 1 spot. What's your mindset coming into that event?
ERICA ENDERS-STEVENS: My mindset is going to be the same as it has been all year. I'm extremely blessed to be in the position I am in with, with a great team at Elite Motorsports standing behind me. But it's been a dream season up to this point. And we're hopeful to carry that momentum and that confidence through the end of the year, and I'm very optimistic about what's to come.
Q: You did have that early round exit in Brainerd. Did you and your team diagnose what happened there?
ERICA ENDERS-STEVENS: Yes, we immediately found our problem. It was a parts failure, and we threw it in the trash and we're heading to St. Louis early next week to test prior to the U.S. Nationals. So everything will be fine and back to normal. It's just one of those fluke deals that happens occasionally. We've been fortunate enough to not encounter things like that very much this season. So I guess every once in a while it's everybody's turn to go through that. And it just so happened at Brainerd it was our turn. It was unfortunate. It certainly wasn't the comeback we were hoping for after taking those two races off in Sonoma and Seattle to get our engine program up to speed as we're bringing on two team cars starting in Indy in addition to our team driven by my husband, Richie Stevens and Shane Tucker is returning from Australia as well. So just one of those deals. But we figured the problem out and we'll be ready to go in Indy.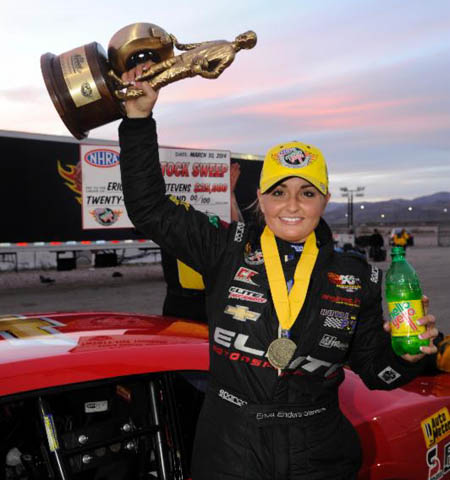 Enders-Stevens celebrates one of her wins.
Q: Erica, with the momentum you had throughout the season and to kind of lose it, having to take races off, that kind of thing, now you're coming back, it wasn't really magic that you and your team had. You had a lot of effort, a lot of work. You can put all that back together. What's your take on just getting that feeling back again heading into Indy and then into the playoffs?
ERICA ENDERS-STEVENS: Sure. The feeling that you speak of is not something that was lost. It was like I mentioned a second ago, just a fluke parts failure. I mean, there are a million and one things that have to go right in order to get a Pro Stock car to go down the racetrack and just an unfortunate situation in Brainerd. But you're absolutely right. There's a ton of effort and a lot of money spending and just blood, sweat and tears that go into our program. And we're right on track. We'll be just fine.
Q: And as far as how do you look at say Indy and how do you look the Countdown? Indy has such an aura, but perhaps the Countdown, you know, has a little bit more for you?
ERICA ENDERS-STEVENS: Yeah, absolutely. It's how we finish the season that's going to be important. Indy obviously is the most prestigious race of the year, the Super Bowl of drag racing. So I'm very hopeful to go out there and just have a really great weekend and get our No. 1 spot back from Jason Line to go into that No. 1 seed into the Countdown into Charlotte. I don't believe any woman in a professional category has ever gone in in the No. 1 position so far. It's certainly at the top of our list of goals, but it's not detrimental if it doesn't happen, by any means. We'll just have to start out swinging in Charlotte as hard as we can and go from there and remain positive and continue to have fun as a team. And, like I said before, I'm very optimistic of what we'll be able to accomplish.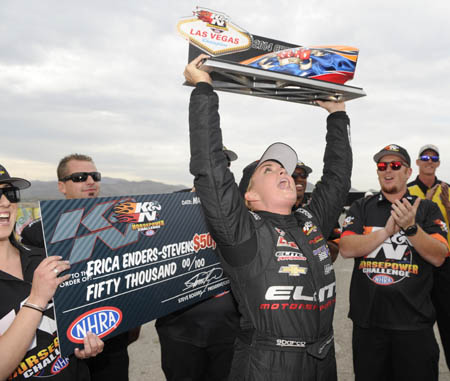 Enders-Stevens celebrates K&N Challenge win.
Photo copyright 2014 NHRA
Q: What does it mean to you to know that you are on the last step to what could be an extremely historical moment, not just in drag racing, but in all forms of racing throughout the world?
ERICA ENDERS-STEVENS: You know, it's really surreal to be in the position that we're in. But even if we aren't able to finish like we hope we can, it's been an extremely awesome season and I'm blessed to be in the position I am to drive for (team owner) Richard Freeman and Elite Motorsports, but, too, we've led the points for I guess 13 or 14 races of the year, almost the entire season. And we have four wins. We own both ends of the world record ET and speed wise. We won the K&N Challenge. So our accomplishments this year have just been awesome. It's a very surreal position to be in. And I know that we'll finish strong. I know that everything's going to be fine. And I'm very excited about the end of the year. It's hard to believe that we're already approaching the Countdown as it's gone by extremely fast. But I'm looking forward to it.
Q: And entering the U.S. Nationals, what is it, if you even can name it, about that one facility that just gets everybody excited, every driver so excited about being there and having a chance to win?
ERICA ENDERS-STEVENS: It's just got so much history. And the legends that have raced there in the past. As a kid, I grew up watching all of these people that I looked up to, Shirley Muldowney and Bob Glidden and the ones after them, and it's just been one of those races and one of those facilities that's so awesome and holds so much history. NHRA held the first Junior Drag Racing League National Championship there in 1994. I was part of that. We run it off at that race in the eight and nine year old category and just holds a lot of really special memories there for me. In 2001 we got down to three cars out of 174 in Super Comp. And then in 2012 we were runner-up in Pro Stock as well. So I feel like I've got a lot of unfinished business there and I'm hopeful we can get it done this year. But just an awesome facility and it gives you goosebumps when you walk in the gate there. It's one of those deals that's hard to explain unless you've been there and experienced it yourself.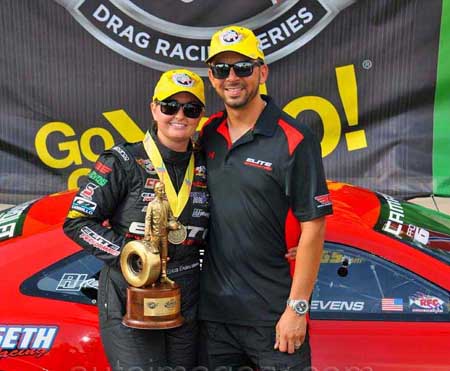 Enders-Stevens and husband Richie
Q: You talked about the specialness of the event. Is there that little bit of added pressure or do you kind of get hyped up knowing that it will be a Chevy car during the Chevrolet Performance U.S. Nationals?
ERICA ENDERS-STEVENS: I guess so. We certainly want to do well there for our time and for GM and Chevy Performance. But it's just a prestigious race. And I don't try to put any more weight on one race than another. They're all as equally important. Everyone is worth the same amount of points, but the U.S. Nationals is just one of those ones that would just be an added bonus to be able to put a "W" in the win column for our team. But very excited to go back.
Q: You sat out the Western Swing obviously for a number of reasons. But are you at all concerned about the future of Pro Stock, Pro Stock class being that Larry Morgan said it costs him roughly $3 million a year to run his Ford. Is this becoming a lot more than a rich man's golf game, and are you concerned about the survival of the class?
ERICA ENDERS-STEVENS: There are a lot of questions swirling around about Pro Stock as a class. You know, my team owner has, Richard Freeman, has brought a lot of things to the table, shedding light, if you will, on some of the issues that Pro Stock has. As a team that leases engines to other customers, we try to make it as affordable as possible. I mean, the engine leasing program is the most costly part of a Pro Stock program ranging from probably $800,000 to a million and a half dollars a year just to lease an engine, and of course you've got the cost associated with a race car, all the parts, your employees, travel expenses up and down the road. So I guess in the whole grand scheme of things there's a little bit of a concern about the future of Pro Stock considering we don't have full fields at some of these events. And that really stinks. I only started in 2004. So 10 years ago. And it's definitely taken a turn with the economy. So there are some issues that need to be addressed and worked through. But as a class, I mean, we have such a solid group of guys and then myself out there that are really working hard to make the class what it is. And I think we can have a really bright future. We just gotta keep working at it.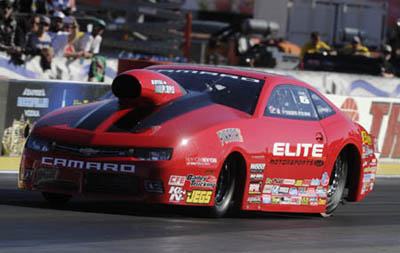 Erica Enders-Stevens
Q: Have you looked at other classes like Pro Mod and any options besides Pro Stock for your career?
ERICA ENDERS-STEVENS: My heart and soul is in Pro Stock. I'm heavily invested. I really enjoy the challenge of driving a Pro Stock car. I love that all the pressure's on the driver's shoulder. Yes, you have to have horsepower and a really tremendous crew chief. But the cars are hard to drive. And I just love that challenge of it. I mean, I've driven a nitrous Pro Mod car and driven an alcohol Funny Car, top dragster, Super Comp, Super Gas, I've driven a lot of different classes. And I just absolutely love Pro Stock. So I'm a partner with Richard Freeman in this deal, and I feel confident that this is probably where I'll finish my career. I mean, given the attitude, I'll probably drive anything, but I absolutely love Pro Stock.
Q: Erica, with your dominating performance from Elite Motorsports in the horsepower part, how much will heat and humidity come against you at the U.S. Nationals?
ERICA ENDERS-STEVENS: Being that Pro Stock is naturally aspirated, they like cool, dry weather. They run better in those conditions. The past few years at Indy has been kind of a roller coaster as far as weather is concerned. 100 degrees one day and the next day a storm came through and we're racing in 50 and 60 degree temperatures. You never really know what to expect in the Midwest, but I'm excited to go back. And I've never had crew chiefs like I have right now. (Crew chiefs) Rick and Ricky Jones are just brilliant and very methodical and analytical, and I'm really proud to be teamed up with them this year and I have all the confidence in the world we'll be just fine in Indy. And no matter what Mother Nature gives us, I'll be excited to drive and I know that they'll do a great job for us.




NHRA: 10 Most Recent Entries [ top ]

Mar 22- LAS VEGAS 1 - Defending Funny Car Winner Tommy Johnson Jr. Excited for Four-Wide Racing
Mar 22- NHRA Northwest Nationals Tickets on Sale Now
Mar 21- LAS VEGAS 1 - Fact Sheet
Mar 21- LAS VEGAS 1 - Event Preview
Mar 20- Strong Stable of Contending Pro Stock Racers Vie for Final Starting Position for K&N Horsepower Challenge
Mar 20- GAINESVILLE - Special Awards
Mar 20- GAINESVILLE - Lucas Oil Drag Racing Series Wrap Up
Mar 19- GAINESVILLE - Sunday Video
Mar 18- GAINESVILLE - Pro Mod Sunday Wrap Up
Mar 18- GAINESVILLE - Sunday Wrap Up