Thu, 21 Aug 2014, 17:50 PM



Castro, Daniel Win Second Round of SoCal Super Street Races at Fontana



By Bob Johnson



FONTANA, Calif. --
John Castro and Tim Daniel won the second Southern California Super Street Assoc., doubleheader of the season at Auto Club Dragway in Fontana, Calif. Daniel, for the second time this season, won the Saturday afternoon non-points race, while Castro earned the victory during Sunday's Denso Products-sponsored point's race. DENSO Products is an automotive components sales and distribution company.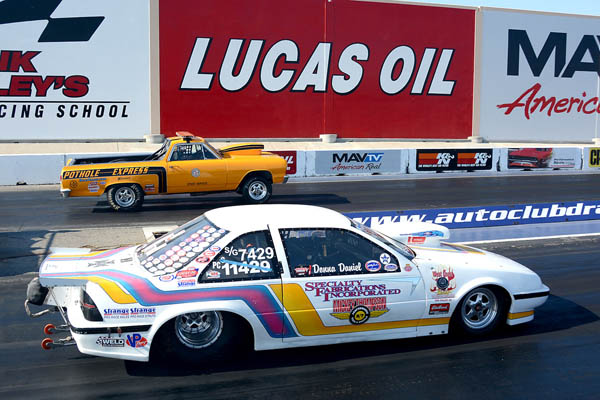 Tim Daniel defeated John Sapone
Quarterfinal competition for the non-points race saw John Sapone defeat Fred Murphy, Daniel beat Jeff Lindstrom, and Randy Guitar got a bye run into the semi. Daniel went to the final round as he defeated Guitar in a double-breakout race, as Sapone drove his '64 El Camino to the finals on a single pass.
In the final, Sapone had a .010 better reaction time, but Daniel logged his second non-points win of the season with a 10.98, 135.27 as Sapone's El Camino slowed with chassis issues.
Fred Murphy increased his Super Street Shootout points lead by capturing the number one qualifying spot with his Chevy Vega, but he lost in the quarterfinals with a .006 red light to Randy Guitar's '57 Chevy. John Sapone and Bob Johnson had a tough double-breakout match in the quarters as Sapone cut a .009 light to Johnson's .011, and got the win 10.891 to a losing 10.854. Castro advanced to the semifinals with a .003 margin-of-victory win over Jimmy Galante, 10.943 (.006 reaction) to a 10.940 (.011 r.t.). In the semifinals, Sapone advanced with a win over Guitar, while Castro got a bye run.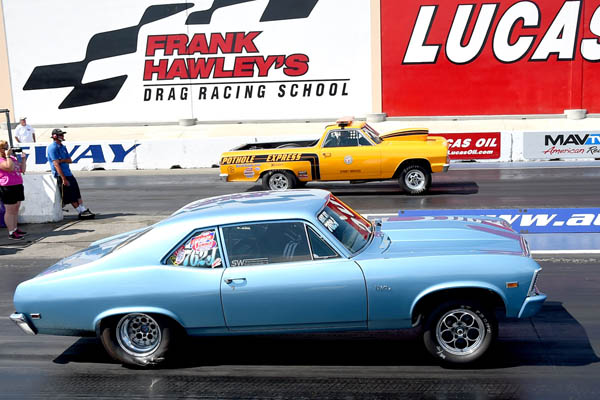 John Castro defeated John Sapone
The final round was another double-breakout match, with Castro's Nova getting the win light at 10.888, 134.16 to Sapone's losing 10.857, 129.84. The win was Castro's second of the season, as he also won the Sid's Auto Body-sponsored event at Barona earlier this year.
With three point's earning races in the books, John Castro holds the lead with 2542 points, followed by Jeff Lindstrom (2034), John Sapone (1832), Randy Guitar (1830), and Jimmy Galante (1517). The next race on the SoCal Super Street schedule will be September 13 and 14 at Auto Club Dragway in Fontana.
Sponsors for the 2014 Super Street series includes Denso Products, Sid's Auto Body, RPM Racing, Sanders Automotive, and Tim & Donna Daniel Racing.




Drag News: 10 Most Recent Entries [ top ]

Mar 10- Dodge//SRT and Mopar Brands to Offer Complimentary Drag Race Experience for NMCA Competitors in 2018
Mar 10- Cottrell, Wittenberg, Hix, and Bates Come Out Swinging at the 2018 March Meet
Mar 09- Universal Technical Institute Named Official Sponsor of Sonoma Raceway's Drags and Drift Program
Mar 09- Revitalized Street Fights Series Roars into Action with a New Look and Feel
Mar 07- Todd Martin Wins in Pro Mod Return at MWPMS Season Opener
Mar 07- Keith Haney Racing Encouraged by Strong Start at MWPMS Season Opener
Mar 06- Gateway Motorsports Park to open Saturday, March 31
Mar 06- Mad Mule Pro Mod Shootout at GALOT Motorsports Park Results
Mar 05- BAKERSFIELD - Nostalgia Rear Motor Top Fuel Round 1 Eliminations
Mar 05- BAKERSFIELD - Nostalgia Funny Car Final, Round 4 Eliminations