Thu, 21 Aug 2014, 09:32 AM



The Ohio Boys and Their Oh-So-Bad Firebirds to be Featured at NMCA at Summit Motorsports



Courtesy of Mary Lendzion



NORWALK, Ohio --
Park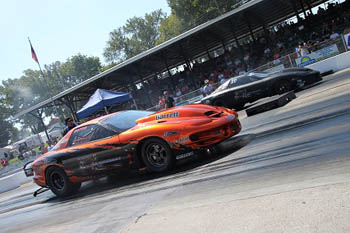 Mark Koehler vs. Mike Brown
Drivers in radial-tired, slick-tired and street-tired cars will go nose-to-nose in heads-up, index and bracket classes when the 8th Annual JE Pistons NMCA Muscle Car Nationals featuring the Chevrolet Performance LSX Challenge and the Ford Racing Cobra Jet Showdown presented by Diversified Products Marketing rolls into Summit Motorsports Park on August 21-24, 2014.
Two of those drivers are Mike Brown and Mark Koehler - the Ohio Boys - who are relaxed off-track and relentless on-track in the Chevrolet Performance LSX Challenge JE Pistons Drag Radial class. Contested on a .400 Pro Tree and in a heads-up, eighth-mile format, the class features stock-appearing and stock-bodied LS-powered GM-bodied cars and trucks with single power-adders, including twin turbos, single turbos, nitrous or blowers, and engines with a maximum of 510 cubic-inches or 525 cubic-inches for nitrous.
Both of their Firebirds feature ERL Performance engines in the mid 400-cubic-inch range based on the OEM LS2 block, All Pro 12-2 heads and twin 88mm Garrett turbos with wastegates and blow-off valves by TiAL. Helping each car put the power in the right places are two-speed TH400s by RPM Transmissions, ProTorque GEN II converters and Midwest Chassis suspension set-ups. Both roll on Mickey Thompson 315/60/15 or ET Street Radial Pro P275/60R15 drag radials, and in the eighth-mile, Brown has been as fast as 4.43 and 170 mph while Koehler has been as fast as 4.52 and 170 mph.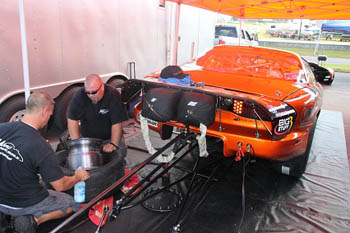 Mark Koehler
Last season, one or both of them advanced to the final of every race they entered, and when it was all said and done, Brown had dove into the sixes with a 6.99 at 209 mph and earned the class championship while Koehler, who had skyrocketed to the sixes via a 6.95 at 211 mph, finished sixth in points despite missing the first several races.
This season, the teammates - who perform their own layout, fabrication, maintenance and tuning via Big Stuff 3 and have mastered how to read the track and conditions and adjust their chassis and tune accordingly - have each won at events outside of the series, with unwavering support from crew members Steve Turley, Dave Shock, Mike Ress and Eddie Lipker. Tuners Patrick Barnhill and Jason Lee of PTP Racing step in when needed.
"We're looking forward to Norwalk because it's an awesome track and facility, not to mention it's the Ohio Boys' home-turf," said Koehler.
For information about NMCA classes, pricing and scheduling, and to view race news and photos throughout the race weekend, visit www.NMCAdigital.com. Additional coverage will be offered in print in an upcoming issue of Fastest Street Car magazine. For information about Summit Motorsports Park, which is at 1300 State Route 18, Norwalk, Ohio, call 419-668-5555 or visit www.summitmotorsportspark.com.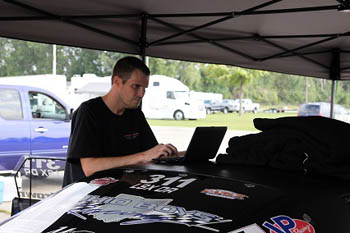 Mike Brown




Drag News: 10 Most Recent Entries [ top ]

Mar 21- Gateway Motorsports Park Introduces VP Racing Lubricants Mid-America SuperCar Showdown
Mar 21- New Sharks of the Strip Outlaw Heads-up Racing Program Debuts Friday the 13th at Gateway Motorsports Park
Mar 21- 16th Annual NMCA Muscle Car Mayhem Race Wrap Up
Mar 21- Jones Scores at San Antonio Nitro Jam
Mar 21- Rai to Field Three Cars at Santo's Super Thunder Meet
Mar 21- Rapisarda Autosport International to Race in Adelaide
Mar 10- Dodge//SRT and Mopar Brands to Offer Complimentary Drag Race Experience for NMCA Competitors in 2018
Mar 10- Cottrell, Wittenberg, Hix, and Bates Come Out Swinging at the 2018 March Meet
Mar 09- Universal Technical Institute Named Official Sponsor of Sonoma Raceway's Drags and Drift Program
Mar 09- Revitalized Street Fights Series Roars into Action with a New Look and Feel