Tue, 19 Aug 2014, 22:37 PM



Top Fuel Star Antron Brown Ready to Make More History



Courtesy of NHRA Communications



At Prestigious Chevrolet Performance U.S. Nationals



INDIANAPOLIS --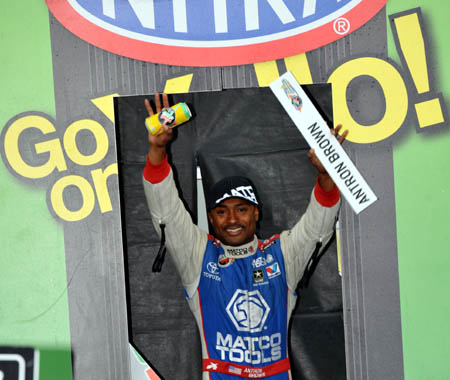 Antron Brown
Antron Brown considers himself fortunate to have won the world's most prestigious drag race, the Chevrolet Performance U.S. Nationals. A three-time winner, including a Top Fuel victory in 2011, Brown also has a strong handle on what it takes to stand in the winner's circle during the biggest weekend of the year.
But that doesn't mean there is anything easy about succeeding at an event that has featured some of the most memorable moments in NHRA history.
"It's survival of the fittest," said Brown, driver of the 10,000-horsepower Matco Tools dragster. "You know you can't make a mistake because everyone is bringing their best. Everything is so crucial and nobody is guaranteed a spot at Indy. There's a lot of strategy involved and you just have to make a lot of good runs. You have to be like a surgeon and it definitely takes a lot of precision over the entire weekend. At Indy, everybody brings their 'A' game and brings all their best parts. That's what Indy brings out and that's what makes it special."
Brown and the rest of the NHRA Mello Yello Drag Racing Series stars return to historic Lucas Oil Raceway at Indianapolis for the 60th anniversary Chevrolet Performance U.S. Nationals, Aug. 27-Sept. 1. Shawn Langdon (Top Fuel). Robert Hight (Funny Car), Mike Edwards (Pro Stock) and John Hall (Pro Stock Motorcycle) were last year's winners of an event that will once again be showcased on ESPN2 in more than 10 hours of coverage.
As many as 1,000 competitors in 12 different categories will attempt to put their names in the Chevrolet Performance U.S. Nationals rich history book over Labor Day weekend. It also marks the 18th of 24 events during the 2014 season and is the final race of the regular season. The Traxxas Shootout will also take place in Funny Car and Top Fuel at the Chevrolet Performance U.S. Nationals, giving drivers, including Brown, a chance to race for $100,000 bonuses.
Antron Brown
"What gets you excited is just the prestige," Brown said. "It's how deep of a field it always is, the history behind it and just the excitement surrounding the event. With the Traxxas Shootout and then the race, it's just a big, historical weekend. You know whoever wins is 'the' team."
Brown has solidified his spot as a part of the rich tradition of the Chevrolet Performance U.S. Nationals, winning the race and the Pro Stock Motorcycle bonus event in 2000, winning in PSM again in 2004 and in Top Fuel in 2011. After watching Langdon, the 2013 world champion, double-up with Chevrolet Performance U.S. Nationals and Traxxas Shootout victories last season, Brown is after that goal in 2014.
Currently second in Mello Yello Series points behind Doug Kalitta, Brown has been strong all season, winning five races and advancing to seven final rounds. But there is certainly something extra about winning the Chevrolet Performance U.S. Nationals.
"It's one of those deals where winning at Indy always sticks out," Brown said. "You know when it happened, how it happened, who you beat and what it took to get there. Looking at things this year, we know what we have to do to succeed and we will have a good game plan heading into it. We're Countdown-minded right now and we want to run the best we can every time."
With 22 Top Fuel dragsters already entered, Brown will face off against a loaded and star-studded field that includes the likes of Tony Schumacher, who has an incredible nine Chevrolet Performance U.S. Nationals victories, Kalitta, Spencer Massey, Langdon, Khalid alBalooshi, J.R. Todd, Brittany Force, Steve Torrence and Richie Crampton.
The pressure that comes with the biggest racing weekend of the year is the perfect primer for the Mello Yello Countdown to the Championship playoffs, and it's an atmosphere that has brought out the best in Brown in 2014.
"We're all geared up, hyped up and feeling good about what is going on," Brown said. "The class is at an all-time high and a lot of people are on point. It's ridiculous how strong everyone is. If you win you know it's something special and if it's Indy, it's even bigger."
In Funny Car, everybody is chasing points leader Robert Hight, who qualified for the Countdown a year ago with his third Chevrolet Performance U.S. Nationals win. John Force will look to tie Ed McCulloch's Funny Car record of five wins at the event, while other challengers include Ron Capps, Matt Hagan, Courtney Force, Cruz Pedregon, Del Worsham, Alexis DeJoria, Tim Wilkerson and Tommy Johnson Jr.
Four-time world champion Greg Anderson is a six-time Chevrolet Performance U.S. Nationals winner in Pro Stock, trailing only Bob Glidden's remarkable nine wins at the race. Anderson will face a talented field featuring top drivers Dave Connolly and Jeg Coughlin, who each have three Indy wins, points leader Erica Enders-Stevens, Allen Johnson, Shane Gray, Jason Line, Vincent Nobile, V Gaines and Chris McGaha.
In Pro Stock Motorcycle, points leader Andrew Hines has had a dominating season and will look to add to his 2012 Chevrolet Performance U.S. Nationals victory. Teammate Eddie Krawiec has yet to win in Indy but sits second in points on his Screamin' Eagle Vance & Hines Harley-Davidson, while other standout competitors in the 190-mph two-wheeled category include reigning champion Matt Smith, Angie Smith, Michael Ray, Scotty Pollacheck, Hector Arana Jr., Hector Arana, Steve Johnson and defending winner Hall.
Bonus bucks and bragging rights will be on the line for qualified drivers in Top Fuel and Funny Car as they battle in the lucrative Traxxas Nitro Shootout. The Traxxas Nitro Shootout for Top Fuel will be held on Saturday evening, while the Traxxas Nitro Shootout for Funny Car is contested Sunday afternoon. The winners in each Traxxas Nitro Shootout will earn $100,000.
Drivers in the NHRA Lucas Oil Drag Racing Series and the NHRA Pro Mod Series will look to become winners of the prestigious event during the weekend. The fastest Super Stock cars will challenge for the ultimate bragging rights and a bonus purse during the popular Mopar HEMI Challenge as well.
NHRA will also conduct official presentations to honor six of the most iconic moments in the history of the Chevrolet Performance U.S. Nationals in the Hot Rod Junction Friday-Sunday of the weekend. On Sunday of race weekend "Big Daddy" Don Garlits will reenact his famous beard shaving scene that followed his triumphant 1967 victory and the "Indy's Winningest Drivers" presentation, a ceremony honoring Schumacher, Bob Glidden and Garlits, will take place; on Saturday Kenny Bernstein will be honored for becoming the first double-up winner at Indy, Shirley Muldowney will look back at her Indy memories including her 1982 victory, one she called the greatest victory of her outstanding Top Fuel career, and the 1978 Funny Car final where Tom "The Mongoose" McEwen defeated Don "The Snake" Prudhomme will be remembered; on Friday the harrowing 1970 Top Fuel final between Jim Nicoll and Prudhomme will be revisited.

A special Monday edition of the SealMaster NHRA Track Walk will take place prior to final eliminations, where legends Prudhomme, McEwen and Linda Vaughn will walk alongside fans down the historic dragstrip. Fan-favorite Cacklefests and vintage racecars on display in the Hot Rod Junction, along with several autograph sessions featuring the legends of the sport as well as today's biggest stars will be featured throughout each day of the event. On Friday, a special fireworks show will close out the day's racing.
The first of five Mello Yello Series qualifying sessions is scheduled for 6 p.m. on Friday, Aug. 29. Two more sessions will take to the track on Saturday, Aug. 30 at 2:30 p.m. and 6 p.m., and the final two qualifying sessions will take place on Sunday, Aug. 31 at 11 a.m. and 2:30 p.m. Final eliminations begin at 11 a.m. on Monday, Sept. 1.
The Traxxas Nitro Shootout for Top Fuel will be contested Saturday, Aug. 30 with rounds at 4 p.m., 5:25 p.m. and 7:45 p.m. The Traxxas Nitro Shootout for Funny Car takes place on Sunday, Aug. 31 for the eight qualified drivers, with rounds at 12:30 p.m., 1:55 p.m. and 4:15 p.m.
ESPN2 will televise more than 10 hours of coverage of the Chevrolet Performance U.S. Nationals. Five hours of qualifying coverage and coverage of the Traxxas Nitro Shootout will air on ESPN2 at 11 a.m.-2 p.m. (ET) and 5-7 p.m. on Sunday, Aug. 31. Monday's (Sept. 1) eliminations for the Chevrolet Performance U.S. Nationals will be featured in six hours of coverage starting at noon (ET).
To purchase tickets for the Chevrolet Performance U.S. Nationals, fans can contact NHRA's Ticket Sales Center at (800) 884-NHRA (6472), or get their tickets online at www.NHRAtix.com.




NHRA: 10 Most Recent Entries [ top ]

Mar 21- LAS VEGAS 1 - Fact Sheet
Mar 21- LAS VEGAS 1 - Event Preview
Mar 20- Strong Stable of Contending Pro Stock Racers Vie for Final Starting Position for K&N Horsepower Challenge
Mar 20- GAINESVILLE - Special Awards
Mar 20- GAINESVILLE - Lucas Oil Drag Racing Series Wrap Up
Mar 19- GAINESVILLE - Sunday Video
Mar 18- GAINESVILLE - Pro Mod Sunday Wrap Up
Mar 18- GAINESVILLE - Sunday Wrap Up
Mar 18- GAINESVILLE - Pro Mod Championship Points
Mar 18- GAINESVILLE - Bonus Points