Thu, 31 Jul 2014, 15:45 PM



Summit Motorsports Park to Host World's Fastest Street Cars



Courtesy of Camee Edelbrock, ProMedia LLC



NMCA takes over Norwalk, Ohio on August 21-24 with 250+ mph drag racing



SANTA ANNA, Calif. --
The 8th Annual JE Pistons NMCA Muscle Car Nationals heads to one of the best race tracks in the country on August 21-24 with exciting heads up drag racing and special features for all types of muscle car enthusiasts. Summit Motorsports Park in Norwalk, Ohio is one of the best-prepped drag strips in the country and the racing is guaranteed to be exciting because the NMCA brings some of the most thrilling race teams to compete on the track. The Ford Racing Cobra Jet Showdown, presented by Diversified Products Marketing, brings super quick late-model Ford Mustangs while the Chevrolet Performance LSX Challenge Series satisfies fans of the Bowtie with high-tech LS-powered monsters. All of this combined with a giant all-brands car show, swap meet, huge manufacturers midway and a short drive from Detroit means that this event is NOT TO BE MISSED!

The family-friendly fun begins for racers on Thursday and Friday with set-up and test & tune sessions. Spectators get the best action on Saturday, August 23 and Sunday, August 24 when the car show is in full swing, the swap meet vendors are wheeling and dealing and racers are working hard to qualify and win in the extremely competitive NMCA field. The 250+ mph heads up racing and a car show action will be non-stop all weekend with all years/makes/models plus a manufacturers' midway that includes the best and the brightest from the aftermarket industry. The swap meet will have everything an automotive enthusiast needs, from used parts to model cars, at prices that won't break the bank.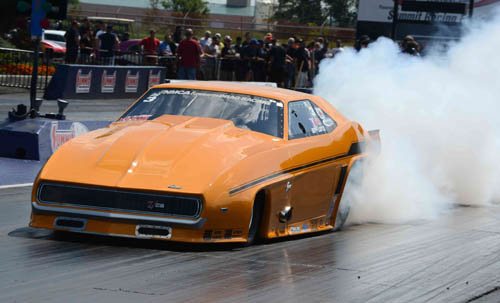 Jeff Lutz
For owners of street legal American muscle cars that want to show off their skills on the drag strip, NMCA has a class just for that purpose. Gear Vendors True Street is designed for racers of all levels - from novice to expert. Entrants take a 30-mile cruise to prove the street worthiness of their car. Then, they hit the racetrack for three back-to-back passes. Prizes are handed out for the closest average ET to each category. There's an NMCA class for just about everyone, rules and payouts are available
here
.
An NMCA drag race is the ONLY drag race, outside of NHRA, that you can win a coveted Wally trophy. Thanks to the NHRA Unleashed program, sponsored by Aerospace Components, all NMCA racers compete for these trophies at all eligible tracks, like Summit Motorsports Park. Also unique to the NMCA Muscle Car Nationals in Ohio is the Cobra Jet Showdown featuring an epic matchup between Roy Hill and Carl Tasca. The two legendary drag racers will relive the match race madness that grew the sport in the 1960s. Check out the video from their last matchup in March of this year at an NMRA drag race in Bradenton, Florida. https://www.youtube.com/watch?v=5JANzPCJmEE
For more information on the 8TH Annual JE Pistons NMCA Muscle Car Nationals event in Norwalk, Ohio, please visit www.NMCAdigital.com/OH or call (866) 694-3475.
About the National Muscle Car Association (NMCA)
The NMCA Flowmaster Muscle Car Nationals is the #1 street-legal motorsports show in the United States, attracting the most racers, fans, sponsors, and contingency. Each NMCA event features awesome heads-up muscle car drag racing, a huge all-domestic car show, a giant manufacturers midway, swap meet and more. These family-friendly events, where kids 12 and under are always free, have something for all automotive enthusiasts. NMCA event action can be found regularly in national magazines and websites along with extensive coverage in Fastest Street Car, NMCA's official monthly publication. For more information about the NMCA, please visit www.NMCAdigital.com.




Drag News: 10 Most Recent Entries [ top ]

Mar 10- Dodge//SRT and Mopar Brands to Offer Complimentary Drag Race Experience for NMCA Competitors in 2018
Mar 10- Cottrell, Wittenberg, Hix, and Bates Come Out Swinging at the 2018 March Meet
Mar 09- Universal Technical Institute Named Official Sponsor of Sonoma Raceway's Drags and Drift Program
Mar 09- Revitalized Street Fights Series Roars into Action with a New Look and Feel
Mar 07- Todd Martin Wins in Pro Mod Return at MWPMS Season Opener
Mar 07- Keith Haney Racing Encouraged by Strong Start at MWPMS Season Opener
Mar 06- Gateway Motorsports Park to open Saturday, March 31
Mar 06- Mad Mule Pro Mod Shootout at GALOT Motorsports Park Results
Mar 05- BAKERSFIELD - Nostalgia Rear Motor Top Fuel Round 1 Eliminations
Mar 05- BAKERSFIELD - Nostalgia Funny Car Final, Round 4 Eliminations