Thu, 24 Jul 2014, 13:30 PM



Super Class Racing Returns to Auto Club Dragway



By Bob Johnson PHOTO_CAPTION:



FONTANA, Calif. --
For over three years the Southern California "Super Series" associations have been without a home drag strip when Auto Club Dragway normal drag racing activities were shutdown to environmental issues. A great-looking sound wall was constructed earlier this year, and racing has returned to the Fontana track. The SoCal Pro Gas and Super Street associations, along with the SCEDA racers, conducted their first races at Fontana this past weekend.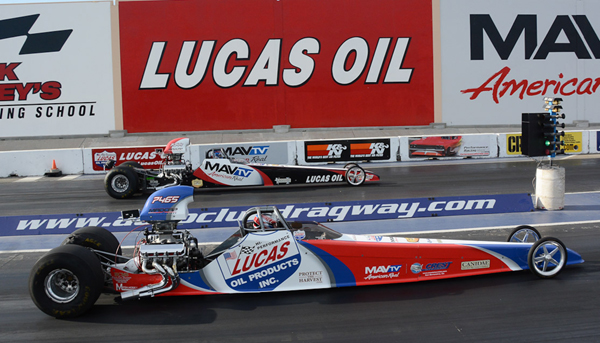 Header Goes Here
Paul Wiechmann won the Derek Sanchez Pro Gas Memorial Race on Saturday with his Corvette, defeating the event top qualifier Val Torres, Jr., in the final round 9.905 (9.90 index) to a losing 9.953. On Sunday, Travis Balough wheeled his Corvette to a double-breakout final round win over Mike Lang. Lucas Oil Products, K&N Filters and Autometer sponsored the event.
Dave Gotts drove his '67 Camaro to the Super Street point's race title on Sunday, defeating Jimmy Galante in the final round of the Tim & Donna Daniel sponsored race. Saturday's non-points race was won by Tim Daniel, as he beat Daniel McClelland in the final.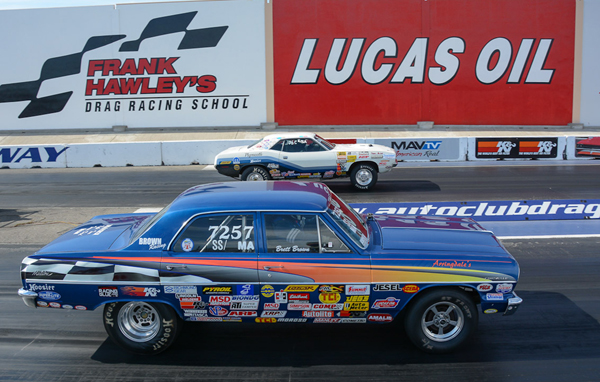 Brett Brown defeated Chad Langdon
Matt Fischle had the dominant car in the SCEDA Super Comp class all weekend, as he won Saturday's race-beating his brother Brian in the final round-and going to the semifinal on Sunday before losing to Bobby Dye Jr., who lost in the final to Chandler Meziere.
Brett Brown's SS/MA Chevelle went to the Stock/Super Stock combo final round both days of the event, beating Chad Langdon's '71 Barracuda on Saturday, but lost to Charlie Allen's O/SA'94 Mustang on Sunday.
SCEDA bracket winner's included, John Castro and Sam Robinson on Saturday, while Kenny Snow and Evan Kowalski picked up the winner's trophies on Sunday. Weekend Junior Dragster class champions included, Madelyn Torres, Chris Schweers, Paige Pierce, and Gabriel LaBurn.
The Pro Gas, Super Street, Super Comp and SCEDA series classes return to Fontana on August 9-10, Sept., 13-14, and Sept. 27-28.




Drag News: 10 Most Recent Entries [ top ]

Apr 24- NHRA Heritage Series Heads To Wild Horse Pass
Apr 22- K&N Spring Fling Million Final Day Results
Apr 21- K&N Spring Fling Million Friday Results
Apr 20- K&N Spring Fling Million– Thursday Results
Apr 19- K&N Spring Fling Million- Wednesday Results
Apr 18- Buckeye S/SS @ National Trail April 28th
Apr 18- Don "the Snake" Prudhomme Returns To Baja Competition After 50 Years
Apr 18- K&N Spring Fling Million Tuesday Results
Apr 17- K&N Spring Fling Million Pre-Race
Apr 12- Summit Racing Equipment is Newest Sponsor of Midwest Junior Super Series