Thu, 24 Jul 2014, 13:04 PM



Farris is Last Man Standing at Pro Mod vs. Fuel Altered Showdown



Courtesy of Chris Graves


Photo copyright 2014 Max Cackle Photography





DENTON, Texas --
The 2nd annual 2014 Pro Mod vs. Fuel Altered Showdown was held at North Star Dragway in Denton, Texas over Independence Day weekend July 4-5th. Leading the entertainment in store, the epic battle between the rivaled Outlaw Pro Mods and Outlaw Fuel Altereds, a match-up that can only be seen at this event. A gargantuan twenty four car field, the largest field of outlaw cars ever seen in North Texas, headlined this spectacle plus many more attractions including the "Crossfire" Jet Dragster driven by Tammy Gatlin, the Texas Beat The Heat program, a military veteran parachutist, live music and much more!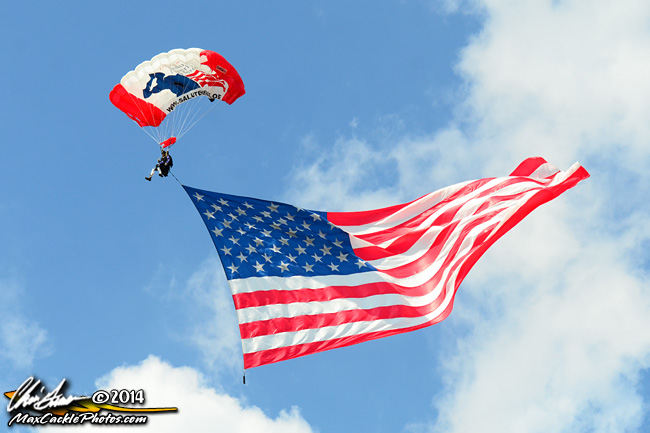 Dana Bowman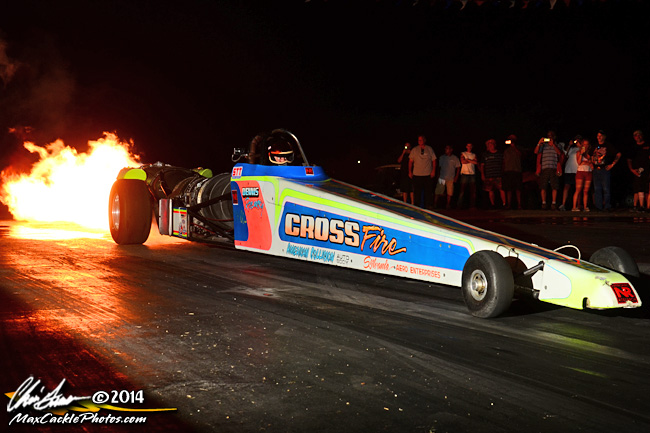 Tammy Gatlin
A twenty five car field of Outlaw Pro Mods and Painless Performance Products Outlaw Fuel Altereds packed the pits in Denton, Texas to do battle over this one of a kind two day event. Friday night hosted two rounds of heads up, side by side qualifying where some serious numbers were posted under the watchful eyes of an overflow crowd. Brandon Lewis and his blown 1957 Chevy Outlaw Pro Mod from Tulsa, Oklahoma set the pace for the doorslammers with a strong 3.88 at 200 mph. Perry Dunn wheeled his blown 1992 Pontiac Trans-Am Pro Mod to a 4.14 at 176 mph and Chad Sheffield clicked off a clean 4.15 at 164 mph in his "Blown Addiction" 1941 Willys.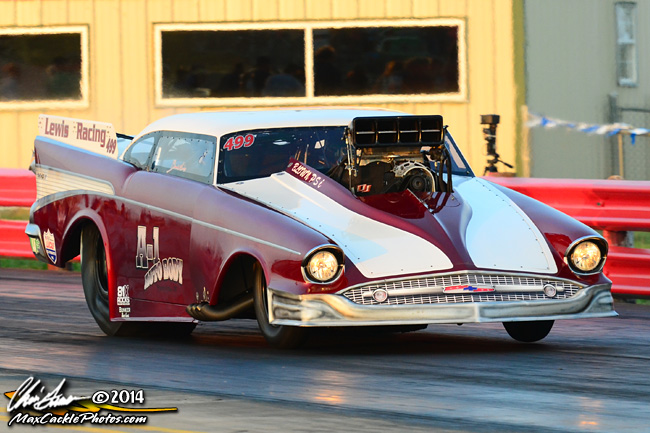 Brandon Lewis
The fuel altered qualifying order was led by Bobby Marriott's "Shockwave" after two qualifying rounds as Marriott posted a stout, header flaming 3.87 at 197 mph. Points leader and three time defending series Champion Jimmy Jones and the "Texas Tremor" team ripped off a 3.94 at 170 mph and Mary Reep joined the boys at the top of the pack with a 3.99 at 172 mph. The evening was capped off by a 210 mph lap by Tammy Gatlin in the "Crossfire" jet dragster and a fantastic fireworks show brought an end to day one.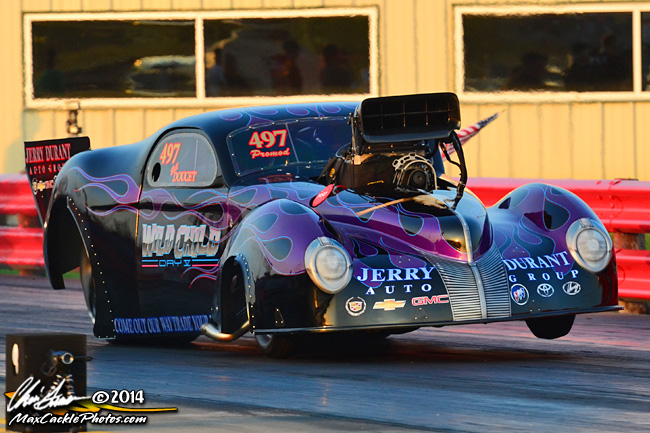 Bill Doucet
Saturday's activities got started with a truly remarkable treat for the fans and racers alike. Fastrax parachutist, retired Sgt. 1st Class Dana Bowman, jumped from 4,000 feet above the facility and cruised beautifully down to Earth during the national anthem with a 200 foot American flag in full bloom, landing directly in front of the spectator grandstands to a standing ovation. The third and final qualifying round was soon to follow where the Pro Mods and Fuel Altereds had one last shot to improve their positions before the elimination rounds began.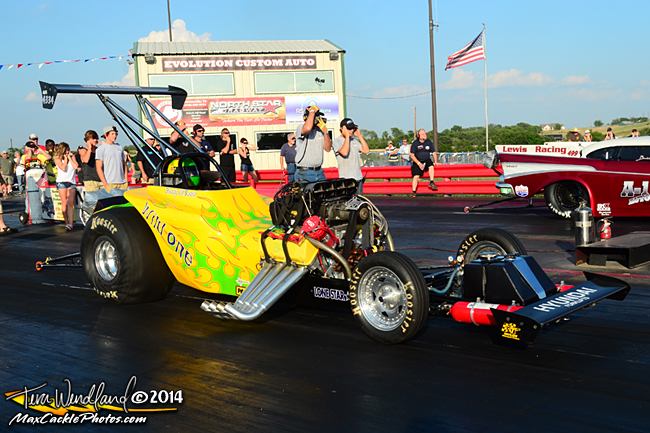 Donny McSwain
Donny McSwain, the most recent winner on the OFAA series tour heading into the event, laid down a 3.89 at 184 mph to qualify third. Mary Reep showed the boys she was ready to play hard ball by stepping up to a 3.93 at 187 mph in her "Grim Reeper" fuel altered entry. John Broussard's "Purple Haze" altered posted a 3.98 at 178 mph after making the tow from Lake Charles, Louisiana. Chad Sheffield upped his game with a nice 4.03 at 183 mph in the "Blown Addiction" Pro Mod while Bill Doucet clicked off a strong 4.11 at 166 mph in Clayton Poole's "Wild Child" blown 1941 Willys. As the final round of qualifying concluded, the ladder was set with a full field of twenty four machines ready to unleash fury in the opening round of eliminations. Raymond Dawson and the "High Octane" fuel altered entry was forced to sit out the remainder of the event with engine problems, as Terry Brian was inserted into the field and the call went out to bring the headline show to the lanes for round number one.

Final Qualifying Order:
1.  Bobby Marriott (Pilot Point, TX) - 3.87 @ 197
2.  Brandon Lewis (Tulsa, OK) - 3.88 @ 200
3.  Donny McSwain (Rockwall, TX) - 3.89 @ 184
4.  Mary Reep (Austin, TX) - 3.93 @ 187
5.  Jimmy Jones (Cleburne, TX) - 3.94 @ 170
6.  John Broussard (Lake Charles, LA) 3.98 @ 178
7.  Donnie Massey (Little Elm, TX) - 4.01 @ 189
8.  Chad Sheffield (Roland, OK) - 4.03 @ 183
9.  Doyle Smith (Paris, TX) - 4.09 @ 190
10.  Bill Doucet (Opelousas, LA) - 4.11 @ 166
11.  DoDad Burton (Tyler, TX) - 4.12 @ 176
12.  Perry Dunn (Forney, TX) - 4.14 @ 176
13.  Anthony Whitfield (Elk City, KS) - 4.15 @ 176
14.  Mark Bowman (Oklahoma City, OK) - 4.16 @ 179
15.  Nick Poloson (Bulverde, TX) - 4.22 @ 175
16.  Marcus Landeros (Snyder, TX) - 4.25 @ 178
17.  Rodney Parks (Ft. Worth, TX) - 4.26 @ 176
18.  Kevin Hargett (Rowlett, TX) - 4.32 @ 179
19.  Ken Singleton (Chickasha, OK) - 4.374 @ 175
20.  Howard Farris (Springtown, TX) - 4.375 @ 190
21.  Kebin Kinsley (Arlington, TX) - 4.38 @ 144
22.  Raymond Dawson (Nevada, TX) - 4.39 @ 165
23.  Howard Knowles (Carthage, MO) - 4.41 @ 168
24.  Clint Cross (Crossroads, TX) - 4.60 @ 163
25.  Terry Brian (New London, TX) - 4.87 @ 148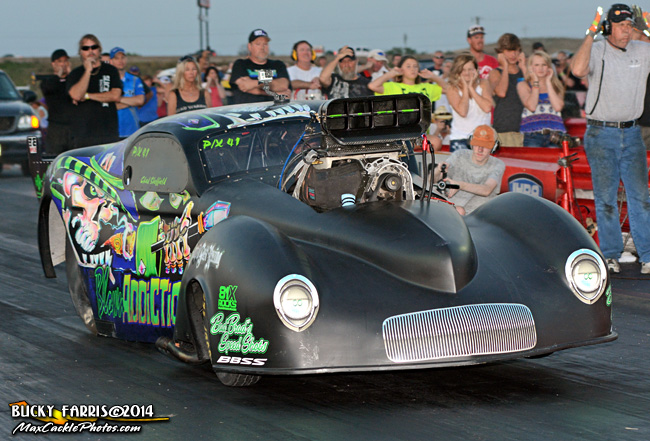 Chad Sheffield
In the first round of eliminations, all winners would advance to the second round of twelve cars, in which the quickest two winners of round two would shoot straight to the final in this modified Chicago style event. The goal in round one, get the win light. The goal in round two, run as quick as you can and hope you get a ticket to the last dance. Eliminations got underway with Mark Bowman's "Blown Income" altered clicking off his best pass of the event with a 4.07 at 179 mph to take out Perry Dunn's tire shaking 6.50. Bill Doucet and Anthony Whitfield were up next in a great side by side match. Whitfield took the starting line advantage but by half-track Doucet had closed the gap and drove around for the win with a 4.07 at 179 mph to Whitfield's close 4.12 at 178 mph.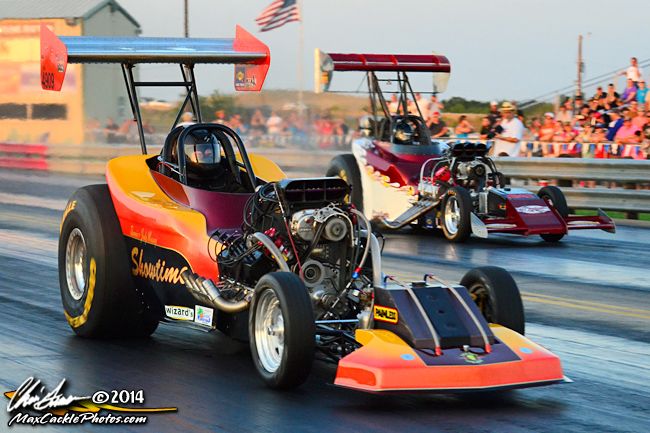 Donnie Massey
Rodney Parks brought his nitrous powered 2007 GTO Pro Mod to the line against Ken Singleton's "High Risk" altered entry. Singleton was off the line first with a killer .004 reaction time, but his 4.28 at 181 mph wasn't enough to hold off Parks' quicker 4.25 at 175 mph. Donnie Massey's "Showtime" and Terry Brian's "II N'Tense" nitro burning fuel altereds were up next in all fuel altered pairing, as Massey's 3.98 advanced over Brian's 4.53 at 165 mph. Donny McSwain's "Wild One" blown alcohol altered was out next alongside Kebin Kinsley who was driving the blown Outlaw Pro Mod Camaro of Bob Alexander. Kinsley jumped the gun and went red while McSwain clicked off a stellar 3.89 at 188 mph to move into second round.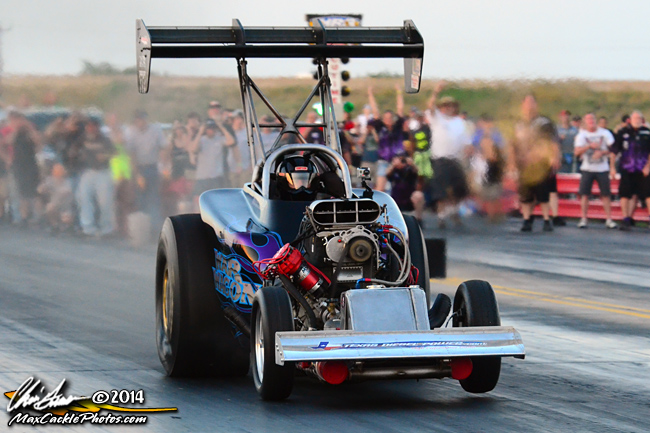 Howard Farris
As the first round of eliminations continued, Howard Farris and Mary Reep came to the line. Farris set the track ablaze with an incredible 3.73 at 204 mph in the "War Wagon" fuel altered to take out Reep's nice run of a 3.99 at 180 mph. Brandon Lewis and Doyle Smith squared off in the quickest side by side race of the round. Lewis got the jump at the starting line but Smith had closed the gap at half-track. Just before the finish line, the fuel pump drive failed on the "Chemical Reaction" fuel altered and despite running a career best 3.94 at 172 mph, Lewis was first to the stripe with a clean and strong 3.93 at 201 mph to advance. Nick Poloson and Marcus Landeros were up next, as Poloson went into a huge wheelstand but never lifted, settling the front end down about 200 feet out and posting a 4.01 at 171 mph to take out Landeros' 4.21 at 178 mph.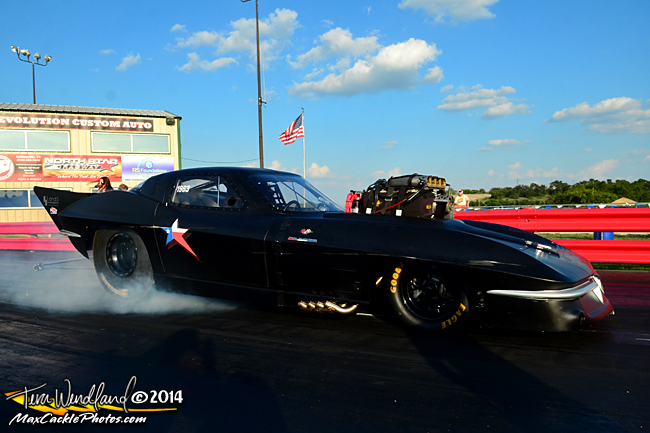 Marcus Landeros
Number one qualifier Bobby Marriott took on Kevin Hargett's turbo charged 2001 Ford Mustang as the opening round of eliminations charged on. Hargett had the starting line advantage but Marriott had the ponies as his 3.97 at 189 mph advanced over Hargett's 4.31 at 179 mph. DoDad Burton snuck past the higher qualified Chad Sheffield as Sheffield's "Blown Addiction" Pro Mod had problems off the starting line, while Burton ran a solid 4.11 at a career best mile per hour of 169. John Broussard and Clint Cross were up next with two pairs remaining. Cross had to shut off with low oil pressure while Broussard lifted early, posting a 4.73 at 111 mph to advance. Closing the round, Jimmy Jones ripped off a stout 3.89 at 191 mph to get past Howard Knowles and move into round two.

First Round Results:
(W) Mark Bowman (.524 rt) 4.07 @ 183 vs. (L) Perry Dunn (.318 rt) 6.50 @ 78
(W) Bill Doucet (.071 rt) 4.07 @ 179 vs. (L) Anthony Whitfield (.034 rt) 4.12 @ 178
(W) Rodney Parks (.027 rt) 4.25 @ 175 vs. (L) Ken Singleton (.004 rt) 4.28 @ 181
(W) Donnie Massey (.112 rt) 3.98 @ 186 vs. (L) Terry Brian (.093 rt) 4.53 @ 165
(W) Donny McSwain (.101 rt) 3.89 @ 188 vs. (L) Kebin Kinsley (-.222 rt) 4.17 @ 196
(W) Howard Farris (.118 rt) 3.73 @ 204 vs. (L) Mary Reep (.047 rt) 3.99 @ 180
(W) Brandon Lewis (.031 rt) 3.93 @ 201 vs. (L) Doyle Smith (.115 rt) 3.94 @ 172
(W) Nick Poloson (.070 rt) 4.01 @ 171 vs. (L) Marcus Landeros (.144 rt) 4.21 @ 178
(W) Bobby Marriott (.133 rt) 3.97 @ 189 vs. (L) Kevin Hargett (.097 rt) 4.31 @ 179
(W) DoDad Burton (.162 rt) 4.11 @ 169 vs. (L) Chad Sheffield (.034 rt) 5.38 @ 100
(W) John Broussard (.090 rt) 4.73 @ 111 vs. (L) Clint Cross (No Time - Broke)
(W) Jimmy Jones (.045 rt) 3.89 @ 191 vs. (L) Howard Knowles (.071 rt) 11.28 @ 35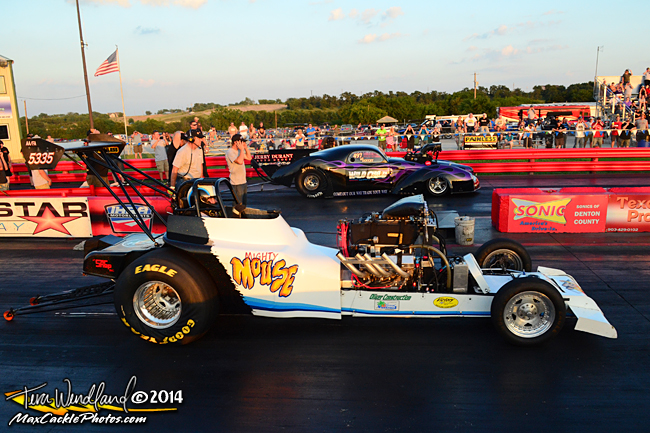 Anthony Whitfield
Entering the twelve car second round, the pressure was now on as the racers with the two quickest winning elapsed times would secure their spot in the final round. The teams serviced their cars back in the pits while action on the track never stopped with the staging lanes full of Texas Beat The Heat cars, a motorcycle shootout, nostalgia funny car exhibition runs, John Robinson's turbo diesel powered 1948 Fiat altered exhibition runs, a Top Fuel cacklefest and of course the "Crossfire" jet dragster was in action. The call went out to fire up the first pair of round number two, which brought Donnie Massey and John Broussard through the water box under the eyes of a capacity crowd at North Star Dragway, with all the grandstands completely full and the fence line packed past the scoreboards.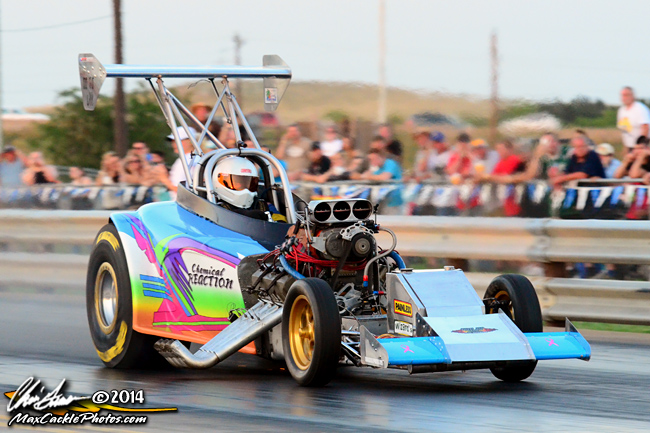 Doyle Smith
Broussard blasted off the line with a .021 reaction time but quickly faded as Massey took the win light with a 3.908 at 192 mph to set the pace. Nick Poloson was out next alongside the Pro Mod of Rodney Parks. The cars were off the line together but at the stripe Poloson took the nod with a 4.06 at 173 mph over Parks' 4.25 at 174 mph. Howard Farris was out next and after his 3.73 from first round, was clearly the car to beat as he squared off with Jimmy Jones. Despite Jones posting his best lap of the event with a 3.88 at 190 and taking almost a tenth of a second advantage off the starting line, it was no match for Farris' blistering 3.70 at a whopping 219 mph pass. After the crowd picked their jaws up off the floor, the second round of eliminations continued with Brandon Lewis and DoDad Burton. Lewis launched hard off the starting line with a healthy advantage and never trailed, posting a 3.901 at 202 mph defeating Burton's 4.37 at 162 mph. With that lap, Lewis bumped Massey's slower 3.908 from a spot in the finals and at this point we had a Pro Mod vs. Fuel Altered final in the works, but some heavy hitters were still in the lanes ready for a piece of the action.
With two pairs left in the round, Mark Bowman and Bill Doucet brought their blown alcohol burners to the stage beams. Doucet jumped the tree with a -.196 reaction time and could only watch as Bowman clicked off a 4.06 at 176 mph to take the round win. In the final pair of round two, Bobby Marriott and Donny McSwain were ready to do battle, both having run high 3.80s in qualifying. In the quickest side by side pass of the round, Marriott used a slight starting line advantage and a 3.89 to defeat McSwain's quicker but loosing 3.87 at 190 mph with a margin of victory at .0002 of a second. With his 3.894, Bobby Marriott moved into the finals by just .007 quicker than Brandon Lewis' 3.901 to duke it out with Howard Farris for all the bragging rights.

Second Round Results:
(W) Donnie Massey (.104 rt) 3.908 @ 192 vs. (L) John Broussard (.021 rt) 6.74 @ 67
(W) Nick Poloson (.075 rt) 4.06 @ 173 vs. (L) Rodney Parks (.085 rt) 4.25 @ 174
(W) Howard Farris (.130 rt) 3.70 @ 219 vs. (L) Jimmy Jones (.040 rt) 3.88 @ 190
(W) Brandon Lewis (.044 rt) 3.901 @ 202 vs. (L) DoDad Burton (.159 rt) 4.37 @ 162
(W) Mark Bowman (.030 rt) 4.06 @ 176 vs. (L) Bill Doucet (-.196 rt) 5.33 @ 87
(W) Bobby Marriott (.132 rt) 3.894 @ 195 vs. (L) Donny McSwain (.150 rt) 3.876 @ 190

The fuel altereds put up the biggest fight and by the slimmest of margins secured both spots in the final round as Marriott and Farris brought their nitro burning machines to life. Header flames shot from the pipes of these two wicked machines on the burnouts and the tension mounted on the starting line as they both lit the pre-stage bulbs. Creeping into the final beam, Marriott took a slight starting line advantage at the flash of amber and but about 200 feet out went up in tire smoke while Farris shot down the eighth mile with header flames high in the sky, lighting the win light with low elapsed time and top speed of the meet, an astonishing 3.68 at 220 mph, just three mph off the track record in Denton.
Final Round Results:
(W) Howard Farris (.143 rt) 3.68 @ 220 vs. (L) Bobby Marriott (.123 rt) 7.25 @ 67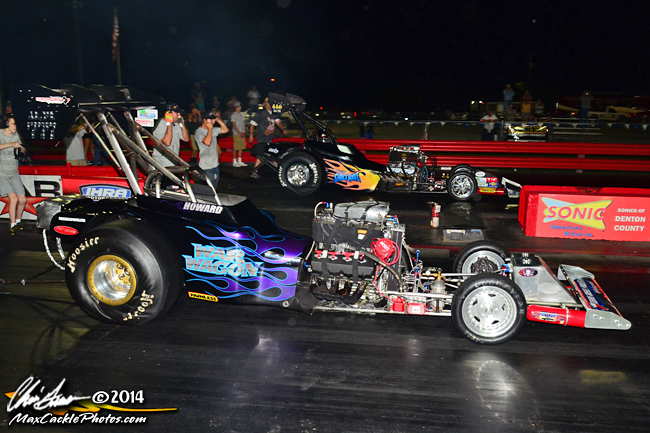 Farris defeated Marriott in the final.
"It means a lot to put the "War Wagon" in the winners circle today. We were able to run strong and keep it together with the hard work of my crew. The pro mods put up a heck of a fight this weekend and put several altereds on the trailer and Marriott's guys brought a mean car as well. I just want to again thank my crew for their hard work and North Star Dragway for hosting an event like this, it was a lot of fun," said Farris in the winners circle.
Farris and crew celebrate win.
It was an action packed weekend in Denton, Texas at the 2nd Annual Pro Mod vs. Fuel Altered Showdown. If the action on the track wasn't enough, the celebrations back in the pits kept the night owls active with fireworks displays and lots of smiling faces from racers and fans alike who gave their thanks to the NSD staff for hosting such a unique event in North Texas and providing a stellar racing surface in the heat of a Texas summer. North Star Dragway would like to send thanks to all the racers and fans who supported the event and to RS Foundations for their sponsorship efforts. The OFAA would like to thank their title sponsor Painless Performance Products, as well as bonus program sponsors Napa Auto Parts Stores of North Texas, Good Vibrations Motorsports, North Texas Diesel, Competition Sales of Dallas and Wizard's Warehouse. The 3rd Annual Pro Mod vs. Fuel Altered Showdown will be held Friday and Saturday, July 3-4th, 2015 so mark your calendars now folks, this one is a bucket list race for any drag racing fan! Be There!




Drag News: 10 Most Recent Entries [ top ]

Apr 22- K&N Spring Fling Million Final Day Results
Apr 21- K&N Spring Fling Million Friday Results
Apr 20- K&N Spring Fling Million– Thursday Results
Apr 19- K&N Spring Fling Million- Wednesday Results
Apr 18- Buckeye S/SS @ National Trail April 28th
Apr 18- Don "the Snake" Prudhomme Returns To Baja Competition After 50 Years
Apr 18- K&N Spring Fling Million Tuesday Results
Apr 17- K&N Spring Fling Million Pre-Race
Apr 12- Summit Racing Equipment is Newest Sponsor of Midwest Junior Super Series
Apr 12- Summit Racing Named Official MWPMS Sponsor and Event Title Rights Holder