Mon, 14 Jul 2014, 12:49 PM



8th annual Eric Medlen Nitro Night Charity Dinner, July 24



Courtesy of Diana Brennan



SONOMA, Calif. --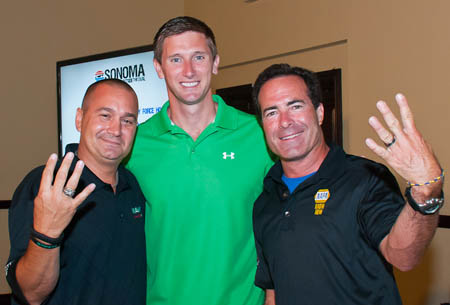 Brandon Bernstein, Morgan Lucas and Ron Capps
Sonoma Raceway will honor the memory of Oakdale's Eric Medlen during the 8th annual Eric Medlen Nitro Night Charity Dinner at Stone Tree Golf Club on Thursday, July 24. The evening is presented by PG&E.
Medlen, a native of Oakdale in the San Joaquin Valley, won the Funny Car championship in Sonoma, his home track, in 2006. He succumbed in March, 2007, to injuries sustained from a testing accident. Medlen was a member of John Force Racing.
A variety of popular NHRA personalities have been confirmed for the evening, including:
• Jack Beckman (Valvoline Dodge)
• Brandon Bernstein (Al-Anabi Racing)
• Ron Capps (Napa Auto Parts Dodge Charger)
• Richie Crampton (GEICO/Lucas Oil dragster)
• Erica Enders-Stevens (Elite Motorsports Camaro)
• Morgan Lucas (GEICO Powersports/Lucas Oil dragster)
• Scotty Pollacheck (Pro Stock Bike)
• J.R. Todd (Optima Batteries/Advance Auto Parts dragster)

The racers will kick off the evening with a Texas Hold 'Em Charity Poker Tournament starting at 6 p.m. The evening will also feature a delicious prime rib dinner, charity drawing and a Q&A with all of the racers.
The event will be hosted at Stone Tree Golf Club, which is less than five miles from the raceway in Novato, providing easy access for fans and race teams.
Tickets for the evening are $125, and include wine/beer and dinner. All proceeds will go to qualified youth groups in Sonoma County in Medlen's name through Speedway Children's Charities, the charitable arm of the raceway.
The event, which has been sold-out each of the last seven years, typically boasts a healthy contingent from Eric's hometown of Oakdale, including his mother, Mimi, and his father, John.
Nitro Night also serves as a kick-off to the NHRA Sonoma Nationals, July 25-27. This year's event marks the series' 27th annual visit to the Sonoma Valley and will feature professional competition in the Top Fuel, Funny Car, Pro Stock and Pro Stock Motorcycle classes.
For more information, visit racesonoma.com or for tickets to the Eric Medlen Nitro Night Dinner, presented by PG&E, contact Cheri Plattner at 707-933-3950 or cplattner@racesonoma.com, or purchase tickets online at http://sonoma.speedwaycharities.org/events.




NHRA: 10 Most Recent Entries [ top ]

Apr 20- HOUSTON - Friday Wrap
Apr 20- HOUSTON - Saturday Schedule
Apr 20- HOUSTON - Top Fuel Qualifying, Session #2 Order
Apr 20- HOUSTON - Top Fuel Qualifying Notes, Session #2
Apr 20- HOUSTON - Pro Stock Qualifying, Session #2 Order
Apr 20- HOUSTON - Funny Car Qualifying, Session #2 Order
Apr 20- HOUSTON - Pro Modified Qualifying, Session #2 Order
Apr 20- HOUSTON - Funny Car Qualifying Notes, Session #2
Apr 20- HOUSTON - Pro Stock Qualifying Notes, Session #2
Apr 20- HOUSTON - Pro Modified Qualifying Notes, Session #2