Sun, 13 Jul 2014, 23:03 PM



BTE World Footbrake Challenge Sunday



Courtesy of John DiBartolomeo



After much anticipation by over 400 of the best footbrake racers in the country, the BTE World Footbrake Challenge has come down to the final day. It was just another sunny day at Bristol Dragway when XXX racers took immediately to the first round of eliminations with no time trials.
Co-promoter Jared Pennington said, "Both Steve (Stites - co-promoter) and I are over the top proud of the racers who showed up here. Between the support we received from the racers and the many sponsors, we couldn't be happier with the end result. Every one of these racers are the best at what they do and it showed this weekend with the tight racing we had."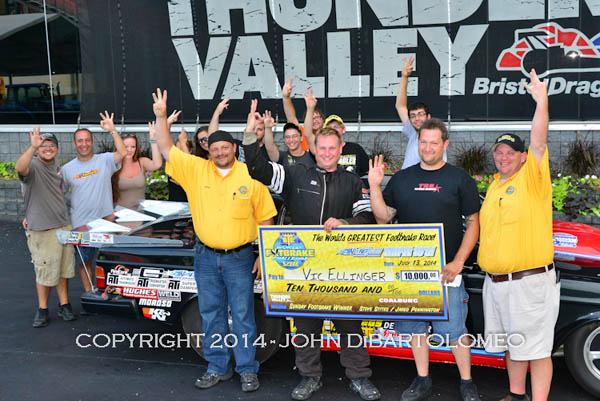 Header Goes Here
Back to the racing and after 386 cars made the first round, it came down to five entries left in the quarter-finals. Former WFC winner Steve Alford received the bye run. Wiseco's Vic Ellinger faced off with Dave Dillinger for a two for one with the winner getting a bye and an automatic spot in the final. At the green, Ellinger took the reaction time lead and never looked back.
Thursday's Gambler's runner-up Dylan Kiser faced off with Steve Alford's brother Richard and at the finish line, it was Alford to make the semifinal pairing a brother versus brother affair.
In the Alford vs. Alford, it was Alford (Steve) with the reaction time advantage to take bragging rights back home to North Carolina.
The final round had Ellinger with lane choice and the reaction time advantage over Alford. And at the finish line a dead-on the dial with a "7" enabled the WFC Nitroplate Sunday $10,000 to go to Ellinger bringing it home to Cleveland, Ohio.
"I don't know how we could do it," Pennington added, "but we're now looking forward to making next year's WFC even better. We could never thank our supporters enough other than to just give them an even bigger and better event next year."




Drag News: 10 Most Recent Entries [ top ]

Mar 10- Dodge//SRT and Mopar Brands to Offer Complimentary Drag Race Experience for NMCA Competitors in 2018
Mar 10- Cottrell, Wittenberg, Hix, and Bates Come Out Swinging at the 2018 March Meet
Mar 09- Universal Technical Institute Named Official Sponsor of Sonoma Raceway's Drags and Drift Program
Mar 09- Revitalized Street Fights Series Roars into Action with a New Look and Feel
Mar 07- Todd Martin Wins in Pro Mod Return at MWPMS Season Opener
Mar 07- Keith Haney Racing Encouraged by Strong Start at MWPMS Season Opener
Mar 06- Gateway Motorsports Park to open Saturday, March 31
Mar 06- Mad Mule Pro Mod Shootout at GALOT Motorsports Park Results
Mar 05- BAKERSFIELD - Nostalgia Rear Motor Top Fuel Round 1 Eliminations
Mar 05- BAKERSFIELD - Nostalgia Funny Car Final, Round 4 Eliminations