Sun, 06 Jul 2014, 18:46 PM



Force, Brown, Enders-Stevens and Hines Earn Victories



Courtesy of NHRA Communications


Photo copyright 2014 NHRA





At the Summit Racing Equipment NHRA Nationals in Norwalk



NORWALK, Ohio --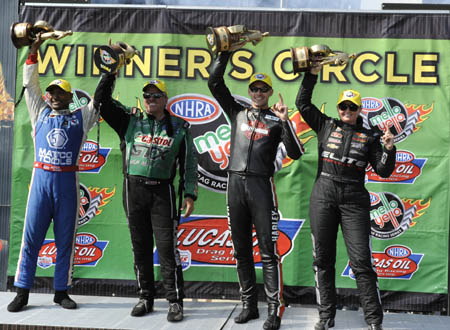 and Erica Enders-Stevens celebrate win.
In a thrilling side-by-side final round duel with longtime rival Ron Capps, NHRA Funny Car icon John Force picked up his 140th career win on Sunday at the Summit Racing Equipment NHRA Nationals.
Antron Brown (Top Fuel), Erica Enders-Stevens (Pro Stock) and Andrew Hines (Pro Stock Motorcycle) also were winners of the NHRA Mello Yello Drag Racing Series event at Summit Motorsports Park near Cleveland.
In the championship round, Force powered his Castrol GTX High Mileage Ford Mustang to a performance of 4.113 seconds at 317.27 mph while Capps, who was making his third runner-up finish at Norwalk, had a run of 4.135 at 305.56 in his NAPA Auto Parts Dodge Charger.
Force, the reigning Funny Car world champion, earned his first ever win at Norwalk and second of the 2014 season. Force outran Cruz Pedregon, Ohio native Chad Head and Tim Wilkerson to reach the final round against Capps.
"It was special to me," said Force. "I've come to this track for decades. I've won here at the Night of Fire races. Robert [Hight] and my daughter Ashley [Force Hood] have won here. I keep coming back here. The Bader family is P.T. Barnum doing this year-round, 90-some race a year. They light the fire under those fans. Look at the crowd on Friday night and that whole fireworks show. I've been real lucky in my career and you want to win them all, but I really wanted this win."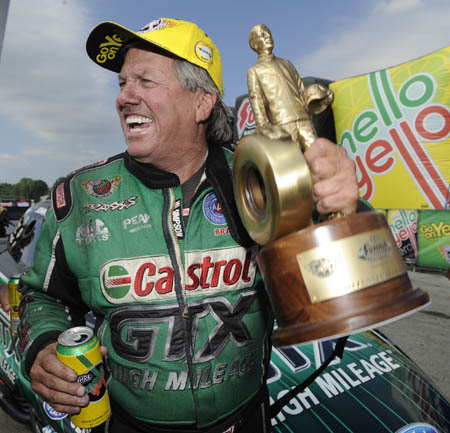 John Force celebrates 140th career win.
His fellow John Force Racing teammate Robert Hight maintained the points lead in the super-tight Funny Car class, while Force, the No. 2 event qualifier, jumped to second in the Mello Yello points standing.
"It's a really great show, and I'm just excited to be a part of it," said Force. "We raced some great kids: Capps, Cruz, Wilkerson, Chad Head. We gave them some good racing. Hey, we got the win. I'm just glad to get that one out of the way. Now I'll try to get my second win here."
In Top Fuel, 2013 world champion Brown claimed his fifth Top Fuel victory of the season and second in a row, knocking off No. 1 qualifier Shawn Langdon in the final round in his 10,000-horsepower Matco Tools dragster. Brown covered the distance in 3.797 at 318.84 and pulled away from Langdon's Al-Anabi Racing dragster, which lost traction and posted a 4.982 at 155.52.
Brown beat fellow Don Schumacher Racing teammate Tony Schumacher, Steve Torrence and Clay Millican to reach the final round.
"It's been a true blessing to be out at this racetrack this weekend," said Brown. "The Bader family really put on a great show. The racetrack was great all weekend long. We got some cloud cover today. When four cars can run 3.75 in the first round with other cars across the board at .76, .77, that shows you how competitive the Top Fuel class is right now. It's crazy tough to win a round right now, let alone a race."
With the victory, Brown maintained the second spot in the Top Fuel points standings but cut into Doug Kalitta's series lead, while Langdon moved to third in points.
Enders-Stevens, the current points leader in Pro Stock, claimed her fourth victory in 2014 and the 10th for her career by knocking off former crew chief Dave Connolly in the final round. Enders-Stevens' Elite Motorsports Chevy Camaro posted a winning performance of 6.632 at 210.14, while Connolly's effort of 6.665 at 207.56 in his Charter Communications Chevy Camaro was no match for the event's No. 1 qualifier.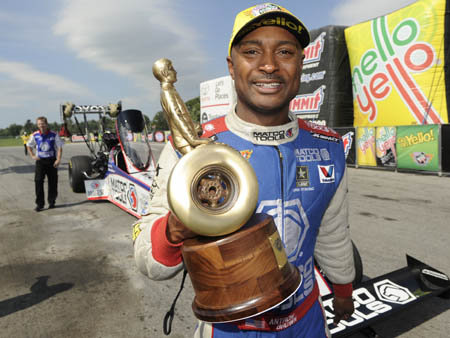 Brown celebrates Fifth win this season.
"You can't think about any of the negative things when you get into a 215-mph race car and I was able to do that today," Enders-Stevens said. "At the end of the day we came out on top and that's all that matters."
Enders-Stevens, who set both ends of the track record (6.523 at 212.63) in qualifying, beat Travis Mazza, Jonathan Gray, fellow Texan Chris McGaha to advance to the final round. With the win, Enders-Stevens increases her Pro Stock points lead.
With 10 Pro Stock wins, Enders-Stevens joins Angelle Sampey (41) and Shirley Muldowney (18) as the only female racers to have double-digit wins in a pro category.
"Shirley [Muldowney] is a legend and a mentor and Angelle is also a friend who lives a few miles from me," Enders-Stevens said. "Those are two extremely talented ladies who are passionate about our sport. They broke down barriers so we could all do what we enjoy doing out here. It's great to have my name on that list."
In Pro Stock Motorcycle, Hines claimed his third win of the season and fourth victory at Summit Racing Motorsports Park, riding his Screamin' Eagle Vance & Hines Harley-Davidson to a performance of 6.901 at 193.96 in the final round against Hector Arana's Lucas Oil Products Buell.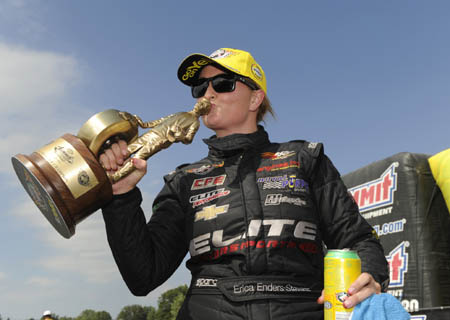 Enders-Stevens celebrates 10th career win.
"It was a lot of little things that needed to fall into place to finally come around today," Hines said of his new bike at Norwalk this weekend. "Without the help of everybody on the crew, we wouldn't been able to get where we are. We struggled in the semis. But I was able to outrun Hector and to get around him was big. The fourth win light was definitely the prettiest one of the day."
Hines, a three-time world champion, beat John Hall, Jim Underdahl and Steve Johnson to reach the final round, and increases his points lead with the victory. His fellow Sreamin' Eagle Vance & Hines Harley-Davidson teammate and event's No. 1 qualifier Eddie Krawiec remains in the second spot, while Hector Arana Jr. is third.
"Today, we learned exactly what we need to do," Hines said. "We started treating it differently than in years past. Instead of slowing on Sunday my bike actually picked up. Hopefully, that's bad news for the competition and we could continue on a roll. There is no time to sit back and relax."
The NHRA Mello Yello Drag Racing Series continues July 18-20 with the Mopar Mile-High NHRA Nationals at Bandimere Speedway in Denver.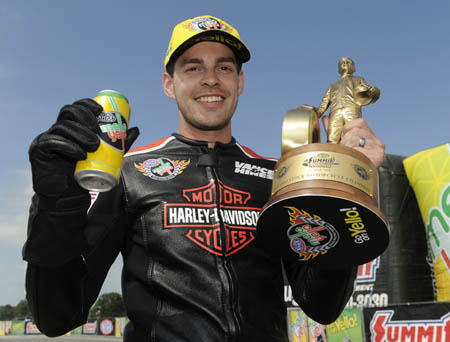 Hines celebrates his third win this season.
Sunday's final results from the Eighth annual Summit Racing Equipment NHRA Nationals at Summit Racing Equipment Motorsports Park. The race is the 13th of 24 in the NHRA Mello Yello Drag Racing Series.
Top Fuel -- Antron Brown, 3.797 seconds, 318.84 mph def. Shawn Langdon, 4.982 seconds, 155.52 mph.
Funny Car -- John Force, Ford Mustang, 4.113, 317.27 def. Ron Capps, Dodge Charger, 4.135, 305.56.
Pro Stock -- Erica Enders-Stevens, Chevy Camaro, 6.632, 210.14 def. Dave Connolly, Camaro, 6.665, 207.56.
Pro Stock Motorcycle -- Andrew Hines, Harley-Davidson, 6.901, 193.96 def. Hector Arana, Buell, 6.924, 195.53.
Pro Modified -- Troy Coughlin, Chevy Corvette, 5.940, 250.92 def. Von Smith, Chevy Camaro, 5.920, 243.99.
Top Alcohol Dragster -- Mike Strasburg, 5.450, 269.40 def. Mark Taliaferro, 5.682, 189.12.
Top Alcohol Funny Car -- Steve Harker, Chevy Monte Carlo, 5.627, 240.77 def. Chris Foster, Ford Mustang, 5.616, 257.73.
Competition Eliminator -- David Rampy, Bantam, 7.307, 181.01 def. Robert Bailey, Dragster, 6.640, 204.76.
Super Stock -- Brad Zaskowski, Camaro, 10.235, 123.11 def. Ricky Decker, Camaro, 10.013, 122.02.
Stock Eliminator -- Sal Biondo, Mustang, 9.472, 141.82 def. Craig Marshall, Dart, foul.
Super Comp -- Scotty Richardson, Dragster, 8.847, 171.34 def. Rusty Cook, Dragster, foul.
Super Gas -- Philip Smida II, Cavalier, 9.901, 143.35 def. Lauren Freer, Corvette, 9.928, 166.39.
Top Dragster -- Tyson Fabish, Dragster, 6.502, 207.91 def. Troy Stone, Dragster, 6.097, 236.46.
Top Sportsman -- Mike Coughlin, Camaro, 6.816, 206.86 def. John Hochstedler, Stratus, 7.040, 197.31.
AA Gassers -- Bob Cook, Corvette, 5.687, 121.26 def. Steve Crook, Chevy, 5.663, 123.37.




NHRA: 10 Most Recent Entries [ top ]

Apr 19- HOUSTON - Friday Schedule
Apr 19- Tige Boats Named Presenting Sponsor of E3 Spark Plugs NHRA Pro Mod Drag Racing Series Portion of NHRA SpringNationals
Apr 19- HOUSTON - Previous Success, Early Win has Funny Car's Courtney Force Excited
Apr 18- Haney Headed for NHRA Pro Mod with Summit Racing on His Side
Apr 18- HOUSTON - Richie Crampton Enjoying Early-Season Success Heading to 31st Annual NHRA SpringNationals
Apr 18- 2018 Mustang Cobra Jet Celebrates 50th Anniversary of Racing Legend with Quickest
Apr 18- New Ford Mustang Funny Car Scheduled to Debut In 2019 NHRA Mello Yello Season Opener
Apr 16- HOUSTON - Fact Sheet
Apr 16- HOUSTON - After Early-Season Mishap Funny Car's Jonnie Lindberg Looks to Get On Track