Thu, 03 Jul 2014, 12:55 PM



IHRA Summit Super Series @ San Antonio Raceway, 6/14/14



By J M



MARION, Texas --
The IHRA Summit Super Series hit the track again for another round of racing at San Antonio Raceway. After a successful IHRA Pro-Am event that saw over 300 cars competing, the local classes were back in action on the 1/8 mile track just outside of San Antonio. With a later start time to beat the heat, the Electronics(Box), Foot Brake(No-box) and Jr. Dragster were all in search of track points.
Veteran Leroy O'Bryant continues his advantage over Brent Ritter and Chris Keylich in the Electronics(Box) class. Foot Brake(No-box) shows defending champ, Brandon Mitchan back on top holding a slim 4-point margin over motorcycle rival, Ruben Gallegos with Nelson Friedeck third. In Jr. Dragster, former track champ, Ashley Hubbell has a commanding 200-point edge over Matthew Keylich and Caden Meuth.
The later start time saw driver run time trials in the late afternoon, but partly cloudy skies helped keep the heat down with track temperatures around 120*. By the time the first rounds of eliminations began, the sun had started to set bringing out a full moon and cooler conditions for the later rounds. The track was good with enough bite to tear out the rear gears of Anthony Montoya and Paul Gaspard.
Gaspard Grabs Dialing for Dollars Dough
Josh Gaspard(New Braunfels) took home the 'Dialing for Dollars' jackpot coming the closest to his dial in. J. Gaspard, who dialed a 6.99, ran through the 1/8th mile at 6.9903 in his G&G Performance, 73 Dodge Challenger, only missing his number by .0003 or 3/10,000th. No one could knock down that number set by J. Gaspard early in Foot Brake runs.
Electronics(Box)
"Peeps" Pockets Double Payday
Preston "Peeps" Pennington(Three Rivers) scored a big daily double taking wins in of the Electronics(Box) finals. In race #1 Pennington, in his Pennington Brothers Racing Dragster had a round 1 rematch against the current points leader, Leroy O'Bryant(San Antonio) driving the O'Bryant Automotive, 79 Chevy El Camino. Pennington had a 1/10 in the bank off the line and needed it as he chased down the earlier leaving O'Bryant.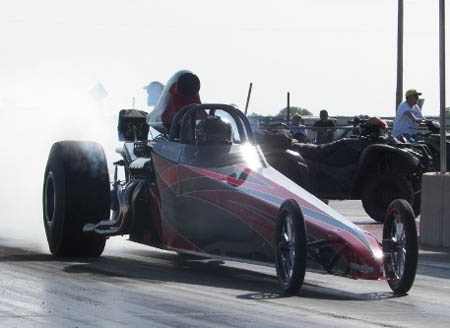 Preston 'Peeps' Pennington on a
burn out in early action
Preston Pennington, 4.780(4.76) @ 136.78 defeats Leroy O'Bryant, 7.949(7.93) @ 93.94
Pennington, who rebought after the round 1 loss to O'Bryant, took out Chris Keylich, Kip Scharf, Jeff Rabedeau with a round 4 bye on his way to the finals. O'Bryant trailered P. Pennengton, Pete De Los Santos, Victo Hinojosa and Brett Zampese getting a bye in the semi's.
Electronics race #2 saw P. Pennington square off with Jeff Rabedeau(Canyon Lake) in a replay of the race #1 semi's, for the race #2 finals. Pennington laid a .006 light on Rabedeau and that was all she wrote as Pennington held on for the victory.
Preston Pennington, 4.789(4.76) @ 140.71 defeats Jeff Rabedeau, 4.691(4.68) @ 147.69
Pennington got by Chris Keylich, Kip Scharf, Victor Hinojosa, with a competition bye in round 4 against brother Philip Pennington(broke) and bye in the semifinals. Rabedeau got around Brett Zampese, Jon Hernandez and Rick Shafer after a round 1 loss, and rebuy, to Zampese plus a bye in round 3.
Gaspard Grabs Gold Again
Josh Gaspard, who survived a scary ride in round 3 that turned the 660' into more like a 700' adventure after a test-n-tune oil down, scored a double win after taking the "Dialing for Dollars" cash earlier. Gaspard was paired off with Nelson Friedeck, in his Herb & Sons Tire, RnR Auto Glass, 62 Chevy Nova for the finals. Gaspard had a .006 light that perhaps caused Friedeck to out run his and break out on the big end giving the win to Gaspard.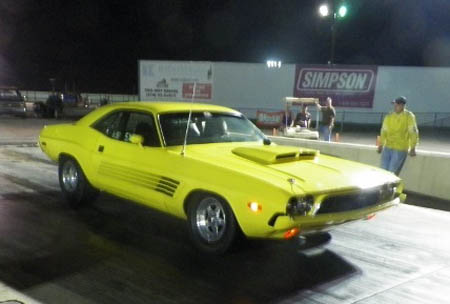 Josh Gaspard readies for semifinals with dad,
Paul Gaspard looking on
Josh Gaspard, 7.020(6.98) @ 90.04 defeats Nelson Friedeck, 6.846(6.86) @ 99.67
Gaspard defeated Ryan McDonnell, Todd Zampese, Jimmy Inman, Debbie Schneider and Rhett Floyd. Friedeck got past M. Bachman, Mac Garcia, Brandon Mitchan, Ruben Gallegos and Walter Dyrenfurth
In the race #2 Foot Brake finals it was a pair of bikes paired up with Humberto Gallegos going to the line with, former drag boat racer, Randy Monte. Monte(New Braunfels) on his Harley Davidson gave away the race going red handing the win the Gallegos(San Antonio) on his Alamo Hot Rod, Hayabusa.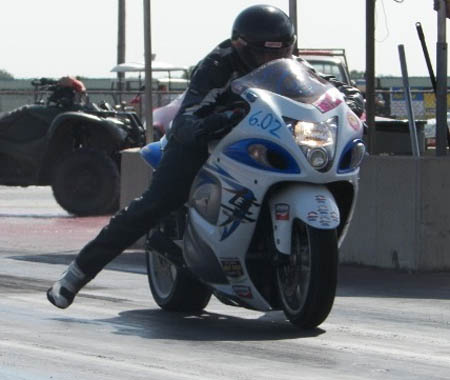 Humberto Gallegos leaving the line
Humberto Gallegos, 6.022(6.04) @ 117.37 defeats Randy Monte, 7.605(7.65) @ 88.36
H. Gallegos scored wins over Sherman Davis, Gene Herbold, Walter Dyrenfurth and M. McInnis after a round 1 loss to Todd Zampese. Monte took wins lights over Brandon Mitchan, Jimmy Inman, Laurie Vontour(twice) and Todd Zampese.
Jr. Dragster
Keylich Conquers Jr. Dragster race 1
It was an all Keylich finals for the first Jr. Dragster finals with cousins, Matthew(San Antonio) meeting Katherine(LaVernia). The pair split the money and raced for the points, with no other side bets, like daily chores, on the line. K. Keylich in her Keylich Motorsports Jr Dragster gave away the race on the line going red giving the win to M. Keylich in the Keylich Electric Jr Dragster.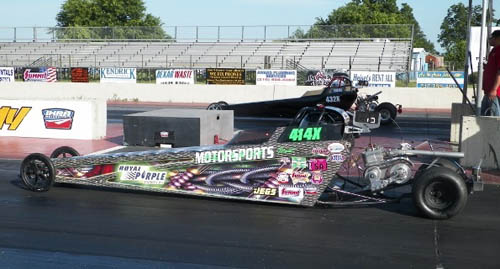 Matthew Keylich(near) with
Haily Ball in early eliminations
Matthew Keylich, 8.021(7.98) @ 80.44 defeats Katherine Keylich, 9.063(9.04) @ 71.37
M. Keylich defeated Haily Ball, Caden Meuth and took a semifinals bye while K. Keylich beat Meuth and Ashley Hubbell with a round 2 bye.
Hubbell Stay Hot for Jr Dragster Win
Points leader Ashley Hubbell(Boerne) increased her stranglehold on the Jr. Dragster points race with another win, besting Haily Ball(San Antonio) in the young ladies finals. Hubbell in the her Aramendia Plumbing, Express Lube, Bexar Waste, VP race Fuels, Screen Pro Graphics, JCRE, Greg Hubbell Race Cars Jr. Dragster got the victory in the double break race over H. Ball.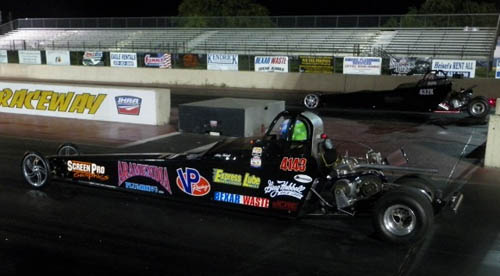 Ashley Hubbell(near lane) gets
ready to go with Haily Ball in finals
Ashley Hubbell, 9.106(9.14) @ 69.80 defeats Haily Ball 8.905(8.94) @ 72.46
Hubbell got the best of Caden Meuth(twice) with a round 2 bye, with H. Ball getting past Matthew Keylich and Katherine Keylich and a semifinal bye.




IHRA: 10 Most Recent Entries [ top ]

Mar 21- 2018 IHRA Summit Sportsman Spectacular Series on April 20-22
Feb 26- Weather-Related Construction Delays Postpone IHRA Xtreme Raceway Park Opener
Feb 16- IHRA Summit Sportsman Spectacular Schedule Announced
Feb 15- New York Track Finds Value for Racers with IHRA Agreement
Feb 15- IHRA Summit Sportsman Spectacular Debut Only One Month Away Now is the Time to Pre-Enter
Feb 15- Summit Texas Location is a Racers' Paradise
Feb 15- Canadian Track Makes Large Commitment to IHRA Drag Racing
Jan 27- Mid-Michigan Destination Joins IHRA Family
Jan 27- Mississippi Track Reaches Sanctioning Agreement
Jan 16- Michigan Track to Host IHRA Summit Sportsman Spectacular