Sat, 21 Jun 2014, 14:41 PM



Jason Rupert Back On Top in Friday Qualifying at IHRA Mopar Nitro Jam Nationals in Grand Bend



Courtesy of IHRA Communications



GRAND BEND, Ontario --
One bad race was more than enough for Nitro Funny Car racer Jason Rupert.
After failing to qualify at the previous IHRA race in Budds Creek, Maryland, Jason Rupert, the current IHRA points leader in the nitro-powered Funny Car class, was determined not to let that bad luck continue. On Friday in Grand Bend, Ontario, Rupert got back on track with a chart-topping lap to get the festivities underway at one of Canada's biggest motorsports events, the IHRA Mopar Nitro Jam Nationals at the Grand Bend Motorplex.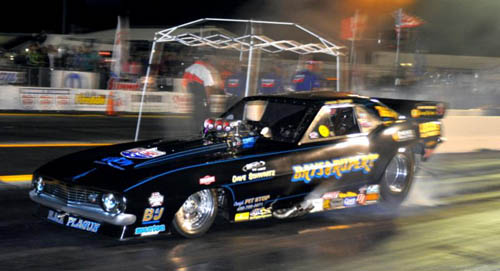 Jason Rupert topped Friday qualifying at
the IHRA Mopar Nitro Jam Nationals
After qualifying first at five of the first six races this season, Rupert found himself once again back on top with a class-leading 5.729-second pass at 243.50 miles per hour. The driver of the Bays and Rupert "Black Plague" '69 Camaro had a nice, smooth pass down the famed Canadian quarter-mile, placing him first for the sixth time this season.
Maple Valley, Washington native Mark Sanders qualified second in the "Mr. Explosive" Mustang with a 5.839, 234.43, followed by Tim Boychuk (5.915), Bruce Litton (6.127) and Mike McIntire Jr. (6.148).
After one round of qualifying, the popular Nitro Harley division was paced by Canadian Mike Scott who blasted down the quarter-mile with a 6.317, 218.18 lap. He was followed by North Carolina native Mark Cox in the Bojangles' sponsored ride with a 6.495, 224.49. Nate Gagnon (6.576), Mike Pelrine (6.600) and Craig Pelrine (7.134) rounded out the top five in the eight-bike field.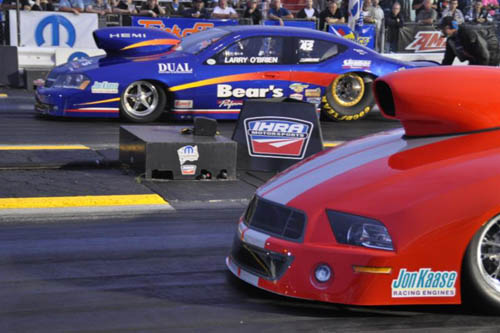 Canadian John Konigshofer will look to make
it two in a row in IHRA Pro Stock
The remaining professional classes consisted of a number of special eliminators, led by the return of Top Fuel Dragster. Canadian Ike Maier topped the nitro-fed dragster class with a shaky 5.011, 204.73, followed by Kyle Wurtzel who had to shut it off early in the run.
In Pro Stock, most recent race winner John Konigshofer paced the Mountain Motor class with a solid 6.349, 220.91, while Don Blackshear in the "Bullet Bob" entry led Nitro Altered with a 6.571, 179.67.
The final pro class on the property, the PMRA Pro Mod series, was paced by Toronto native Mike Yedgarian who drove his 1968 Pontiac Firebird to the top of the charts with a 6.152, 206.61 pass.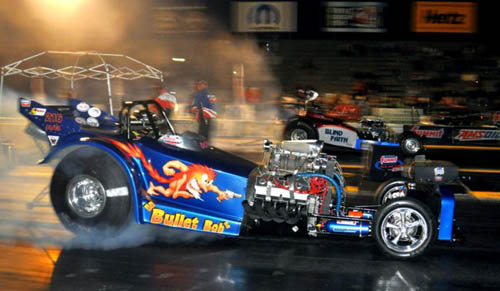 Don Blackshear was once again class of the field in Nitro Altered
The IHRA Mopar Nitro Jam Nationals will continue on Saturday with a full day of sportsman racing with the Summit Racing Equipment Pro-Am Tour presented by AMSOIL capped off with final qualifying for all professional classes and first round eliminations with the IHRA Nitro Jam Drag Racing Series.
Friday Qualifying Results
Grand Bend, Ontario - Qualifying from the 2014 IHRA Mopar Nitro Jam Nationals at Grand Bend Motorplex
Top Fuel Dragster - 1. Ike Maier 5.011, 204.73; 2. Kyle Wurtzel 10.295, 85.41
Nitro Funny Car - 1. Jason Rupert 5.729, 243.50; 2. Mark Sanders 5.839, 234.43; 3. Tim Boychuk 5.915, 241.02; 4. Bruce Litton 6.127, 235.66; 5. Mike McIntire Jr. 6.148, 233.82; 6. Gary Kraus 6.648, 202.11; 7. Ronnie Young 6.763, 150.00; 8. Mike Halstead 9.798, 86.07
Pro Stock - 1. John Konigshofer 6.349, 220.91; 2. Tony Pontieri 6.421, 216.71; 3. Larry O'Brien 6.475, 218.44; 4. Anthony Paone 11.981, 72.96
Nitro Harley - 1. Mike Scott 6.317, 218.18; 2. Mark Cox 6.495, 224.49; 3. Nate Gagnon 6.576, 207.85; 4. Mike Pelrine 6.600, 214.74; 5. Craig Pelrine 7.134, 168.03; 6. Alvin Kobernusz 7.758, 156.35; 7. Rob Brown 8.401, 147.10; 8. Jay Turner 11.490, 80.46
Nitro Altered - 1. Don Blackshear 6.571, 179.67; 2. Mike Hilsabeck 6.775, 152.49; 3. Ron Maroney 7.915, 106.35; 4. Shane Harter 9.076, 103.29; 5. Troy Martin 9.154, 98.39
Jet Dragster - 1. Elaine Larsen 5.721, 273.47; 2. Dawn Perdue 5.781, 274.39; 3. Kat Moller 6.184, 254.74
PMRA Prod Mod - 1. Mike Yedgarian 6.152, 206.61; 2. Rob Atchison 6.279, 216.97; 3. Derek Hawker 6.295, 183.48; 4. Bruce Boland 6.424, 233.10; 5. Denis Lachance 6.666, 218.65; 6. Paolo Giust 7.521, 137.46; 7. Gary Mater 7.836, 129.79; 8. Jason Kalso 8.702, 123.52; 9. Jeff Roth 9.338, 94.10; 10. Jack Grainy 11.266, 82.30; 11. Alan Martorino 34.173, 15.39




IHRA: 10 Most Recent Entries [ top ]

Apr 24- Racers Receive Prizes at IHRA Summit Sportsman Spectacular Opener
Apr 24- Comeaux, Hughes Make History at IHRA Summit Sportsman Spectacular
Mar 21- 2018 IHRA Summit Sportsman Spectacular Series on April 20-22
Feb 26- Weather-Related Construction Delays Postpone IHRA Xtreme Raceway Park Opener
Feb 16- IHRA Summit Sportsman Spectacular Schedule Announced
Feb 15- New York Track Finds Value for Racers with IHRA Agreement
Feb 15- IHRA Summit Sportsman Spectacular Debut Only One Month Away Now is the Time to Pre-Enter
Feb 15- Summit Texas Location is a Racers' Paradise
Feb 15- Canadian Track Makes Large Commitment to IHRA Drag Racing
Jan 27- Mid-Michigan Destination Joins IHRA Family