Mon, 09 Jun 2014, 17:14 PM



Goforth Racing Expands to Three Cars on Heels of IHRA President's Cup Nationals



Courtesy of IHRA Communications



NORWALK, Ohio --
The Goforth Racing Team, currently first and third in the IHRA Mountain Motor Pro Stock standings with the International Hot Rod Association's Nitro Jam Drag Racing Series, announced this week that it will be expanding to a three-car operation beginning with next weekend's IHRA Nitro Jam President's Cup Nationals at Maryland International Raceway.
Current IHRA points leader Cary Goforth and teammate Todd Hoerner will continue to field their current entries with the IHRA, while team patriarch Dean Goforth returns to the seat for the first time since undergoing surgery on his ankle in November. Dean and Cary Goforth will field a pair of brand new Jerry Haas-built Chevrolet Camaros, while Hoerner will continue in the Dean's Casing Service 2011 Pontiac GXP. All three cars will feature EFI-equipped engines powered by Sonny's Racing Engines.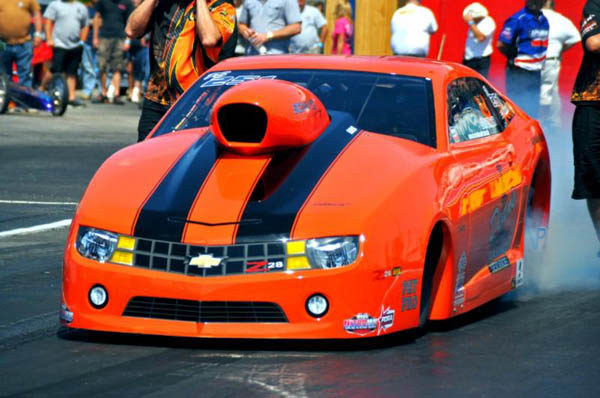 Goforth Racing has been a dominating force in Pro Stock
this season, winning multiple races
across two series led by Cary Goforth (pictured)
With the announcement, the IHRA Nitro Jam President's Cup Nationals will field the largest contingent of Mountain Motor Pro Stock cars so far this season as the class continues to grow in its return to quarter-mile competition with the IHRA Nitro Jam Drag Racing Series.
"We are looking forward to having dad back in the seat. He took on the role of team owner pretty well, but it has been hard keeping him away from racing," Goforth said. "The biggest part of this will be getting dad comfortable with being in the car again. We have been looking for an opportunity to make this happen over the past month or so, we had his gas pedal fit for his foot and switched the car to EFI which should be more forgiving. In the end, Maryland was the perfect place to make this happen and we are very much looking forward to that event and getting dad some seat time."
So far this season, the Goforth Racing Team has already proven a powerful force in the world of Mountain Motor Pro Stock. The team has four wins already in 2014, two with the IHRA and two more with the eighth-mile PDRA series.
Now the team will try to continue that level of success with the addition of a third team car and another proven winner behind the wheel.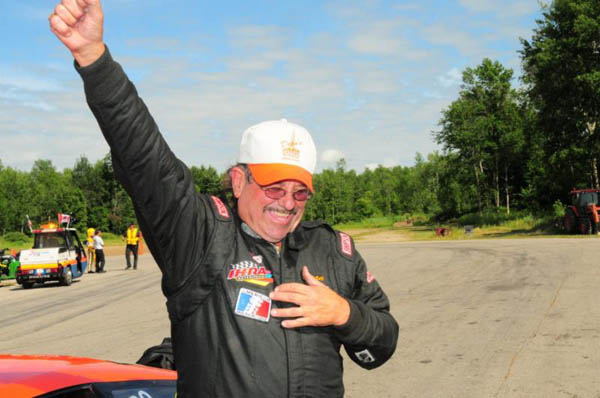 Dean Goforth (pictured) won his one and only IHRA race in 2009
"The season has gone great for us. We have had success with both of our cars and now with dad back behind the wheel, we can focus solely on racing again," Goforth said. "As far as the team itself, we shouldn't see too many changes. Everyone will take on the same roles as before and we will be adding a floater to go back and forth and make sure all of the teams are taken care of and that they have what they need.
"All three cars are ready to go and we are excited to get back on the track and get dad back to racing."
In addition to getting behind the wheel for the first time in more than eight months, the race at Maryland International Raceway will mark Dean's return to IHRA competition. Dean last ran with the IHRA in 2009, the last year the class ran fulltime with the series. He has one career win and looks forward to an opportunity to once again compete with the IHRA on the quarter-mile.
"I am really looking forward to Maryland and seeing some great, tough competition. Everything is starting to turn around in this class, which is pretty exciting," Goforth said. "If this had been anywhere else except the IHRA, we probably would have parked all of the cars except one, but the support we have received has been exceptional.
"Bringing three cars out is a big deal for us, but we are really trying to show our support for this class and the IHRA in bringing Mountain Motor Pro Stock racing back to the forefront and where it belongs with the IHRA."
With the addition of the three-car Goforth Racing Team, the IHRA President's Cup Nationals at Maryland International Raceway will feature a full field in the Mountain Motor Pro Stock division as the series comes off of a thrilling race in its last stop in North Carolina.
After a dominating start to the season by the Black Diamond Motorsports team, made up of Kevin Bealko and John DeFlorian, and the Goforth Racing Team, a new face reached the finals at the IHRA Spring Nationals at Rockingham Dragway as Brad Waddle claimed the first win of his racing career in a major upset.
Now the teams will try to keep that momentum going the weekend of June 13-14 at Maryland International Raceway, a track known for its longtime support of the Mountain Motor Pro Stock class.
"It was great to see some new faces in the finals in Rockingham. To see those guys in the final was very gratifying for me, not as a racer, but as a fan of this class and the sport," Goforth said. "It is not secret that I am out here to win everything I can, but at the same time it is nice to see fresh faces in the finals. Afterwards, though, I definitely told them not to get used to it because we were coming after them. I consider all of these guys my friends, but as they say, that means nothing on the racetrack."
Don't miss the return of the International Hot Rod Association and the President's Cup Nationals to Maryland International Raceway the weekend of June 13-14. In addition to the return of quarter-mile Mountain Motor Pro Stock racing, the President's Cup Nationals will also feature professional competition in Nitro Funny Car, Nitro Harley, Nitro Altered and Jet Dragster.
For more information on the 2014 IHRA Nitro Jam President's Cup Nationals, visit www.NitroJam.com or call Maryland International Raceway at (301) 884-9833.




IHRA: 10 Most Recent Entries [ top ]

Apr 24- Racers Receive Prizes at IHRA Summit Sportsman Spectacular Opener
Apr 24- Comeaux, Hughes Make History at IHRA Summit Sportsman Spectacular
Mar 21- 2018 IHRA Summit Sportsman Spectacular Series on April 20-22
Feb 26- Weather-Related Construction Delays Postpone IHRA Xtreme Raceway Park Opener
Feb 16- IHRA Summit Sportsman Spectacular Schedule Announced
Feb 15- New York Track Finds Value for Racers with IHRA Agreement
Feb 15- IHRA Summit Sportsman Spectacular Debut Only One Month Away Now is the Time to Pre-Enter
Feb 15- Summit Texas Location is a Racers' Paradise
Feb 15- Canadian Track Makes Large Commitment to IHRA Drag Racing
Jan 27- Mid-Michigan Destination Joins IHRA Family