Wed, 28 May 2014, 11:18 AM



Jason Rupert Extends Championship Lead in IHRA Nitro Funny Car



Courtesy of IHRA Communications



Standings Tighten in Nitro Harley



NORWALK, Ohio --
With his third win of the season, his fourth consecutive final and fifth straight spot atop the qualifying charts, Jason Rupert has found himself with a comfortable lead in the IHRA Nitro Funny Car championship after five of 12 events on the 2014 IHRA Nitro Jam Drag Racing Series North American Tour.
Rupert won for the third time this season at Rockingham Dragway's IHRA Nitro Jam Spring Nationals last week, besting three-time IHRA champion Peter Gallen in a classic Nitro Funny Car showdown. With the win, Rupert is now 11-1 on the year in competition and has extended his lead in the championship standings to 176 points over Mark Sanders in the "Mr. Explosive" Ford Mustang.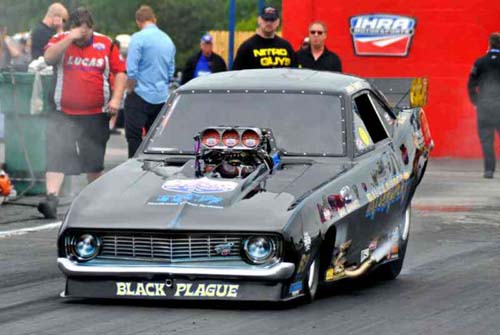 Jason Rupert has dominated IHRA's Nitro Funny Car category in 2014
Rupert, behind the wheel of the Bays and Rupert "Black Plague" 1969 Chevrolet Camaro, also reset the IHRA Nitro Funny Car elapsed time record at 5.684 seconds at Rockingham Dragway, set during the final round against Gallen.
Rookie Mike McIntire Jr., the only other competitior in Nitro Funny Car with a win this season, sits third, followed by Canadian Tim Boychuk and former IHRA Top Fuel world champion Bruce Litton. A remarkable 318 points separates Rupert from fifth-place driver Litton after just five races.
IHRA's closest competition this season resides in the Nitro Harley ranks as Louisiana rider Randal Andras sits atop the standings with three others hot on his heels. Reaching the semifinals in every race this season with one win, Andras currently leads the nitro-powered Harley Davidson division with 384 points, 16 points clear of Jay Turner.
Canadian Mike Scott, fresh off of his second win of the season in Rockingham, sits third 46 points back. Mark Cox, aboard the Bojangles-backed motorcycle, is fourth and Mike Pelrine is fifth.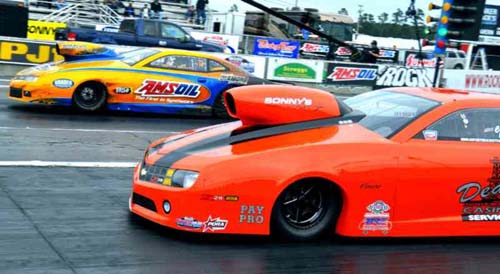 Cary Goforth (near) tops IHRA's Pro Stock standings
In Pro Stock, Rockingham produced plenty of drama with two new racers reaching the finals in the form of Brad Waddle and Kevin Bealko, but neither could create much of a dent in Cary Goforth's championship lead. Goforth, behind the wheel of the Dean's Casing Service 2013 Chevrolet Camaro, leads John DeFlorian in the AMSOIL-sponsored 2012 model Camaro by 44 points.
Goforth's teammate, Todd Hoerner, sits third, followed by Bealko and two-time IHRA champion Pete Berner. Rockingham winner Waddle sits seventh in the standings.
In Nitro Altered, Arizona native Ron Maroney extended his lead in the "Blind Faith" nostalgia machine with his first win of the season at the Spring Nationals. Maroney now holds a 75 point advantage over veteran Ron Hope in "Rat Trap." Mike Hilsabeck is third in the standings, followed by Don Blackshear and Shane Harter.
Finally, in the Jet Dragster championship Marisha Falk, with her third win of the season and second straight, moved into a tie with team boss Elaine Larsen atop the standings with the pair claiming 307 points apiece. Dawn Perdue is third, three points back, and Kat Moller is fourth.
Next up for the IHRA Nitro Jam Drag Racing Series is back-to-back events in mid-June with the IHRA Nitro Jam President's Cup Nationals at Maryland International Raceway June 13-14 followed by the MOPAR Nitro Jam Nationals at the Grand Bend Motorplex June 20-22.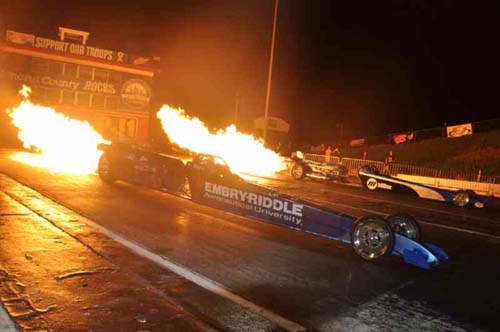 Marisha Falk and Elaine Larsen are tied in the Jet Dragster standings
Nitro Jam Championship Standings (Top 10)
(After 5 of 12 events on 2014 Nitro Jam Drag Racing Series)
Nitro Funny Car - 1. Jason Rupert 520, 2. Mark Sanders 344, 3. Mike McIntire Jr. 321, 4. Tim Boychuk 305, 5. Bruce Litton 202, 6. John Hale 179, 7. John Smith 149, 8. Mike Smith 139, 9. Ronny Young 139, 10. Mike Halstead 134
Pro Stock - 1. Cary Goforth 455, 2. John DeFlorian 411, 3. Todd Hoerner 334, 4. Kevin Bealko 304, 5. Pete Berner 229, 6. John Konigshofer 174, 7. Brad Waddle 161, 8. Scott Hintz 126
Nitro Harley - 1. Randal Andras 384, 2. Jay Turner 368, 3. Mike Scott 338, 4. Mark Cox 241, 5. Mike Pelrine 227, 6. Alvin Kobernusz 201, 7. Steve Dorn 200, 8. Joey Sternotti 171, 9. Ron Gledhill 122, 10. Larry Brancaccio 102
Nitro Altered - 1. Ron Maroney 415, 2. Ron Hope 345, 3. Mike Hilsabeck 274, 4. Don Blackshear 245, 5. Shane Harter 165, 6. Kyle Hough 164, 7. Jim Maroney 151, 8. Brian Hope 146, 9. Derek Snelson 92, 10. Terry Haddock 75
Jet Dragster - 1. Elaine Larsen 307, 2. Marisha Falk 307, 3. Dawn Perdue 304, 4. Kat Moller 219




IHRA: 10 Most Recent Entries [ top ]

Mar 21- 2018 IHRA Summit Sportsman Spectacular Series on April 20-22
Feb 26- Weather-Related Construction Delays Postpone IHRA Xtreme Raceway Park Opener
Feb 16- IHRA Summit Sportsman Spectacular Schedule Announced
Feb 15- New York Track Finds Value for Racers with IHRA Agreement
Feb 15- IHRA Summit Sportsman Spectacular Debut Only One Month Away Now is the Time to Pre-Enter
Feb 15- Summit Texas Location is a Racers' Paradise
Feb 15- Canadian Track Makes Large Commitment to IHRA Drag Racing
Jan 27- Mid-Michigan Destination Joins IHRA Family
Jan 27- Mississippi Track Reaches Sanctioning Agreement
Jan 16- Michigan Track to Host IHRA Summit Sportsman Spectacular