Mon, 12 May 2014, 15:00 PM



Summit Super Series @ San Antonio Raceway, 5/10/14



Courtesy of J.M. Hallas



MARION, Texas --
#4488 Shelli Cantwell in her 65 Mustang winning 'dialing for dollars' #4801 Brett Zampese heats up the tires on his burnout #4875 Leroy O'Bryant busy in his office #4876 Brandon Mitchan(near lane) readies for run against Jimmy Inman in race #2 semi's #4846 The Carrola family; Gianni(left) and sister Mia(right) w/ parents #4849 Ashley Hubbell(near lane) takes off in finals Gianni Carrola #4800 Alex Trevino gets his Camaro up on the wheelie bars By JM Hallas San Antonio Raceway hosted its fourth round of points racing for the IHRA Summit Super Series. This year the series competes on the 1/8 mile, versus the full 1/4 mile, with two races giving drivers the chance to score double points and double purse money.
This year's points race is already shaping to be a fight to the finish with veteran Leroy O'Bryant holding the top spot in the Electronics(Box) class with Jeff Rabedeau less than 20 points back in his return to racing this year, while perennial front runner, Brent Ritter is third.
In No-box(Footbrake) it's defending Motorcycle track champ Ruben Gallegos leading the way trailed by Nelson Friedeck and defending No-box champion, Brandon Mitchan in third on another bike, sandwiching Friedecks door slammer.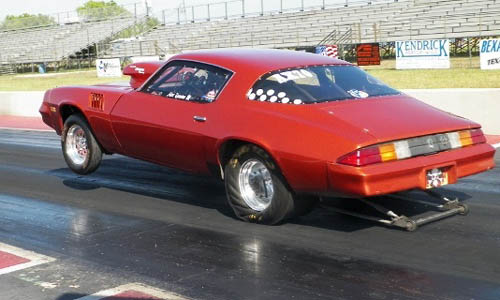 Alex Trevino
Past Jr. Dragster titlist, Ashley Hubbell has quickly built a comfortable points lead over Matthew Keylich and Caden Meuth. Hubbell has bagged 4 event wins in six tries already this season. Keylich's day almost ended early on a bye run when his motor kicked parts out of the block, but the Ball Motorsports Team stepped in with a spare motor for a loaner.
With heavy rain showers during the late part of the week track crews worked hard getting the surface ready for racing. Early conditions saw track temperatures around 110 but they quickly gave way to hot conditions under the sunshine raising the track to 125 by the time round 1 of eliminations hit the surface.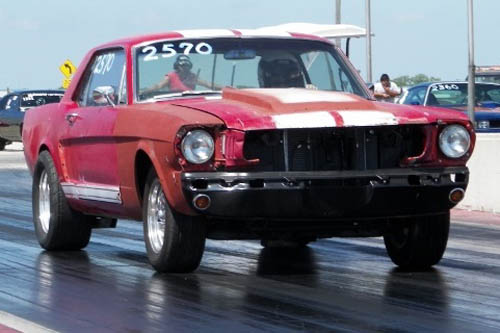 Shelli Cantwell
Cantwell Cashes in Dialing for Dollars
Shelli Cantwell(Buda) took home the jackpot in the 'Dialing for Dollars' runs taking her 65 Ford Mustang through only missing her dial in by .0026, in a Foot Brake car. Her number held up through the remainder of Foot Brake and Electronics to take home the cash.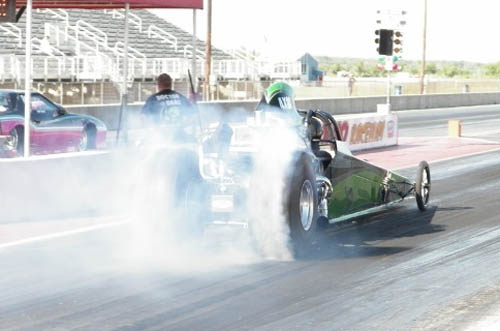 Brett Zampese
Zampese Zaps Hendricks for Electronics(Box) race 1 Victory
Local hotshoe, Brett Zampese(San Antonio) in his Mullis Dragster went up against Darrell Hendricks(Luling) in his 92 Chevy Beretta for the finals in Electronics race 1. Zampese got .025 on Hendricks at the tree and needed every thousandth of it on the big end to eke out the win.
Brett Zampese, 4.814(4.78) @ 139.06 defeats Darrell Hendricks, 5.709(5.68) @ 123.29
On his way to the finals Zampese, who bought back after losing in round 1, took out Paul Schneider, Alex Trevino and Matt Esper, with a round 4 bye. Hendricks, who also rebought beat R. Fisher, Carlos Carrasco sr., and Kip Scharf, with a round 3 bye.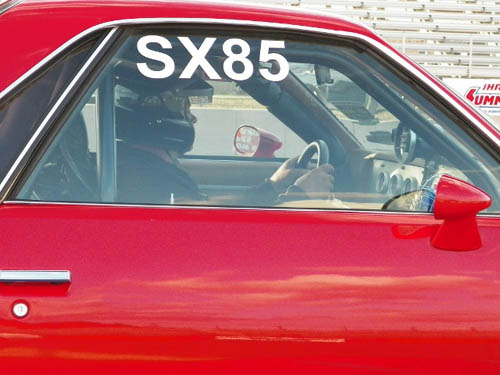 Leroy O'Bryant
O'Bryant Outlast Field for Electronics(Box) race 2 Honors
Current points leader, Leroy O'Bryant(San Antonio) took the top prize in his O'Bryant Automotive, 79 Chevy El Camino over Greg Meuth(Boerne) in his Quality Auto Care, 2008 TNT Chassis. The wily veteran made it look easy cutting a .009 light, then running a 7.888 on a 7.88 dial in.
Leroy O'Bryant, 7.888 @ 139.06 defeats Greg Meuth, 5.084 @ 118.86
O'Bryant bested Brett Zampese, Matt Esper, Mike Pearson, Paul Schneider and caught a bye in the semi's. Meuth trailered Tina Hudel, Jay Fitzgerald, Kip Scharf and Brandon Bass.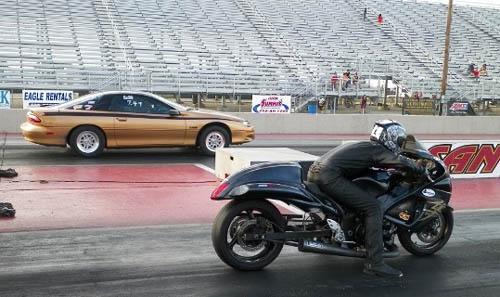 Brandon Mitchan vs. Jimmy Inman
Mitchan Masterful in Foot Brake Sweep
Foot Brake(No-box) race 1 saw San Antonio's Brandon Mitchan, on his 2008 Suzuki Hayabusa, paired up with Sylvia Zemgals, in her Bluebonnet Chrysler-Dodge, 70 Dodge Challenger. Zemgals got a huge advantage on the tree with a .001 light, but was a bit too quick on the top end(.025) handing the victory to Mitchan who was nearly right on his number.
Brandon Mitchan, 5.671(5.66) @ 122.78 defeats Sylvia Zemgals, 7.545(7.57) @ 90.71
Mitchan went red in round 1 then rebought and got wins over Nelson Friedeck, Anthony Montoya, Dennis Soefje and Aaron Tschoepe. Zemgals got past Brandon Spain,Ryan McDonnell, Gene Herbold and Humberto Gallegos.
In Foot Brake(No-box) race 2, Mitchan was head to head with RJ Doerr's(Marion) 65 Ford Mustang. Doerr had .032 in the bank off the line, but much like Zemgals before him, out ran his number giving a second break out win to Mitchan. Mitchan again was dead on his number making him nearly impossible to beat throughout the days events.
Brandon Mitchan, 5.671(5.67) @ 125.49 defeats RJ Doerr, 6.815(6.82) @ 96.42
Mitchan's run to his second finals included victories over Mike Gossett, Roy Trevino, Harold Shimek, Josh Gaspard, Jimmy Inman with a round 5 bye. Doerr had wins over J. Benevides(twice), David Jones, S. Spain, Anthony Montoya and a semifinal bye.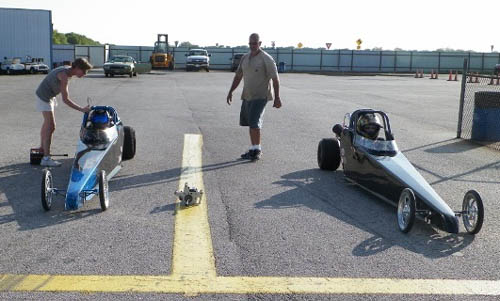 The Carrola family
Gianni (left) and sister Mia (right) with parents
Sibling Rivalry Settled in Jr Dragster race 1
It was sister versus brother in the first Jr Dragster final with Mia and Gianni Carrola(Boerne) going head to head for the win in their TNT Jr Dragsters. Mia gave her brother the win early after she turned on the red. Had the race gone to the finish, Gianni would have lost on a break out on the top end.
Gianni Carrola, 7.925 @ 82.27 defeats Mia Carrola, 7.930 @ 81.55(red)
G. Carrola defeated Ashley Hubbell, Caden Meuth and Matthew Keylich. M. Carrola bought back in after a round 1 loss, then beat Emily Ball and Hailey Ball.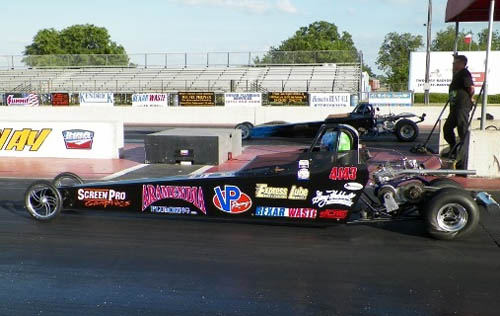 Ashley Hubbell vs. Gianni Carrola
Hubbell Hasty but picks up Jr Dragster race 2 win
Former JR Dragster track champ and current points leader, Ashley Hubbell(San Antonio) got awarded the win as soon as Gianni Carrola hit the throttle and lit the red. Good thing for Hubbell, in the Aramendia Plumbing, Bexar Waste, VP Fuels, Express Lube, Screen Pro Graphics, Greg Hubbell Race Car, as she outran her dial in and would have broken out.
Ashley Hubbell, 9.121 @ 69.91 defeats Gianni Carrola, 7.956 @ 82.04(red)
Hubbell outran Mia Carrola(twice) and got a round 2 bye. G. Carrola took out Emily Ball(twice) and Hailey Ball.




IHRA: 10 Most Recent Entries [ top ]

Mar 21- 2018 IHRA Summit Sportsman Spectacular Series on April 20-22
Feb 26- Weather-Related Construction Delays Postpone IHRA Xtreme Raceway Park Opener
Feb 16- IHRA Summit Sportsman Spectacular Schedule Announced
Feb 15- New York Track Finds Value for Racers with IHRA Agreement
Feb 15- IHRA Summit Sportsman Spectacular Debut Only One Month Away Now is the Time to Pre-Enter
Feb 15- Summit Texas Location is a Racers' Paradise
Feb 15- Canadian Track Makes Large Commitment to IHRA Drag Racing
Jan 27- Mid-Michigan Destination Joins IHRA Family
Jan 27- Mississippi Track Reaches Sanctioning Agreement
Jan 16- Michigan Track to Host IHRA Summit Sportsman Spectacular