Thu, 08 May 2014, 17:28 PM



Hedman Husler Hedders DragRacingOnline.com AA/FC Challenge opens season May 9-10



Courtesy of Kay Burk



MADISON, Ill. --
The opening race of the fifth season for the DragRacingOnline.com AA/FC Challenge with new Title Rights sponsor Hedman Husler Hedders on board for the 2014 and 2015 seasons is coming up at Gateway Motorsports Park on Friday and Saturday, May 9-10, as part of the track's Nitro Rendezvous.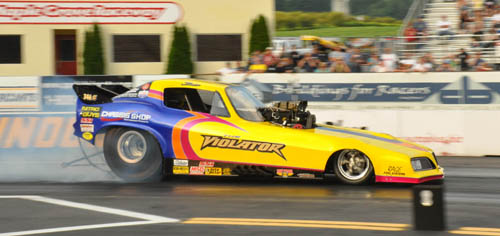 Shawn Bowen in the "Violator" Firebird will make
the first step in the defense of his 2013 championship.
The Gateway track, located in Madison, Ill., just across the Mississippi River from downtown St. Louis, is an NHRA national event track and they have guaranteed first-rate track prep for this event. That means there is a very good chance the existing series elapsed time and speed records will be broken. The quarter-mile ET record of 5.707 seconds was set by Marc White at Tulsa Raceway Park in 2012 and the MPH record of 253.42 was set by John Hale at Martin, Mich., also in 2012.
Chris Vandergriff, Director of Racing for Hedman Husler, has decided to have a research and development get together with any Funny Car teams in need of new hedders for their current nostalgia rides.
"Due to the many varieties of body styles, cylinder head choices and engine locations, it has always been a tough task to accommodate our Funny Car customers without bringing each and every car into our shop," said Vandergriff.
"My idea is to bring multiple Hedder designs we have amassed over the years and let teams test fit any of our prototypes from past, present and future Funny Car designs to assist in proper fit-ment of each car." Vandergriff added, "I will also have our universal Do It Yourself Funny Car kits on hand to enable teams to gain fresh pipe in the event we do not have that certain style they need."
The six-car qualified field will pay as follows: Winner - $4,500; Runner-up - $3,500; Semifinalists - $2,500; First-round losers - $1,750.00 ($1,500.00 if they only make one qualifying pass); in addition Numbers 7 and 8 non-qualifiers will receive $500.
Contingency sponsors for this season include: Baumgartner Race Cars, COMP Cams, DRE Racing, JE Pistons, MSD, Mert Littlefield Blowers, Mickey Thompson Tires, Ohio Crankshaft, Rage Fuel Systems, S&W Race Cars, Taylor Motorsports Products, Trailer Toad and Victory Performance Parts.




Drag News: 10 Most Recent Entries [ top ]

Mar 21- Gateway Motorsports Park Introduces VP Racing Lubricants Mid-America SuperCar Showdown
Mar 21- New Sharks of the Strip Outlaw Heads-up Racing Program Debuts Friday the 13th at Gateway Motorsports Park
Mar 21- 16th Annual NMCA Muscle Car Mayhem Race Wrap Up
Mar 21- Jones Scores at San Antonio Nitro Jam
Mar 21- Rai to Field Three Cars at Santo's Super Thunder Meet
Mar 21- Rapisarda Autosport International to Race in Adelaide
Mar 10- Dodge//SRT and Mopar Brands to Offer Complimentary Drag Race Experience for NMCA Competitors in 2018
Mar 10- Cottrell, Wittenberg, Hix, and Bates Come Out Swinging at the 2018 March Meet
Mar 09- Universal Technical Institute Named Official Sponsor of Sonoma Raceway's Drags and Drift Program
Mar 09- Revitalized Street Fights Series Roars into Action with a New Look and Feel