Mon, 28 Apr 2014, 11:40 AM



Janis Takes Victory at NHRA Pro Mod Drag Racing Series Win in Houston



Courtesy of NHRA Communications


Photo copyright 2014 Auto Imagery, Inc.





BAYTOWN, Texas --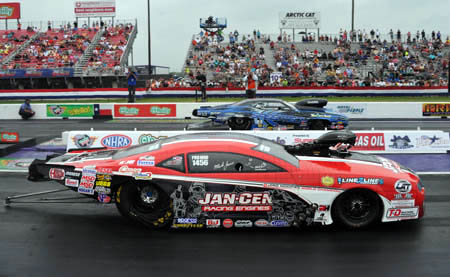 Mike Janis defeated Mike Castellana
Mike Janis drove past Mike Castellana to win the Pro Mod Drag Racing Series portion of the O'Reilly Auto Parts NHRA SpringNationals at Royal Purple Raceway Sunday.
Janis' Valvoline '12 Camaro beat Castellana, the Gainesville winner, with a 5.927-second pass at 244.56 mph to take home the NHRA Pro Mod Drag Racing Series race in Houston, presented by J&A Service at this event victory. It was the Lancaster, N.Y., native's third career victory in the doorslammer category and first at Royal Purple Raceway.
Janis, the No. 12 qualifier, defeated Dan Stevenson, Ron Muenks, Steve Matusek prior to the final.
Castellana, who secured victory at the season-opening event in Gainesville, was looking for his sixth career Pro Mod victory. His Al-Anabi Racing 13' Camaro beat Mike Knowles, Kevin Fiscus and Danny Rowe before falling to Janis in the final.
Final round-by-round results from the 27th annual O'Reilly NHRA SpringNationals presented by Super Start Batteries at Royal Purple Raceway, the second of 10 events in the NHRA Pro Mod Drag Racing Series presented by J&A Service.
ROUND ONE -- Danny Rowe, Chevy Camaro, 5.896, 246.03 def. Von Smith, Camaro, 5.919, 242.71; Steve Matusek, Ford Mustang, 5.915, 245.14 def. Pete Farber, Dodge Daytona, 5.948, 245.40; Mike Castellana, Camaro, 5.933, 242.71 def. Mike Knowles, Camaro, 6.015, 244.65; Mike Janis, Camaro, 5.905, 246.17 def. Dan Stevenson, Camaro, 5.953, 243.77; Ron Muenks, Camaro, 6.485, 226.85 def. Harold Martin, Chevy Corvette, broke; Kevin Fiscus, Mustang, 5.918, 246.98 def. Troy Coughlin, Corvette, 5.947, 246.21; Rickie Smith, Camaro, 5.868, 247.88 def. Steven Whiteley, Camaro, 6.046, 242.93; Don Walsh, Mustang, 5.941, 250.51 def. Jim Laurita, Camaro, 5.909, 245.67;
QUARTERFINALS -- Castellana, 5.916, 243.41 def. Fiscus, 6.075, 244.25; Matusek, 5.924, 245.63 def. Walsh, 5.993, 249.53; Janis, 5.895, 245.58 def. Muenks, 5.964, 241.67; Rowe, 11.378, 55.65 def. R. Smith, broke;
SEMIFINALS -- Castellana, 5.954, 242.93 def. Rowe, 5.928, 246.30; Janis, 6.198, 188.23 def. Matusek, broke;
FINAL -- Janis, 5.927, 244.56 def. Castellana, foul.




NHRA: 10 Most Recent Entries [ top ]

Mar 18- GAINESVILLE - Pro Mod Sunday Wrap Up
Mar 18- GAINESVILLE - Sunday Wrap Up
Mar 18- GAINESVILLE - Pro Mod Championship Points
Mar 18- GAINESVILLE - Bonus Points
Mar 18- GAINESVILLE - Championship Points
Mar 18- GAINESVILLE - Mickey Thompson Top Fuel Harley Series Championship Points
Mar 18- GAINESVILLE - Bonus Points
Mar 18- GAINESVILLE - Summary of Eliminations in Top Fuel
Mar 18- GAINESVILLE - Summary of Eliminations in Funny Car
Mar 18- GAINESVILLE - Summary of Eliminations in Pro Stock