Sun, 27 Apr 2014, 20:46 PM



Enders-Stevens, Brown and Hight Race to Victory at O'Reilly Auto Parts NHRA SpringNationals



Courtesy of NHRA Communications


Photo copyright 2014 Auto Imagery, Inc.





BAYTOWN, Texas --
Erica Enders-Stevens celebrates win.
Erica Enders-Stevens drove to victory in Pro Stock Sunday in the O'Reilly Auto Parts NHRA SpringNationals, notching her second win of the season and the 99th by a woman in the history of the NHRA Mello Yello Drag Racing Series.
Immediately following Enders-Stevens' win, Antron Brown (Top Fuel) and Robert Hight (Funny Car) each raced down Royal Purple Raceway to secure their third victories of the season.
Enders-Stevens faced Allen Johnson in the Pro Stock final, winning on a holeshot with a 6.594-second pass at 210.60 mph. Johnson, the 2012 Pro Stock world champion, ran a 6.588 at 210.28. Even though Johnson ran the faster elapsed time, Enders-Stevens' superior reaction time enabled her to keep her slim lead the whole race.
"My team's been really awesome," said Enders-Stevens, driver of the Elite Motorsports Chevy Camaro. "I've had a really consistent race car. That's what it takes Sundays, consistency. We had to make last second transmission change and go through the gears to make sure everything was right."
The win was Enders-Stevens' eighth career victory and her first in Houston. Enders-Stevens, the current Pro Stock points leader and the only female in Pro Stock history to lead the points, has enjoyed her quick start to the season but knows that she must keep it up to remain atop the Pro Stock class.
"The ball's in our court," Enders-Stevens said. "We've got to carry the momentum. That's important in this game, and I know I keep saying that, but it's huge, and we're going to keep carrying it as long as we can. Pro Stock really goes in cycles, so I'm really hoping this is our cycle, and we're going to keep fighting for it."
Johnson, the 2012 Pro Stock world champion, was the No. 1 qualifier at the event and reached his third final of the season. With two wins on the season at Phoenix and Gainesville, Johnson leaves Houston second in Pro Stock points.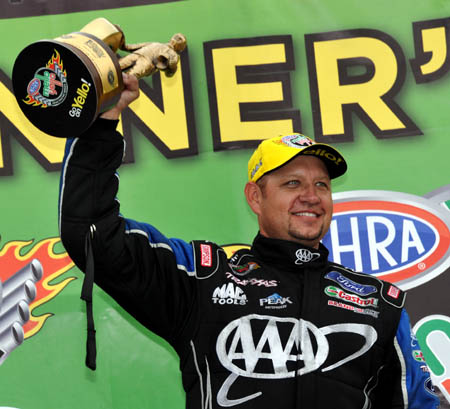 Robert Hight wins 32nd careerWally.
Robert Hight's Auto Club Ford Mustang is the hottest car in the Mello Yello Drag Racing series appearing in his fifth straight Funny Car final. Hight ran a 4.055 at 314.90 to defeat Jack Beckman, who was appearing in his first final of the season. It was the thirteenth consecutive Funny Car final that featured a John Force Racing car.
"I had high expectations coming into this weekend because I got my first win here," said Hight, who won his 32nd career race. "[Crew chief] Mike Neff has owned this place, and we came here on kind of a roll after four straight finals. Dating back to Indianapolis, that's 13 final rounds in a row for John Force Racing in Funny Car, and some of those have been John and me together in the final."
Hight struggled during Friday's qualifying session not completing a pass. The team rebounded and Hight's car went on to be the quickest Funny Car in the last six rounds of competition.
"It was like we didn't show up on Friday," Hight said. "It was horrible. We just totally missed it, but I never lost faith in my team. They showed confidence that we were going to get them tomorrow. On Saturday, we went out there and ran .07, .08, and then we went .07, .07, .07 before the final. Do you know how hard it is to do that in one of these cars? There are so many variables. It's hard to make that many consistent runs in a row."
With the win, Hight expands his points lead to 122 over John Force Racing owner and teammate John Force.
Beckman, the 2012 Funny Car world champion, was appearing in his first final since St. Louis last season. The Infinite Hero Foundation Dodge Charger ran a respectable 4.176 at 308.43 in the final but it just wasn't enough to top Hight.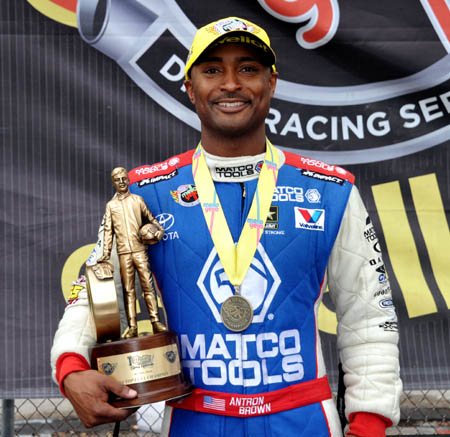 Antron Brown with his third Wally on the season.
In Top Fuel, Brown notched his second straight win of the season with a 3.793 pass at 317.72 over Khalid alBalooshi.
"I feel like we have a class-A, true all-star team," said Brown. "All the guys can execute under pressure. When we have a problem, we're able to fix it and make it better for the next round."
Brown's win over alBalooshi , the 44th victory of his career, was the second straight race where the Matco Tools dragster beat an Al-Anabi Racing driver. Brown defeated last year's Top Fuel world champion Shawn Langdon at the NHRA Four-Wide Nationals at the last event in Charlotte.
"We have a lot of respect for the Al-Anabi guys," said Brown. "You have to beat them to contend for the championship because it goes through them. We get up for that challenge whenever we race them. Any time we beat them, it's like hitting the jackpot. There are a lot of good teams out here, and we don't take anybody lightly."
Brown took over the Top Fuel points lead from Doug Kalitta and leaves Houston with a 37 point advantage. Brown has also reached seven of the last 10 finals dating back to last season, winning five of them.
The NHRA Mello Yello Drag Racing Series returns to action May 16-18 at the Summit Racing Equipment NHRA Southern Nationals at Atlanta Dragway.
Sunday's final results from the 27th annual O'Reilly NHRA SpringNationals presented by Super Start Batteries at Royal Purple Raceway. The race is the sixth of 24 in the NHRA Mello Yello Drag Racing Series:
Top Fuel -- Antron Brown, 3.793 seconds, 317.72 mph def. Khalid alBalooshi, 4.433 seconds, 184.67 mph.
Funny Car -- Robert Hight, Ford Mustang, 4.055, 314.90 def. Jack Beckman, Dodge Charger, 4.176, 308.43.
Pro Stock -- Erica Enders-Stevens, Chevy Camaro, 6.594, 210.60 def. Allen Johnson, Dodge Dart, 6.588, 210.28.
Top Alcohol Dragster -- Randy Meyer, 6.478, 259.26 def. Mark Taliaferro, 19.835, 34.27.
Top Alcohol Funny Car -- Shane Westerfield, Chevy Monte Carlo, 6.311, 254.23 def. Annie Whiteley, Ford Mustang, 11.004, 76.93.
Pro Modified presented by J&A Service -- Mike Janis, Chevy Camaro, 5.927, 244.56 def. Mike Castellana, Camaro, foul.
Competition Eliminator -- Clark Smiley, Pontiac GXP, 7.326, 181.57 def. Alan Ellis, '23-T Ford, 9.806, 101.53.
Super Stock -- Dale Hulquist, Pontiac Grand Am, 10.419, 128.62 def. Larry Stewart, Dodge Challenger, 9.872, 125.25.
Stock Eliminator -- Jacob Pitt, Plymouth Barracuda, 10.598, 122.03 def. Brett Candies, Ford Mustang, 9.059, 147.44.
Super Comp -- Austin Williams, Dragster, 8.928, 167.72 def. Brandon Mouton, Dragster, 8.913, 166.99.
Super Gas -- Steven Collier, Chevy Vega, 9.917, 158.87 def. Rustin Mayse, Chevy Corvette, 9.928, 150.38.
Top Dragster -- Allen Constantine, Dragster, 6.308, 226.01 def. Wade Pennington, Dragster, 6.202, 208.04.
Top Fuel Harley -- Tommy Grimes, Harley, 6.247, 232.91 def. Jay Turner, Harley, 6.349, 230.69.




NHRA: 10 Most Recent Entries [ top ]

Apr 19- HOUSTON - Friday Schedule
Apr 19- Tige Boats Named Presenting Sponsor of E3 Spark Plugs NHRA Pro Mod Drag Racing Series Portion of NHRA SpringNationals
Apr 19- HOUSTON - Previous Success, Early Win has Funny Car's Courtney Force Excited
Apr 18- Haney Headed for NHRA Pro Mod with Summit Racing on His Side
Apr 18- HOUSTON - Richie Crampton Enjoying Early-Season Success Heading to 31st Annual NHRA SpringNationals
Apr 18- 2018 Mustang Cobra Jet Celebrates 50th Anniversary of Racing Legend with Quickest
Apr 18- New Ford Mustang Funny Car Scheduled to Debut In 2019 NHRA Mello Yello Season Opener
Apr 16- HOUSTON - Fact Sheet
Apr 16- HOUSTON - After Early-Season Mishap Funny Car's Jonnie Lindberg Looks to Get On Track