Tue, 22 Apr 2014, 12:18 PM



First-Time Winners Dominate PSCA NorCal Nats



Courtesy of Brandon Mudd



SACRAMENTO, Calif. -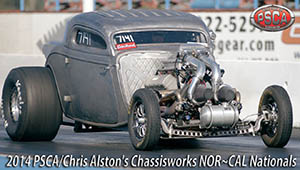 Header Goes Here
The Pacific Street Car Association Winner's Circle at the Chris Alston's Chassisworks NorCal Nationals welcomed some first-timers last weekend during an event that saw hard-fought victories in every class.
"This is a promoter's dream," said PSCA President Mel Roth. "We had drivers fighting tooth and nail for every inch on the drag strip and there is nothing better than seeing a driver get their first win. It's very rewarding."
First-time PSCA Racer Chris Schmidl and his Vortech-powered '72 Nova ran the table in the Mickey Thompson Tires Wild Street after qualifying No. 1 with a stout 5.13 ET at 144mph. He then went then rounds beating No. 2 qualifier Jason Kenzevich in the finals.
In the Vortech Superchargers Outlaw 8.5 class, Anthony Smith picked up his first class win after qualifying sixth and dicing his way through four rounds in a competitive 12-car field. Ben Davidow seemed to be the class of the field, but lit the dreaded red bulb in the final handing the win over to Smith. This was the fourth-consecutive final-round appearance for Anthony and he takes over the class points lead headed into Fontana next month.
Although Hot Street wasn't the biggest class of the weekend, it made the biggest noise as 2013 Champion Tony Aneian (who had transmission issues all weekend) ran the first seven-second pass in the ten-year history of the class during his run in the final round. In an example of class and sportsmanship, fellow Hot Street Finalist and the event No. 1 qualifier "Gypsy Mike" allowed Aneian enough time to repair his transmission before pairing up in the finals.
Five-time PSCA champion Doug Sikora was back in title form as he qualified No.1 and defeated series points leader Gary Ross in the finals of the MagnaFuel Outlaw 10.5 Class.
Another 2013 PSCA champion took home the hardware in Sacramento as Chris Alston Jr. topped 2012 NorCal Nationals champion Rob Barrios in an exciting final round where Barrios crossed into Alston's lane, barely missing him.
A total of 17 cars entered the Ross Racing Triple Index class and when the dust settled, San Francisco's Sergio Felipe Crespo took home the cash and trophy, beating David Rudd.
Other class winners and runners up include:
Goodyear Open Comp: Dan Ficher over John Kindred
Edelbrock Super Index: Cliff Boyles over Monti Fitzgerald
Calvert Racing Street Muscle: Larry Pittenger over Bret Olson
Brodix Bracket-1: Danny Cole over Chris Borges
Accufab Mustang Maddness: Don Jones over Sergio Felipe Crespo
The next event on the PSCA schedule is the Mickey Thompson Tires Spring Break Super Show at Auto Club Dragway in Fontana, Calif., April 25-27.
Fans of the Pacific Street Car Association can find updates and photos of PSCA racers and events by checking out PSCARacing.com, Twitter.com/PSCARacing, and Facebook.com/PSCARacing. Videos of PSCA drag racing action can be found at YouTube.com/PSCARacing.
Racers can visit the PSCA's official page on Facebook to find photos, stories, and videos of the best drag racing in the country..
PSCA Merchandise: Give the gift of drag racing with PSCA swag from our online store. Click Click HERE for shirts and everything else the racer in your family wants.




Drag News: 10 Most Recent Entries [ top ]

Apr 22- K&N Spring Fling Million Final Day Results
Apr 21- K&N Spring Fling Million Friday Results
Apr 20- K&N Spring Fling Million– Thursday Results
Apr 19- K&N Spring Fling Million- Wednesday Results
Apr 18- Buckeye S/SS @ National Trail April 28th
Apr 18- Don "the Snake" Prudhomme Returns To Baja Competition After 50 Years
Apr 18- K&N Spring Fling Million Tuesday Results
Apr 17- K&N Spring Fling Million Pre-Race
Apr 12- Summit Racing Equipment is Newest Sponsor of Midwest Junior Super Series
Apr 12- Summit Racing Named Official MWPMS Sponsor and Event Title Rights Holder