Tue, 22 Apr 2014, 11:30 AM



Wrapping up the 2014 Super Chevy Show Presented by Chevrolet Performance



Courtesy of Shayna Keller



A weekend full of gorgeous cars, family fun and fast cars rounded out the nation's largest



MILLINGTON, Tenn. --
automotive show The annual Super Chevy Show presented by Chevrolet Performance at Memphis International Raceway (MIR) brought out over 30,000 fans to celebrate all things Chevrolet. The show offered something for everyone with car shows, drag racing, swap meet, car coral and a midway filled with vendors and family fun activities. The action at the track was nonstop and highlighted by the PRO Show, the Superwinch wheel stander and the Hanna Stable of Jet Funny Cars and the ever popular Queen of Diamonds and of course the most incredible racing competition on the drag strip.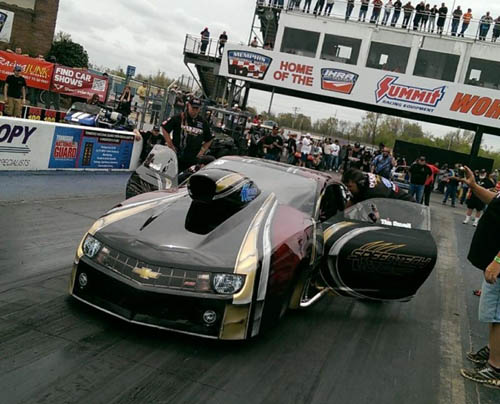 "The Super Chevy Show presented by Chevrolet Performance is one of the most anticipated shows at Memphis International Raceway with many participants coming from miles around and enjoying the many festivities this show has to offer," stated Pam Kendrick, VP and GM at Memphis International Raceway. "This year's show was no different as every element of the show was unique. We are excited to announce the Super Chevy show will return to MIR in 2015."
Saturday, April 12
Under bright and sunny skies on Saturday, fans were onsite to watch as the CamaroGuys.com Gen 5 Challenge, Super Pro, Pro Footbrake and True Street cars battled it out for the win.

Race Results

True Street

Winner: Danny Tellman - Jefferson City MO, 1968 Camaro SS/RS
Runner Up: Alan Cleveland - Florence, MS, 1964 Chevell
11 Index
Winner: Alan Cleveland - Florenece, MS, 1964 Chevell
12 Index
Winner: Ronnie McKenna - Gulfport, MS, 2002 Chevy S10
13 Index
Winner: Steven Williams - Lexington, TN, 1968 Chevy C10
14 Index
Winner: Matt Loft - Bartlett, TN, 1974 Nova

CamaroGuys.com Gen 5 Challenge
Winner: Billy Hill
Runner Up: Lester Miller - Wynee, AR

Super Pro
Winner: Wayne Franks - Linden, TN
Runner Up: Buddy Ferell - Brighton, TN

Pro Footbrake
Winner: Bradly Sanders - Henning, TN
Runner Up: Josh King

Sunday, April 13
When Sunday rolled around and all the money was on the table, the racers prepared to battle it out for the prestigious honor of being the "Super Chevy Show Champion" in their respective classes. As the eliminations progressed and the championship was within sight, the weather from the west reached MIR with evening storms moving into the Millington area. As a result, no overall winner would be proclaimed due to rain shortened eliminations.
The Jr. Dragster saw Brianna Moore, Tyler Poindexter and Justin Poindexter having to split the event. R.T. Turbines D.O.T. Raymond Kendall, Michael Crass and Todd Berry split the event. The DriveDuracell.com Bracket 1 class still had 12 drivers remaining and Bracket 2 had 11 remaining with no declared a winner because of the rain shortened event. One of the most high powered classes of the day, the Pro Mod's presented by Neal Chance Racing Converters were able to complete their eliminations with Tim Savell, from Terry, Miss. taking the win over Jerry Prater, from Ripley, Tenn. by .046 seconds.
Car Show
The car show was one of the highlights of this year's Super Chevy Show presented by Chevrolet Performance as it brought out approximately 400 cars and trucks to complete in 75 different categories for awards. The participant categories consisted of: class awards, specialty awards, editor's choice awards and the coveted Best in Show award.

Results

Editor's Choice Top-Five Show Car
Kenny Park - Memphis, TN, 1971 Chevelle
Chuck Leonard - Hickory, KY, 1956 Nomad
Mick Price - Atwood, IL, 1962 Biscayne
Geoff Cowan - Centerville, TN, 1969 Camaro
Carl Walling - Southhaven, MS, 1961 Corvette

Editor's Choice Top-Five Race Car
Natt Moore - Atwood, TN, 1969 Chevelle SS
William Mills - Parsons, TN, 1955 Chevy
Troy Williams - Jefferson City, MO, 1966 Nova
Jeff James - Lexington, TN, 1969 Camaro
Ronnie Hays - Coldwater, MS, 1986

Best in Awards

Big Car - Edward Woodfork - Little Rock, AR, 1962 Impala
Camaro - Tony Penny - Meridianville, AL,1969 Camaro
Chevelle - Alan Jakes - McMinnville, TN, 1971 Chevelle SS
Corvette - Phil Smith - Memphis, TN, 2001 Corvette
Conversion - Robert Williams - Marion, AR, 1949 Ford F1
Open - Dave West - Memphis TN, 1965 Corvair Monza
Early Chevy - Honey Baker - Horn Lake, MS, 1941 Pickup
El Camino - Larry Foster - Tenny, MS, 1969 El Camino
55-56-57 - Nomiel Campbell - Wetumpka, AL, 1957 Bel Air
Monte Carlo - Darrell Hyde - Bartlett, TN, 1987 SS Aero
Nova - Pete Vaught - Murfreesboro TN, 19672 Door Post
Pro Street/Engineered - Alan Pearcy - Marion, AR, 1971 Chevelle
Truck - Dennis Roark - Poyen, AR, 1969 Stepside
Best Stock - Larry Frederick - Petersburg, IN, 1962 Chevy Bel Air
Best Modified - Jim Lippert - Green, KS, 1967 Nova
Best in Show - Jennings White - Manchester, KY, 1955 Bel Air 2 Door HT

Specialty Awards

Outstanding Stock -Don Bigham - Randall, KS, 1957 Chevelle
Outstanding Street - John Paffond - Eads, TN, 1969 Camaro
Outstanding Modified -Tony Penny - Meridian, AL, 1969 Camaro
Outstanding Engine -Alan Pearcy - Marion, AR, 1971 Chevelle
Outstanding Interior -Noniel Campbell - Weturmpka, AL, 1957 Chevelle
Outstanding Paint - Alan Jakes - McMinnville, TN, 1971 Chevelle
Outstanding Workmanship -Honey Baker - Horn Lake, MS, 1941 Chevy Truck
Outstanding Engineered -Allen McDaniel - Saltillo, MS, 1957 Chevelle
ISCA Award - Pete Vaught - Murfreesboro, TN, 1967 Nova
World Motor Sports Breast Cancer Foundation - Pink Piston Award - Jennifer Pope - Dyesburg, TN,
1969 Camaro
Club Participation - Memphis Classic Chevy Club
Young Star - Owen Jordon - Poplar Bluff, MO, 1969 Camaro

Class Awards

MONTE CARLO
Stock
Winner: John Smith - Memphis, TN, 2007 Monte Carlo
Street
Winner: Brian Wibbenmeyer - Bloomsdale, MO, 1988 Monte Carlo SS
Outstanding: Kyle Wibbenmeyer - Maryland Heights, MO, 1988 Monte Carlo SS
Modified
Winner: Darfell Hyde - Bartlett TN, 1987 Monte Carlo SS Aero Coupe

PRO STREET
Winner: Alan Pearcy - Marion, AR, 1971 Chevelle

PRO ENGINEERED
Winner: James Zajac - Cabot, AR, Dragster
Outstanding: Robby Clarke - Clinton, MS, 1957 Corvette Roadster

EARLY CHEVY 1900-1948
Modified
Winner: Al "Joe" Collins - Memphis, TN, 1937 Master Delux
Outstanding: Rick Cordeel, Memphis, TN, 1936 Coupe

EARLY CHEVY PICKUP 1900-1948
Modified
Winner: Honey Baker - Horn Lake, MS, 1941 Pickup

EL CAMINO
Street
Winner: Todd James - Olive Branch, MS, 1987 GMC Caballero
Outstanding: Larry Miller - Farmington, KY, 1985 El Camino
Modified
Winner: Larry Foster - Terry, MS, 1969 El Camino
Outstanding: Taurus Lipford - Southaven, MS, 1980 El Camino

OPEN
Street
Winner: Dave West - Memphis TN, 1965 Corvair Monza

CONVERSION 1900-CURRENT
Modified Early
Winner: Robert Williams - Marion, AR, 1949 Ford F1
Outstanding: Chris Kelly - Memphis, TN, 1935 Ford Pickup
Modified Late
Winner: David Harber - Germantown, TN, 1996 Miata
Outstanding: Frank Zinkle - Horn Lake, MS, 1991 Nissan 240X
Nostalgia Rod
Winner: Wayne Crowe - Bethel Springs, TN, 1948 Ford F1
Outstanding: Vaughn Wilbanks - Corinth, MS, 1927 Whippet

CAMARO 1967-1969
Stock
Winner: Jennifer Pope - Dyersburg, TN, 1969 Camaro Pace Car
Outstanding: Chuck Cimera - Mt. Vernon, IL, 1967 Camaro
Street
Winner: Roy Milby - Eads, TN, 1969 Camaro Z28
Outstanding: Neal McDonald - Bartlett, TN, 1969 Camaro Z28
Modified
Winner: Tony Perry- Meridianville, AL, 1969 Camaro
Outstanding: Tony Farris - Laurel, MS, 1969 Camaro
Modified 1967 & 1968
Winner: Chris Morganelli - Atoka, TN, 1967 Camaro
Outstanding: Malon & Ashley Jones - Scott, AR, 1968 Camaro
Modified 1967 & 1968 SS
Winner: Danny Deramus - Mena, AR, 1968 Camaro
Outstanding: Jeremy Young - Memphis, TN, 1968 Camaro
Modified 1969 SS
Winner: Tracy Thompson - Cordova, TN, 1969 Camaro SS
Outstanding: Paul Hutchison, Germantown, TN, 1969 Camaro SS

CAMARO 1970-1981
Stock
Winner: Doug Pekar - Coweta, OK, 1979 Camaro Z28
Street 1970 & 1971
Winner: Marty Sizemore - Cottonwood, AL, 1971 Camaro
Outstanding: Shawn Rhyne - Marion, AR, 1970.5 Camaro
Street 1972 - 1981
Winner: Charles Brisco - Madison, TN, 1979 Camaro Z28
Outstanding: Raymond Burgess - Columbus, MS, 1981 Camaro
Modified
Winner: Cody Raines - Jonesboro, AR, 1977 Camaro

CAMARO 1982-1992
Stock
Winner: Randy Darnell - Mayfield KY, 1992 Camaro
Outstanding: Larry Charley - Drummond, TN, 1989 Camaro
Street
Winner: Lakota Smith - Claremore, OK, 1986 Camaro IROC Z
Modified
Eric Epplin - Okawville, IL, 1986 Coupe

CAMARO 1993-2002
Stock
Winner: Rhonda Darnell - Mayfield KY, 2002 Camaro SS
Street
Winner: Norma Miller - Farmington KY, 2002 Camaro

CAMARO 2010 & NEWER
Street
Winner: Bobby Duncan - Little Rock AR, 2010 Camaro
Outstanding: Shawn Macaluso - Memphis, TN, 2011 Camaro
Street SS/RS
Winner: Bruce Williams - Memphis, TN, 2011 Camaro SS
Outstanding: Efren Harris - Memphis, TN, 2010 Camaro SS
Modified
Winner: Felix Castillo - Memphis TN, 2010 Camaro
Outstanding: Eric Taylor - Mahomet, IL, 2011 Camaro

CHEVELLE 1964-1967
Stock
Winner: Larry Phillips - Lexington, KY, 1966
Modified
Winner: Al Robinson - Athens, AR, 1964
Outstanding: Mike Griffith - Hot Springs, AR, 1965

CHEVELLE 1968 & NEWER
Stock 1968 & 1969 Only
Winner: Les Saville - N. Little Rock, AR, 1968 Chevelle SS 396
Outstanding: Joe Todd - Marion, AR. 1969 Chevelle SS
Stock 1970 & Newer
Winner: Jim Cohen - Memphis, TN, 1972 Chevelle SS 454
Outstanding: Kenny Park - Memphis, TN, 1971 Chevelle Heavy
Street 1968 & 1969 Only
Winner: Bart Wilkinson - Millington, TN, 1969 Chevelle SS
Outstanding: Jonathan Livingston - Lake Village, AR, 1969 Chevelle SS
Street 1970 & Newer
Winner: Paul Shea - Memphis, TN, 1971 Chevelle SS
Outstanding: David West Jr. - Memphis, TN - 1971 Chevelle Wagon
Modified
Winner: Alan Jakes - McMimmville, TN, 1971 Chevelle SS
Outstanding: Jr. Gates - Byhalia, MS, 1969 Chevelle

CORVETTE 1953-1967
Stock
Winner: Kenneth Jones - Millington, TN, 1960 Corvette
Street
Winner: Chuck Martin - Arlington, TN, 1966 Corvette
Outstanding: Carl Walling - Southhaven, MS, 1961 Corvette
Modified
Winner: Nick Perry - Hot Springs, AR, 1958 Corvette

CORVETTE 1968-1996
Street
Winner: Steve Wade - Arlington TN, 1995 Corvette
Outstanding: Ronnie Smith - Lakeland, TN, 1980 Corvette
Modified
Winner: Dan & Linda Deramus - Mena AR, 1982 Corvette

CORVETTE 1997-2004
Stock
Winner: Jeff Sluder - Cordova, TN, 1999 Corvette
Street
Winner: Phil Smith - Memphis, TN, 2001 Corvette
Outstanding: Warren Joerg - Randall, KS, 1999 Corvette

CORVETTE 2005 & NEWER
Stock
Winner: Charles Briscoe - Madison, TN, 2014 Corvette
Outstanding: David Pierce - Sherwood, AR, 2005 Corvette
Street
Winner: Randy Hammons - Arlington, TN, 2008 Corvette
Outstanding: Sonny Berryhill - Memphis, TN, 2008 Corvette

1955-1956-1957
Stock
Winner: Don Bigham - Randall, KS, 1957 Bel Air
Street
Winner: Mike McAllister - Dale, IN, 1955 Bel Air
Outstanding: John Mann - Bells, TN, 1955 Bel Air
Modified 1955 150
Outstanding: Shawn Brereton - Memphis TN, 1955 150
Modified 1955 210
Winner: Robert Van wart - Bartlett, TN, 1955 210
Outstanding: Steve Rutter - Millington, TN, 1955 210
Modified 1956
Winner: Chuck Leonard - Hickory, KY, 1956 Nomad
Outstanding: Billy & Joy Golden - Arlington, TN, 1956 Bel Air
Modified 1957 Hardtop
Winner: Noniel Campbell - Wetumpka, AL, 1957 Bel Air
Outstanding: David Smith - Waterford, MS, 1957 Bel Air
Modified 1957 Post
Winner: Alan McDaniel - Saltillo, MS, 1957 150
Outstanding: Larry Nelson - Athen, AL, 1957 Bel Air

NOVA 1962-1967
Stock
Winner: Ron Hanna - Atoka, TN, 1966 Nova
Outstanding: Scooter Anderson - Bartlett, TN, 1966 Nova 66
Street
Winner: Everette Sumner - Marion, AR, 1967 Nova SS
Modified Hardtop
Winner: Jimmy Shaw - Forest, MS, 1966 Nova
Outstanding: Phil Leadford - Hernando, MS, 1966 Nova
Modified Other
Winner: Pete Vaught - Murfreesboro TN, 1967 2 Door Post
Outstanding: Alan Parker - Byhalia, MS, 1966 Nova Convertible

NOVA 1968 & NEWER
Stock
Winner: Ronnie Keahey - Minford, TN, 1971 Nova
Street
Winner: Jamie Devel, Creal Springs, TN, 1969 Nova
Modified
Winner: Barry Wadley - Jackson, TN, 1968 Nova II
Outstanding: Robert Parkey - Coldwater, MS, 1972 Nova

BIG CAR 1949-1989
Stock
Winner: Doug Rees - Desoto, MO, 1966 Impala
Outstanding: Richard Rogers - Drummonds, IN, 1967 SS 427
Street
Winner: Donald Wolfe - Millington, TN, 1965 Impala
Outstanding: Marlin Parker - Villa Rica, GA, 1965 Biscayne
Modified
Winner: Edward Woodfork - Little Rock, AR, 1962 Impala
Outstanding: James Zajac - Cabot, AR, 1966 Bel Air

BIG CAR 1990 & NEWER
Street
Winner: Chris Fulton - Mayfield, KY, 2006 Impala SS

SUV
Stock
Winner: Ron Spooler - Cape Girardeau MO, 1996 GMC Jimmy
Outstanding: George Moore - Nesbit, MS, 2008 HHR SS
Street
Winner: David Fulcher - Arlington TN, 1972 Suburban
Modified
Winner; Ronnie Brown - Bartlett, TN, 2000 Blazer
Outstanding: Jonathan Livingston - Lake Village, AR, 1971 K-5

NOSTALGIA PICKUP
Winner: Pat Fisher - Madison, MS, 1952 Pickup
Outstanding: Tiffany Zajac - Cabot AR, 1949 3100

PICKUP 1949-1972
Street
Winner: Bill Powers - Lakeland, AR, 1963 C-10
Outstanding: Felix Bell - Tupelo, MS, 1971 C-10
Modified
Winner: Dennis Roark - Poyen, AR, 1969 Stepside
Outstanding: Allen Brigance - Beechmont, KY, 1972 Cheyenne

PICKUP 1973-1987
Street
Winner: Michael Cole - Jackson, TN, 1978 C-10
Outstanding: Ken Rooker - Somerville, TN, 1978 Pickup
Modified
Winner: Robby Spencer - Terry, MS, 1978 GMC
Outstanding: Logan Newman - Millington, TN, 1986 C-10

PICKUP 1988 & NEWER
Stock
Winner: David Joiner - New Albany, MS, 2008 Silverado
Outstanding: Bill Mallett - Sherwood AR, 2011 Colorado
Street
Winner: Freddie Woods - Nashville, TN, 1995 Silverado
Outstanding: Max Stites - Millington, TN, 1994 C1500
Modified
Winner: Glen Roberts - Horn Lake MS, 1990 Pickup
Outstanding: Vanessa Vanwart - Bartlett, TN, 2001 Xtreme S-10

PICKUP 4X4
Stock
Kerrie & Sandra Bullock - Moscow, TN, 2014 HD3500
Street
Winner: Clyde Shafer - Metropolis, IL, 1977 Scottsdale
Outstanding: Brian Wibbenmeyer - Bloomsdale, MO, 2011 Silverado

GOLD CLASS
Big Car Stock - Larry Frederick - Petersburg, IN, 1962 Bel Air
62-67 Nova - Jim Lippert - Green, KS, 1967 Nova
68 & Newer Chevelle - Warren Joerg - Randall, KS, 1970 Chevelle SS
67-69 Camaro - Geoff Cower - Centerville, TN, 1969 Camaro
55-56-57 - D&D Specialty Cars - Van Buren, AR, 1957 Bel Air HT, Jim Jackson - Murfreesboro, TN,
1957 Bel Air 2 Door HT & Jennings White - Manchester, KY 1955 Bel Air 2 Door HT





Drag News: 10 Most Recent Entries [ top ]

Apr 20- K&N Spring Fling Million– Thursday Results
Apr 19- K&N Spring Fling Million- Wednesday Results
Apr 18- Buckeye S/SS @ National Trail April 28th
Apr 18- Don "the Snake" Prudhomme Returns To Baja Competition After 50 Years
Apr 18- K&N Spring Fling Million Tuesday Results
Apr 17- K&N Spring Fling Million Pre-Race
Apr 12- Summit Racing Equipment is Newest Sponsor of Midwest Junior Super Series
Apr 12- Summit Racing Named Official MWPMS Sponsor and Event Title Rights Holder
Apr 11- NMCA All-Star Nationals Chevrolet Performance Challenge Series Final Results
Apr 11- Dragstrip Memories Returns in Presenting Canada's Drag Racing History