Mon, 21 Apr 2014, 11:48 AM



Clint Wallace is New Competition Director for Texas Motorplex



Courtesy of Gabrielle Stevenson



Native Texan Has a Lifetime of Racing Experience to Bolster New Position



ENNIS, Texas --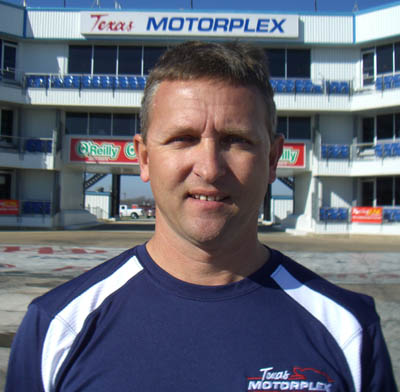 Clint Wallace
Clint Wallace has been hired as the new Competition Director for Texas Motorplex, track officials announced.
Wallace will bring more than 35 years of racing experience to the highly coveted position.
"When we interviewed Clint we knew immediately he was the right person to come in and be the voice of the racers who could continue to elevate all of the racing programs we have at the Motorplex," Texas Motorplex General Manager Gabrielle Stevenson said. "We have a vast amount of events and I know he will treat each one with care and always maintain the best racing surface possible for the competitors. He's already become a valued team member."
Wallace started racing with his family before he was 2 years old and he hasn't looked back since.
"My family has been involved with racing right after I was born and I just remember growing up around the drag strip," Wallace said. "He raced at Green Valley and Texas Raceway along with Texas Motorplex. It's just part of our family.
"It would be difficult to say what I love most about racing because I love everything about it - the speed, the smell, the feeling of racing, all of it. And I love the families and other competitors we've met over the years. Racing is just one big extended family."
Wallace was at the first NHRA national event hosted by Texas Motorplex in 1986 and has seen every one since then. The Grand Prairie resident said the Motorplex has always held a special place in his heart even though he has worked at other facilities including Texas Raceway and North Star Dragway.
"The Motorplex is the first all concrete quarter-mile facility and it was the first of the super tracks," Wallace said. "There is so much history here such as holding the first 4-second run. A lot of great things have happened here and I want to make sure the Motorplex continues to be the best place to race. I'm proud to take on this great role and continue the tradition here.
"It's been a dream of mine to be the Competition Director at Texas Motorplex and I will do everything I can to ensure the Motorplex is the first choice for competitors to race."
Texas Motorplex was the first all-concrete stadium-style drag racing facility ever constructed. Built in 1986, Texas Motorplex has been the place of many drag racing milestones and world record performances. The Billy Meyer-owned facility hosts a number of racing and car show events between March and November each year and also features the Champion's Club - an 11,000 square-foot facility - that serves fully catered events throughout the year.




Drag News: 10 Most Recent Entries [ top ]

Apr 24- NHRA Heritage Series Heads To Wild Horse Pass
Apr 22- K&N Spring Fling Million Final Day Results
Apr 21- K&N Spring Fling Million Friday Results
Apr 20- K&N Spring Fling Million– Thursday Results
Apr 19- K&N Spring Fling Million- Wednesday Results
Apr 18- Buckeye S/SS @ National Trail April 28th
Apr 18- Don "the Snake" Prudhomme Returns To Baja Competition After 50 Years
Apr 18- K&N Spring Fling Million Tuesday Results
Apr 17- K&N Spring Fling Million Pre-Race
Apr 12- Summit Racing Equipment is Newest Sponsor of Midwest Junior Super Series