Wed, 16 Apr 2014, 17:19 PM



Abruzzi Racing Transmissions Continues Support of Canadian Racing Series



Courtesy of Andrew Stirk


Photo Credit Stacee Kenington





$1800 in Certificates Up for Grabs to DSE Sportsman Series Competitors in 2014



WARREN, Ohio --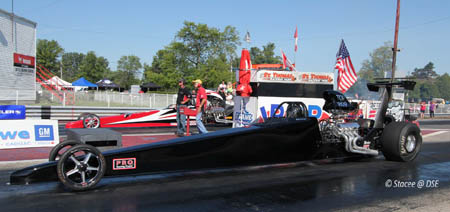 One of the many satisfied Abruzzi Racing Transmission
customers has been 2013 Super Pro Champion
Bob Jennings and his mid 7 second Dragster.
Returning for their 2nd season with the DSE Automotive Sportsman Racing Series, Abruzzi Racing Transmissions is back with an even bigger presence, awarding Top Points finishers with a combined $1800 in Product Certificates in 2014.
Class Champions in Modified, Renegade Race Fuels Super Pro and the newly created HeadsUpRacer.com Quick 16 will all receive $300 certificates while 2nd place will receive a $200 certificate and 3rd place a $100 certificate in conjunction with other Cash and Prizes.
Founded in 1957 and originally named A&T Garage, Abruzzi Racing Transmissions has grown into an Industry leading manufacturer of high performance Transmissions and Torque Converters. Abruzzi Racing Transmissions boasts a client list that not only includes the entire Elrod Racing Team, but also Multi time NHRA National event Winner and Big Money Bracket Racer Mia Tedesco as well as the 2013 DSE Series Super Pro Class Champion Bob Jennings.
"We are extremely excited and thankful to have Abruzzi Racing Transmissions back on board and supporting our racers, especially those in our New Quick 16 Points Program" Stated Series Director Andrew Stirk. He would add "Being able to bring great Companies like Abruzzi Racing Transmissions North to support Series' like ours is huge to Canadian Racers and fans. Support like this helps us greatly in trying to achieve our goal of becoming one of the Premiere Bracket Racing Series' in Canada."
The first Event in the DSE Automotive Sportsman Racing Series is the 3rd Annual Season Opener which takes place June 7th-8th at Cayuga Dragway of Toronto Motorsports Park. The DSE Sportsman Racing Series boasts a (to date) $22,500 Year end points fund, and features a point's structure where racers claim their best 8 out of 12 point's races during the season. For more information on the Series and its Marketing Partners please visit www.SportsmanRacingSeries.ca .
About Abruzzi Racing Transmissions
Based in Warren Ohio and founded in 1957 as A&T Garage, Abruzzi Racing Transmissions is owned and operated by Two time IHRA World Champion Marco Abruzzi. Abruzzi Racing Transmissions is an industry leader in producing High performance Transmissions and Torque converters for the Sportsman Drag Racing Market Place and specializes in building Powerglides for some of Drag Racing's most powerful Top Sportsman and Top Dragster Vehicles.
For more information on Abruzzi Racing Transmissions please visit www.abruzziracing.com




Drag News: 10 Most Recent Entries [ top ]

Apr 24- NHRA Heritage Series Heads To Wild Horse Pass
Apr 22- K&N Spring Fling Million Final Day Results
Apr 21- K&N Spring Fling Million Friday Results
Apr 20- K&N Spring Fling Million– Thursday Results
Apr 19- K&N Spring Fling Million- Wednesday Results
Apr 18- Buckeye S/SS @ National Trail April 28th
Apr 18- Don "the Snake" Prudhomme Returns To Baja Competition After 50 Years
Apr 18- K&N Spring Fling Million Tuesday Results
Apr 17- K&N Spring Fling Million Pre-Race
Apr 12- Summit Racing Equipment is Newest Sponsor of Midwest Junior Super Series