Wed, 09 Apr 2014, 12:06 PM



NHRA Factory Stock Showdown Rule Revisions



Courtesy of NHRA Field Marketing


Photo by: Auto Imagery, Inc.





GLENDORA, Calif. --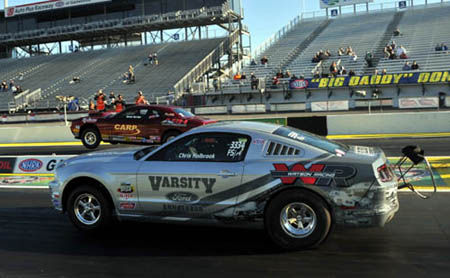 Chris Holbrook defeated David Barton
in the Factory Stock Showdown final.
NHRA announced rule revisions for the Factory Stock Showdown following a performance review after the Amalie Motor Oil NHRA Gatornationals, effective immediately.
"Following the Amalie Motor Oil NHRA Gatornationals, we had a meeting with the three manufacturers to review the performance data of the Factory Stock Showdown", said Glen Gray, NHRA Vice President of technical operations. "The changes reflect what we believe is a necessary to adjust parity in Factory Stock Showdown program."
All supercharged vehicles will compete within the FS/A class.
All naturally aspirated vehicles will compete within the FS/B class.
Index for the FS/B will be lowered from 10.40 to 10.35
FS/A minimum weight will be adjusted from 3500LBs to 3550LBs
300LBs will be added to the V-10 Dodge Challenger
FS/B: Minimum weight up to 400 CID 3250 LBs, 401 to 430 CID 3350 LBs

The 2014 Factory Stock Showdown program started the 2014 season at the Amalie Oil NHRA Gatornationals at Auto-Plus Raceway at Gainesville, where Chris Holbrook took home the victory. There are three events remaining on the 2014 Factory Stock Showdown schedule.
Chevrolet Performance U.S. Nationals held at Lucas Oil Raceway in Indianapolis, Labor Day weekend, Aug. 27 - Sept. 1 NHRA Nationals at Maple Grove Raceway in Pennsylvania, Oct. 2-5 NHRA Toyota Nationals at The Strip at Las Vegas Motor Speedway, Oct. 30-Nov. 2
The competition includes entries from both the FS/A and FS/B Stock Eliminator classes with each of the two classes running as a separate category within Stock Class Eliminations, and a winner being crowned in each. The two winners will then square off for the NHRA Factory Stock Showdown Championship using a 0.25s staggered start. Each of the two class winners will receive the NHRA Class Wally trophy with the run-off winner being crowned the NHRA Factory Stock Showdown Champion.




LODRS: 10 Most Recent Entries [ top ]

Apr 21- LODRS 1-1 - Top Alcohol Funny Car Final, Round 3 Eliminations
Apr 21- LODRS 1-1 - Top Alcohol Dragster Final, Round 3 Eliminations
Apr 21- LODRS 1-1 - Direct Cabinet Sales presents Junior Dragster 10 - 12 Final, Round 3 Eliminations
Apr 21- LODRS 1-1 - Direct Cabinet Sales presents Junior Dragster 6 - 9 Final, Round 2 Eliminations
Apr 21- LODRS 1-1 - Direct Cabinet Sales presents Junior Dragster 13 - 17 Final, Round 4 Eliminations
Apr 21- LODRS 1-1 - Top Alcohol Funny Car Round 2 Eliminations
Apr 21- LODRS 1-1 - Top Alcohol Dragster Round 2 Eliminations
Apr 21- LODRS 1-1 - Direct Cabinet Sales presents Junior Dragster 13 - 17 Round 3 Eliminations
Apr 21- LODRS 1-1 - Stock Eliminator presented by ATI Round 2 Eliminations
Apr 21- LODRS 1-1 - Ultimax Pro Stock Snowmobile Final, Round 2 Eliminations