Mon, 07 Apr 2014, 19:18 PM



K&N Spring Fling Sunday Results



Courtesy of John DiBartolomeo



LAS VEGAS --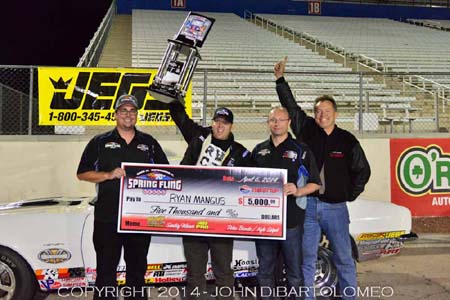 Sunday Pro Winner
Day "Last" began with a Racers for Christ chapel service and continued with round one of Baldwin Racing Cancer Awareness Sunday.
In Pro, tree cars remained in the semifinal with Ryan Mangus receiving the bye run to the final while Robert Strong paired off with Chris Vels. Strong had the reaction time advantage and held it on for the win. Mangus is also a 'Fling champion from last year, and was looking to add to that win. The final round went down tough as Strong left the starting line with a .002 reaction time but Mangus was not to be denied and earned his second 'Fling victory.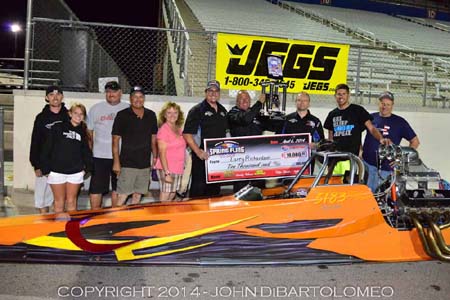 Sunday_Super Pro Winner
Mangus said afterwards, "We've been having some problems with this car and almost didn't come. But we went to the NHRA national event here last week and I lost in the final to Pete [Biondo-'Fling co-promoter] and it feels good to take some of his money now."
The Super Pro Eliminator class was also down to three in the semifinals. Mark LaLonde faced off with Larry Richardson while Mark Yeager took his bye run and made his way to the final round to face Richardson. For the third night in a row, we have had a door car versus dragster final round. Competing lately on a steady diet of "super" class racing and hasn't bracket raced since 1992, Yeager tried valiantly to off Richardson but it was not to be as the Alamosa, Colorado, racer took the win and the $10,000 that accompanies the win.
Richardson said, "We broke a lifter on the first day here but we persevered and it couldn't get any better than this. It feels awesome to hold this check."
And with that, the 2014 version of the K&N Spring Fling Vegas came to a close. Next up on the Spring Fling schedule is the K&N Spring Fling 5 Day in Bristol, Tennessee, May 13-18. Keep tuned to www.bracketraces.com for Spring Fling results and series information.




Drag News: 10 Most Recent Entries [ top ]

Apr 24- NHRA Heritage Series Heads To Wild Horse Pass
Apr 22- K&N Spring Fling Million Final Day Results
Apr 21- K&N Spring Fling Million Friday Results
Apr 20- K&N Spring Fling Million– Thursday Results
Apr 19- K&N Spring Fling Million- Wednesday Results
Apr 18- Buckeye S/SS @ National Trail April 28th
Apr 18- Don "the Snake" Prudhomme Returns To Baja Competition After 50 Years
Apr 18- K&N Spring Fling Million Tuesday Results
Apr 17- K&N Spring Fling Million Pre-Race
Apr 12- Summit Racing Equipment is Newest Sponsor of Midwest Junior Super Series